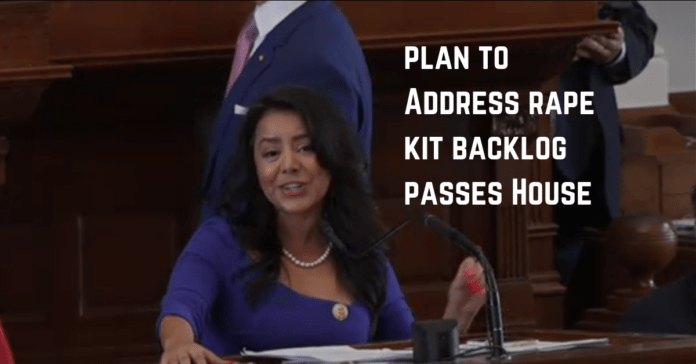 Pictured: Rep. Victoria Neave laying out HB 8
AUSTIN, TX – On Wednesday, the Texas House unanimously approved House Bill 8, authored by Rep. Victoria Neave (D-Dallas), which seeks to end the rape kit backlog in Texas. HB 8, which first received tentative approval on Tuesday, now heads to the Senate.
As one of the Governor's legislative priorities this session, the bill is expected to be signed into law once it reaches his desk. HB 8 seeks to implement the following changes:
requires an audit of untested rape kits to determine the number, status and location of all rape kits in the state, a number not updated since 2011;

provides timelines for every stage of the process to prevent future backlogs and ensure that all kits are tested in a timely basis;

expands circumstances under which sexual assault and aggravated sexual has no statue of limitations to include cases where a rape kit was collected;

extends the requirement for DPS to maintain rape kits from 2 years to 5 years in non-report cases;

and requires DPS to provide notices to survivors 91 days before rape kits are destroyed.
These changes allow survivors a better chance at seeking justice and helps prevent future offenses said Rep. Neave as she laid out HB 8 on the floor of the House on Tuesday.
"We believe you and we're legislating justice."
According to Neave, in 2017, 18,112 reported instances of rape occured in Texas, and on average, there are 18,000 rapes every single year in the state. She mentioned one caveat: these are only the "reported" cases, and it is well known that many more cases go unreported.
The bill is also known as the 'Lavinia Masters Act', named after a survivor who was raped at the age of 13 and waited 20 years before having her rape kit tested, well after the statute of limitations expired. Neave thanked her for letting the Legislature uplift her story for the betterment of all survivors.