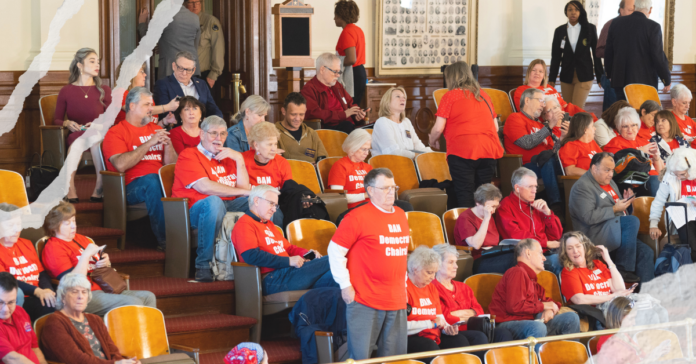 Given the ongoing right-wing campaign in the Texas Legislature to prohibit Democrats from holding committee leadership positions, it comes as no surprise that Lt. Gov. Dan Patrick, who presides over the Senate, announced Monday committee assignments, with all but one Chair position going to GOP members.
That one Chair position went to Sen. John Whitmire of Houston — who will be departing the body to run for the mayoral nomination in his hometown later this local election cycle.
In a statement, Patrick said the committee assignments would "ensure we succeed in addressing the priorities of the people of Texas." Regarding the rancorous debate in his party over appointing Democratic lawmakers to positions of power, Patrick said: "The overwhelming majority of bills voted on by the chamber will have bipartisan support. But make no mistake, the priority bills will address the concerns of the conservative majority in Texas.
It has been a longstanding tradition in the Texas Legislature to have bipartisan leadership to ensure that the people's voices are heard, as the size, geography, and diversity of the state demand a more democratic approach that some smaller states require.
However, under Patrick's tenure as head of the Senate, the number of Democrats in leadership positions has dwindled steadily.
Hardline conservative activists have pushed for Patrick and House Speaker Dade Phelan to refrain from giving leadership positions to Democrats, and encouraged hundreds of activists to stream into the House and Senate galleries wearing bright red shirts that read, "Ban Democrat Chairs."
Rinaldi recently tweeted "Dade Phelan ruled that he alone has the power to determine whether to give Dems powerful House leadership positions. Today, the @TexasGOP went on the air in his district, urging voters to tell him #NoDemChairs. We defeated Dems in Nov. We shouldn't put them in power now."
The Texas GOP has gone so far in its effort to ban Democratic lawmakers from committee leadership that the state party chairman Matt Rinaldi has funded radio ads targeting the House Leader Dade Phelan.
Phelan, who was all but unanimously elected to the speakership this month, has not made his committee designations but is under pressure to follow Patrick's lead and mute bipartisan input in the House.
Four Democrats were named to Vice Chair positions in five of the sixteen committees: Nathan Johnson of Dallas to the Jurisprudence committee; Judith Zaffirini of Laredo to the Natural Resources and Economic Development Committee; Royce West of Dallas to the Transportation committee; Juan "Chuy" Hinojosa of McAllen to the Finance committee, and Hinojosa was also named Vice Chair of the Redistricting committee.
For a complete list of senate committee assignments by party designation please see the following:
Senate Committee on Administration
R – Bob Hall, Edgewood – Chair
R – Drew Springer, Muenster – Vice Chair
D – Carol Alvarado, Houston
D – Nathan Johnson, Dallas
D – José Menéndez, San Antonio
R – Mayes Middleton, Wallisville
R – Tan Parker, Flower Mound
Senate Committee on Border Security
R – Brian Birdwell, Granbury – Chair
R – Peter Flores, Pleasanton – Vice Chair
D – César Blanco, El Paso
D – Juan "Chuy" Hinojosa, McAllen
R – Phil King, Weatherford
Senate Committee on Business and Commerce
R – Charles Schwertner, Georgetown – Chair
R – Phil King, Weatherford – Vice Chair
R – Brian Birdwell, Granbury
R – Donna Campbell, New Braunfels
R – Brandon Creighton, Conroe
D – Nathan Johnson, Dallas
R – Lois Kolkhorst, Brenham
D – José Menéndez, San Antonio
R – Mayes Middleton, Wallisville
R – Robert Nichols, Jacksonville
D – Judith Zaffirini, Laredo
Senate Committee on Criminal Justice
D – John Whitmire, Houston – Chair
R – Peter Flores, Pleasanton – Vice Chair
R – Paul Bettencourt, Houston
D – Juan "Chuy" Hinojosa, McAllen
R – Joan Huffman, Houston
R – Phil King, Weatherford
D – Borris Miles, Houston
Senate Committee on Education
R – Brandon Creighton, Conroe – Chair
R – Donna Campbell, New Braunfels – Vice Chair
R – Paul Bettencourt, Houston
R – Brian Birdwell, Granbury
R – Peter Flores, Pleasanton
R – Phil King, Weatherford
D – Morgan LaMantia, South Padre Island
D – José Menéndez, San Antonio
R – Mayes Middleton, Wallisville
R – Tan Parker, Flower Mound
R – Angela Paxton, McKinney
R – Drew Springer, Muenster
D – Royce West, Dallas
*Subcommittee on Higher Education
R – Brandon Creighton, Conroe – Chair
R – Mayes Middleton, Wallisville – Vice Chair
R – Phil King, Weatherford
R – Drew Springer, Muenster
D – Royce West, Dallas
Senate Committee on Finance
R – Joan Huffman, Houston – Chair
D – Juan "Chuy" Hinojosa, McAllen – Vice Chair
R – Paul Bettencourt, Houston
R – Donna Campbell, New Braunfels
R – Brandon Creighton, Conroe
R – Peter Flores, Pleasanton
R – Bob Hall, Edgewood
R – Kelly Hancock, North Richland Hills
R – Bryan Hughes, Mineola
R – Lois Kolkhorst, Brenham
R – Robert Nichols, Jacksonville
R – Angela Paxton, McKinney
R – Charles Perry, Lubbock
R – Charles Schwertner, Georgetown
D – Royce West, Dallas
D – John Whitmire, Houston
D – Judith Zaffirini, Laredo
Senate Committee on Health and Human Services
R – Lois Kolkhorst, Brenham – Chair
R – Charles Perry, Lubbock – Vice Chair
D – César Blanco, El Paso
R – Bob Hall, Edgewood
R – Kelly Hancock, North Richland Hills
R – Bryan Hughes, Mineola
D – Morgan LaMantia, South Padre Island
D – Borris Miles, Houston
R – Kevin Sparks, Midland
Senate Committee on Jurisprudence
R – Bryan Hughes, Mineola – Chair
D – Nathan Johnson, Dallas – Vice Chair
R – Brandon Creighton, Conroe
D – Juan "Chuy" Hinojosa, McAllen
R – Mayes Middleton, Wallisville
Senate Committee on Local Government
R – Paul Bettencourt, Houston – Chair
R – Drew Springer, Muenster – Vice Chair
D – Sarah Eckhardt, Austin
D – Roland Gutierrez, San Antonio
R – Bob Hall, Edgewood
R – Robert Nichols, Jacksonville
R – Tan Parker, Flower Mound
R – Angela Paxton, McKinney
D – Royce West, Dallas
Senate Committee on Natural Resources and Economic Development
R – Brian Birdwell, Grandbury – Chair
D – Judith Zaffirini, Laredo – Vice Chair
D – Carol Alvarado, Houston
D – César Blanco, El Paso
R – Kelly Hancock, North Richland Hills
R – Bryan Hughes, Mineola
R – Lois Kolkhorst, Brenham
D – Borris Miles, Houston
R – Kevin Sparks, Midland
Senate Committee on Nominations
R – Donna Campbell, New Braunfels – Chair
R – Kevin Sparks, Midland, Vice Chair
D – Carol Alvarado, Houston
D – Sarah Eckhardt, Austin
R – Bryan Hughes, Mineola
D – Morgan LaMantia, South Padre Island
D – Borris Miles, Houston
R – Angela Paxton, McKinney
R – Drew Springer, Muenster
Senate Committee on State Affairs
R – Bryan Hughes, Mineola – Chair
R – Angela Paxton, McKinney – Vice Chair
R – Paul Bettencourt, Houston
R – Brian Birdwell, Grandbury
D – Morgan LaMantia, South Padre Island
R – Donna Campbell, New Braunfels
D – José Menéndez, San Antonio
R – Mayes Middleton, Wallisville
R – Tan Parker, Flower Mound
R – Charles Perry, Lubbock
R – Charles Schwertner, Georgetown
D – Judith Zaffirini, Laredo
Senate Committee on Transportation
R – Robert Nichols, Jacksonville – Chair
D – Royce West, Dallas – Vice Chair
D – Carol Alvarado, Houston
D – Sarah Eckhardt, Austin
R – Kelly Hancock, North Richland Hills
R – Phil King, Weatherford
D – Borris Miles, Houston
R – Tan Parker, Flower Mound
R – Charles Perry, Lubbock
Senate Committee on Veteran Affairs
R – Kelly Hancock, North Richland Hills – Chair
R – Tan Parker, Flower Mound – Vice Chair
D – César Blanco, El Paso
D – Sarah Eckhardt, Austin
D – Roland Gutierrez, San Antonio
R – Bob Hall, Edgewood
R – Kevin Sparks, Midland
Senate Committee on Water, Agriculture, and Rural Affairs
R – Charles Perry, Lubbock – Chair
R – Kelly Hancock, North Richland Hills – Vice Chair
D – César Blanco, El Paso
R – Peter Flores, Pleasanton
D – Roland Gutierrez, San Antonio
D – Nathan Johnson, Dallas
R – Lois Kolkhorst, Brenham
R – Kevin Sparks, Midland
R – Drew Springer, Muenster
Senate Special Committee on Redistricting
R – Joan Huffman, Houston – Chair
D – Juan "Chuy" Hinojosa, McAllen – Vice Chair
D – Carol Alvarado, Houston
R – Brian Birdwell, Grandbury
R – Brandon Creighton, Conroe
R – Kelly Hancock, North Richland Hills
R – Robert Nichols, Jacksonville
R – Charles Perry, Lubbock
R – Drew Springer, Muenster
D – Royce West, Dallas
D – Judith Zaffirini, Laredo