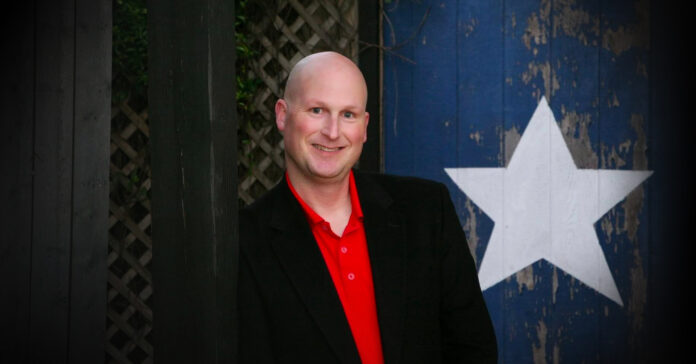 Should Texas Republicans retain control of the House of Representatives after the midterms, one of the further-right members has vowed to run for Speaker and remove all Democrats from positions of power on committees.
Tony Tinderholt was elected to represent District 94 in 2015, and in his time, he has distinguished himself as one of the most regressive conservatives in the chamber. Formerly a member of the Texas Freedom Caucus, which recently made waves by threatening to sue law firm partners if they pay to for employees to travel out of state for reproductive health care, Tinderholt has been a sponsor of many far-right bills in the most recent legislative sessions. These include bills banning trans youth from playing public school sports, criminalizing people who seek abortions, prohibiting charities from posting bail, opposing the teaching of the role of white supremacy in American history, and barring social media sites from deactivating user accounts that violate their terms of service regarding harassment and hate speech.
Despite the success of current Speaker Dade Phelan in bringing many high priority bills to Governor Greg Abbott's desk, Tinderholt has denounced the Speaker for continuing the practice of allowing some Democrats to chair House committees. It has been a tradition in the House to have the minority party to head some committees, a tradition that Phelan has upheld. Tinderholt argued in his announcement that 80 percent of Republican voters wanted to see a rule abolishing this practice.
"Will the priority legislation of the Republican Party of Texas receive a vote on the Texas House floor?" Tinderholt said in a statement. "The truth is, we have no idea with our current speaker in control."
It's possible that Tinderholt's ire toward Phelan comes from the fact that while he sponsors many bills focused on Republican priorities, few of those versions actually make it out of committee. For all that Republican attacks on voting rights and access, reproductive health, and diversity in schools were successful, Phelan has been a somewhat moderating influence on the hardliners in his party. This has drawn a fair amount of ire from the far-right, who feel Phelan has waffled on total dominance of the chamber.
Though Tinderholt has made his ambitions known, there is significant question about whether he can actually pull off a coup against Phelan. The current Speaker has not yet announced he is running for the position again. However, it's hard to argue that he did not deliver on most of what the conservative base wanted, particularly on rolling back abortion rights.
Even if there was a fight for the seat, Tinderholt has an uphill battle. Phelan was elected with significant Democratic support as Speaker. Tinderholt would need to rally at least twenty people to put his name forward to challenge the Speaker, something that seems unlikely at this moment in time.