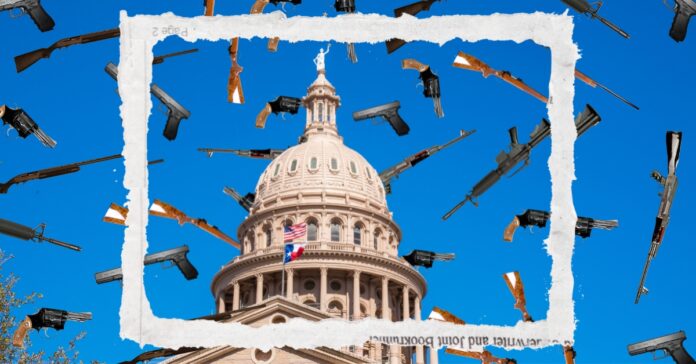 Correction: An earlier headline stated that the gun control debate is "coming to the Texas House floor." No House member, not even the speaker, can guarantee that legislation will reach the House floor.
Texas House Speaker Dade Phelan says he is open to and is expecting a "tough conversation" regarding gun law issues such as moving the legal age to purchase assault weapons to 21 years of age, from the current 18-year-old limit, as Texas Democrats are proposing.
The Beaumont Republican announced some of his legislative priorities during his opening remarks in the House this week, and among them was how he feels lawmakers should address the Robb Elementary School massacre in Uvalde last May.
Phelan challenged fellow Republicans, saying "We owe it to the memory of those children and teachers to make sensible, meaningful change," Phelan said. "This is going to be an especially tough conversation, but this body has proven capable of handling tough conversations in the past. I am confident we will do so again."
Texas Democrats want to raise the legal age to purchase a firearm from 18 to 21. The school shooter in Uvalde just turned 18 and legally purchased firearms. They believe that raising the legal age to purchase assault-style weapons to 21 may have prevented the 18-year-old gunman from killing 19 fourth graders and two teachers during a mass school shooting in Uvalde.
The victims' families and gun control activists want to see a debate on the issue and have consistently demanded it from lawmakers.
Authorities confirmed that the shooter bought his weapons legally shortly after his 18th birthday — after failing to get family members to do so for him — and once able to do so himself, he carried out the deadliest school shooting in Texas history within days of that purchase.
Phelan told reporters in Austin on Thursday that currently, he doesn't believe the measure has the necessary Republican support to pass in the chamber, despite months of pleas for the change.
Gov. Greg Abbott has previously said he believes that raising the purchase age limit is unconstitutional — making the passage into law a longshot, even if the bill could make it to the floor of the Senate — but the Supreme Court has not yet made a final ruling on the issue.
However, the court did rule in favor of Second Amendment proponents when Texas sought to ban 18- to 20-year-olds from carrying handguns in public. Department of Public Safety Director Steven McCraw withdrew the state appeal following the ruling.
Since Abbott became governor in 2015, children are now more than twice as likely to die from gun violence as before, as the annual number of gun deaths in minors nearly tripled from 54 in 2015 to 146 in 2020, per the Centers for Disease Control, and the number rose steadily every year over that period, except one.
Texas now has more children die by gunfire each year than any other state.
Abbott signed the "open carry" law in 2020, which allows licensed Texans to wear or carry their handguns in public, and "campus carry," extending that law to college campuses.
But instead of addressing public safety measures to protect the state's 5,156,972 students enrolled in a total of 8,161 schools in 1,022 school districts as Democrats are pushing for, Republicans have other ideas.
GOP lawmakers are more concerned with culture war issues — such as pursuing doctors who perform sex changes on people under 18 — and going after district attorneys whom they see as being too liberal when it comes to prosecuting violent criminals.
Democratic lawmakers not only want to pass commonsense gun control to protect students and staff in Texas schools, but they also want to debate how to spend a $32 billion surplus.
State Rep. Trey Martinez Fischer, D-San Antonio, the new chairman of the Texas House Democratic Caucus, said he would like to let Texans decide whether to spend it on property taxes as Republicans want or to do other things with the surplus.
"We have one thing to do in this building as mandated by the constitution. That's to adopt a budget. This budget is going to have extra money in it, so we have the added bonus of actually doing something to help people," Martinez Fischer said.
"When we're done with that, if Republicans want to have a culture war and we want to play dog whistle politics, well let's lock the door and go all night if we have to. Let's go all weekend if we need to but let's take care of the people's business first," Martinez Fischer explained.
To learn more about gun violence in Texas, see the RA News Gun Violence Watch page.