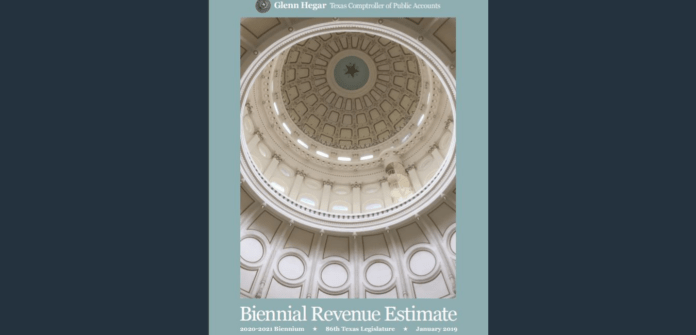 Texas State Comptroller Glenn Hegar released his Biennial Revenue Estimate (BRE) today, projecting higher than expected revenue for the Legislature to work with just prior to the opening of the 86th legislative session.
Hegar projects the state will have just over $119 billion available for general-purpose spending in the 2020-2021 biennium, an 8.1 percent increase from the previous 2018-2019 biennium. The Texas Legislature, which meets every other year, sets two-year state budgets. The state's total revenue, from all sources, for the 2020-2021 biennium is projected to reach $265.6 billion, including $88.7 billion in federal money as well as billions in other income and revenues not available for general-purpose spending.
The state's "Rainy Day Fund" (ESF) is currently $12.5 billion, and is projected to reach $15.4 billion by the end of the 2020-2021 biennium.
Despite the increased revenue over the previous biennium, Hegar expressed caution as the Legislature convenes in Austin. "Despite this projected revenue growth, the Legislature will again face some difficult choices in balancing the budget," Hegar said. "The most pressing and costly budget drivers for the upcoming session include a potentially large boost in education spending to reduce the property tax burden and reform school finance."
Hegar also warned falling oil prices, volatile financial markets and decreased international trade could threaten future growth of the Texas economy.