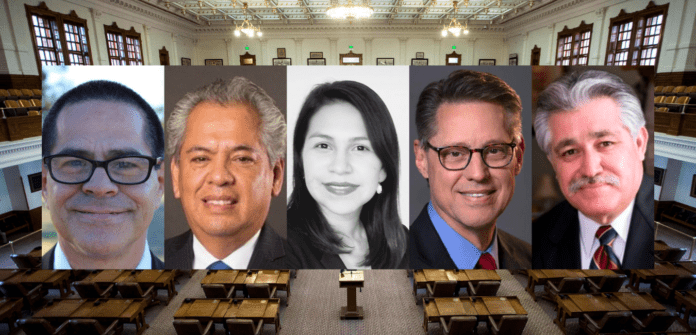 (From left to right: Steve Huerta, Fred Rangel, Coda Rayo-Garza, Art Reyna, Ray Lopez)
Five candidates have filed to run for the special election for State House District 125, which was called by Governor Greg Abbott to fill the vacancy created when State Representative Justin Rodriguez (D – San Antonio) resigned. Rodriguez was appointed Bexar County Commissioner to fill a vacancy after the previous commissioner, Paul Elizondo, recently died.
To run for the Texas House, a candidate must be at least 21 years of age, a Texas resident of at least two years, and have been a resident of the House District for the 12 months prior to the election. The candidate's application must also be accompanied by a filing fee of $750.
As of the deadline on Monday, January 14th, five candidates filed. Four Democrats — former San Antonio City Councilman Ray Lopez, human rights and civil rights activist Steve Huerta, policy advocate Coda Rayo-Garza, and former state representative for House District 125 Art Reyna. One Republican candidate filed, Fred Rangel, who ran unsuccessfully for Texas GOP vice chair in 2018.
To win the special election outright, a candidate must receive at least 50% of the total votes, or there will be a runoff election between top two vote-getters several weeks after the first round.
Early voting will begin on Monday, January 28, 2019. Election Day is February 12, 2019.