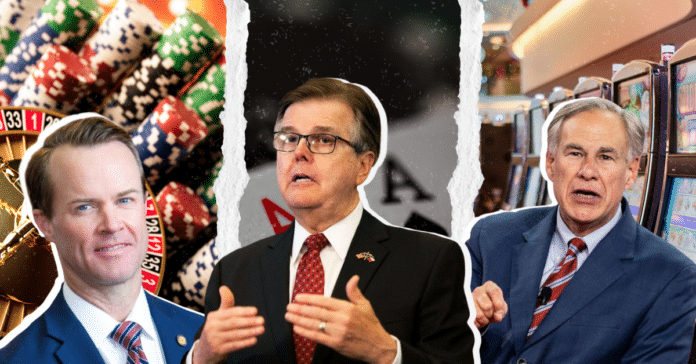 The Texas legislature is currently considering the legalization of gambling, with strong lobby action from both sports betting groups and casino resorts. However, there is an important divide between them, and trust us, neither side is willing to meet the other group halfway.
Sports Betting… but only on mobile?
The sports betting group, nicknamed "The Jerry Jones Group," is said to be gathering supporters every day. Rep. Jeff Leach from Collin County will be leading the fight on the House legislative floor, a sensible choice considering his proximity to the Dallas Cowboys. Sen. Lois Kolkhorst will be filing the bill in the Senate. Sources say the bill already has the support of 12 Democrats and 10 Republicans in the Senate.
An important aspect to mention is this bill will allow sports betting exclusively on mobile phones and for sporting events only. They are called "prop bets."
Lt. Gov. Dan Patrick has become a key ally of this group- he's personally a big gambler, a Texas Hold 'Em enthusiast. Historically he had said he wouldn't expand gambling, but this session he seems to have changed his mind, saying he'll be up to expanding it if only for mobile betting. Sources say Jerry Jones will pay him a visit this week and remind him of his promise.
Will Texas Roll the Dice on Casino Resorts?
While the casino lobby has yet to file their legislation, they've already garnered the support of both Gov. Abbott and Speaker of the House, Dade Phelan. Sands Casino has a team of 90 lobbyists working on this issue, and let's not forget they already made some progress last session; by the looks of it, they're coming back even stronger. "The Sands" is led by Andy Abboud – who heads their strategy out of Vegas.
The Sands team wants a brick-and-mortar destination with blackjack, craps, and all the big casino games. But still, it is hard to believe they stand any chance in the legislature. Gambling expansion is difficult, to say the least, the issue has always collapsed on its weight and it takes a 2/3 vote with a constitutional amendment. Also, there's no one on the Republican side willing to vote in favor in the Senate let alone find one to file their bill.
Does either side stand a chance?
If we are putting money on it, let's say sports betting has a 50% chance of passing. Casinos are not likely to get their way, not in this legislative cycle anyway. The Baptist Christian Life Commission already has a lobby team hired and is working the Capitol so no gambling in any fashion is legalized; although it is worth noting they're so against casinos they're pretty much ignoring mobile sports betting altogether.
Those pushing for the matter may be willing to settle for anything as long as it moves forward. Take Tilman Fertitta, the 600lb gorilla of gambling. He owns a casino in Vegas and is the primary owner of Draft Kings, a huge mobile sports betting platform. He's pushing for both casinos and mobile sports betting, and it looks like he cannot decide which one is most important. So if push comes to shove, he'll probably choose his safest best- sports betting is the game.