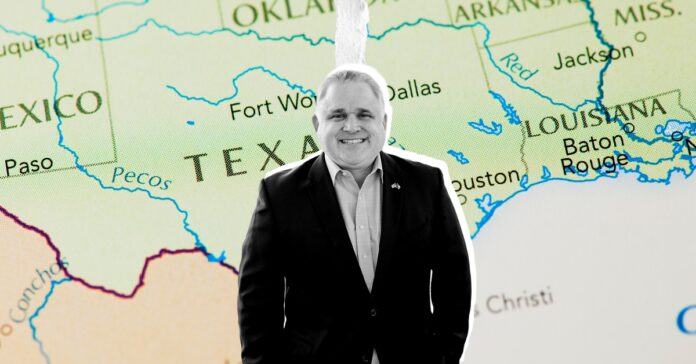 Like a legislative version of Jackass, some Texas Republicans known for petulant stunts in the legislature are already up to their old tricks.
First up is State Rep. Bryan Slaton (R-Greenville). In the last session, his first as an elected leader, Slaton made headlines by trying to rename an area in Austin where unhoused people congregate as the Mayor Steven Adler Public Restroom Highway. This year so far, he's been dedicated to two far-right endeavors that are less trollish but still disturbing. The first is petitioning for the end of Democratic chair positions in the legislature, a position backed by big oil and gas money in hopes of clearing the way for extremist bills. The second is a call for Attorney General Ken Paxton to begin attacking schools after a mild system of guidance regarding trans students was released by the Texas Association of School Boards.
He is joined by State Rep. Tony Tinderholt (R-Arlington), the candidate for House Speaker who tried to derail Dade Phelan's re-election based on the Democratic chair issue. Last month, Tinderholt hired Jake Neider as his legislative director. Neider is a Christian nationalist with ties to extreme anti-LGBT groups and Holocaust deniers. Previously, Neider has called for drag performers to be publicly executed. By making Neider a powerful member of his staff, Tinderholt is more or less signaling that he plans to spend the session waging culture wars, particularly against LGBT Texans.
Another member of the group known for stunt legislation is State Rep. Steve Toth (R-Spring). A conservative workhorse when it comes to bills, Toth has already filed 25 bills for the 88th Legislative session. Most of them are standard conservative red meat actions like lowering property taxes and making mail-in voting harder, but there are some eyebrow raisers as well. One is House Bill 111, which tightens down on "obscene" material shown to children. While obviously another attack on school libraries carrying books conservatives deem offensive, the bill is interesting in that it strips schools and government entities from protection when distributing material. Basically, the law makes it so children can be exposed to material so long as there is no possibility of them learning anything or that it serves a public good.
Last up is State Rep. Cody Vasut (R-Angleton). His stunt bills this session include House Bill 60, which mandates that schools teach that life begins at conception. He also filed House Bill 609, which removes any liability from employers who don't require vaccination if their employees contract an illness.
None of the stunt legislation this session so far has the edgelord style of the anti-homeless work Slaton pioneered in 2021, but the bills do hint that the current session is going to be a circus of regressive politics and Christian nationalist grandstanding. The bid to remove Phelan and institute a one-party system in the state failed, but with full Republican control, there is still a lot that can be done.