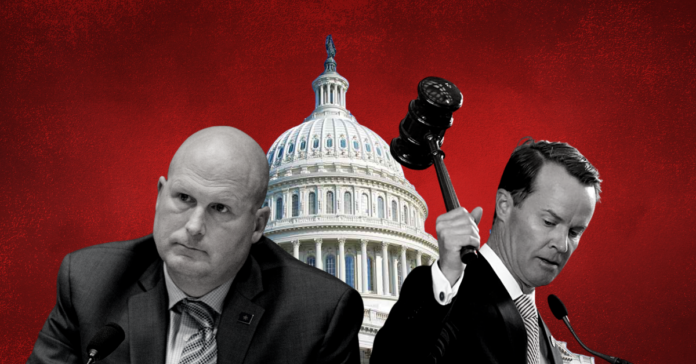 Current Texas House Speaker Dade Phelan has a challenger, Tony Tinderholt (R-Arlington), but the fight is over far more than the gavel. The major conservative PACs have signaled that Phelan stands in the way of an even greater rightward shift planned for the 2024 elections.
Any reasonable person would think Republicans should be throwing Phelan a parade. Under his Speakership, abortion was abolished, voting rights and access were rolled back, gun rights were heavily expanded, and no onerous regulations on the oil and gas industry were passed despite the catastrophe of Winter Storm Uri. Broadly speaking, Republicans accomplished some of their wildest dreams thanks to Phelan.
It's not enough for some of the biggest funders of Texas Republicans, though. They want Democrats permanently crushed and barred from holding committee chairs. This is why so many are throwing their weight being Tinderholt.
According to Scott Braddock, Republican Party of Texas, Defend Texas Liberty PAC, Grassroots America We the People, Texas Scorecard (which used to be Empower Texans) have all allied behind Tinderholt. These groups represent millions of dollars in funding for conservatives, particularly in primary challenges, and are largely bankrolled by the oil moguls Tim Dunn and Farris Wilks.
"Any GOP Rep. voting for Speaker Phelan next session is voting for Democrats as chairman," says former Rep. Jonathan Stickland, who currently runs Defend Texas Liberty.
Defend Texas Liberty already launched a massive campaign in March against Republicans it felt had not pushed far enough to the right on issues like abortion. The extremism of their flyer campaign made news around the state. The candidates backed by Phelan survived all these challenges.
Unfortunately for the extremists, Phelan brings much more to the House floor than mere animosity for the very existence of liberals in government. Not only does Phelan have his impressive list of accomplishments while Tinderholt just has a list of might-have-been bills that died in committee, but Phelan was also instrumental in getting more Republicans into the House. Using $5.6 million in campaign contributions, he doubled the number of Republican women serving and made significant inroads along the Rio Grande Valley. The Republican Party of Texas spent nothing on such races, preferring to fight popular culture wars under the leadership of Matt Rinaldi.
Attempting to oust a popular speaker has been a favorite career boost to far-right members of the legislature. Ken Paxton, Bryan Hughes, and Scott Turner all tried it with former Speaker Joe Strauss, though none of them actually pushed through a vote against Strauss.
The loudest and most well-funded parts of the far-right Republican sphere clearly think they have what it takes to intimidate Phelan into submission, but they have their work cut out for them. Tinderholt himself is a scandal-ridden candidate with multiple wives and not a lot to show for his time in the legislature. Still, the power of oil money and zealotry should not be underestimated, even if Defend Texas Liberty has mostly backed losers.