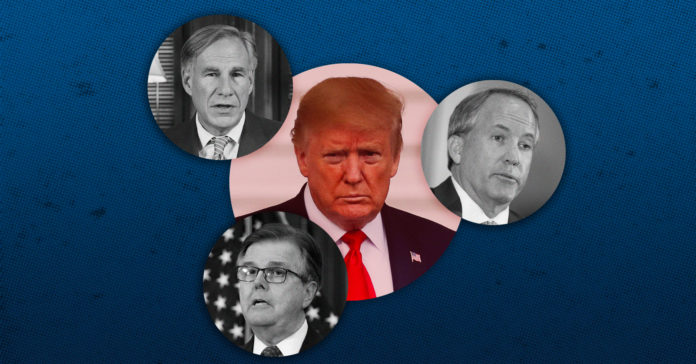 In the wake of the insurrection attempt at the U.S. Capitol on January 6 where a mob of right-wing terrorists stormed the building to interfere with the certification of the presidential election, Texas' top political leaders have not been unified in their responses. In some cases, their actions are downright disturbing.
The most unsettling is that of Attorney General Ken Paxton, who has been a willing participant in President Donald Trump's schemes to overturn the election. Whether Paxton is doing so in hopes for a federal pardon for his recent FBI investigation for corruption is a matter of speculation, but what is clear is that he helmed a Hail Mary lawsuit meant to disqualify votes that flipped for President-Elect Joe Biden this past November.
The Supreme Court declined to entertain Paxton's bizarre legal coup attempt on behalf of Trump, but that doesn't mean he has given up his dream of installing Trump in a second term in spite of the president's clear electoral loss. Paxton was actually in Washington D.C. at the rally where Trump appears to incite the mob to march on the Capitol Building.
After the riot, Paxton has done nothing but double down on defending the insurrection attempt. First, he took to social media to blame the violence, which left several people dead, not on Trump supporters but on Antifa. He cited a Washington Times article that falsely claimed facial recognition software had revealed leftist double agents in the crowd.
The conspiracy has been quickly debunked by law enforcement, who have since arrested over a hundred participants in the insurrection and most of whom have long data trails of Trump support. Paxton not only did not acknowledge that he was wrong or lying, he has continued to use social media to stoke conspiracy theories. A recent Facebook post by the Attorney General touts recent misinformation campaigns by Project Veritas as proof that widespread election fraud occurred in 2020. Project Veritas has tried to prove voter fraud with sting videos at least twice, but tend to bungle their "scoops" by using the wrong names of the supposedly dead voters they try to impersonate.
In addition, Paxton is the only state attorney general who would not sign a letter denouncing the actions at the Capitol. He did sign a statement with the Republican Attorneys General Association saying that he would not "not tolerate violence and civil disorder," but still supported the protesters as legitimately demonstrating against election fraud instead of a violent seditionist.
Fellow conservative firebrand and Trump ally Lieutenant Governor Dan Patrick has at least tried to stall the left-wing conspiracy rhetoric. He points out that antifa members usually cover their faces for one. In a recent statement he said:
"There are no excuses for those who stormed the Capitol on Wednesday. Five people died. And, sadly, it appears that most of the protesters inside the Capitol were Trump supporters."
However, Patrick was still keen to hang some of the blame on the left.
"Enough of blaming all Trump supporters for the crimes of a small group who attacked the Capitol. I've spoken to and met thousands of Trump supporters across the nation. They love this country and the Constitution. They hate what they saw at the U.S. Capitol as much as I do."
A recent YouGov poll shows that 45 percent of Republicans supported the attack on the Capitol last week.
Governor Greg Abbott has joined his lieutenant in condemning the actions of the mob, though he stopped short of calling for Trump's resignation or support of congress in removing him. Calling such prospects "political machinations," Abbott puts the blame squarely on the crowd instead of the president and called for punishment. "Violence always obviously is unacceptable," Abbott said, "but the people responsible for that violence are the people who did it. They're the ones who should be punished for it."
The disconnect between the governor's office and the attorney general shows a tremendous rift in the Texas Republican machine. Though Abbott and Patrick have actively stayed away from conspiracy nonsense and excusing the insurrectionists as not really Trump supporters, they still remain loyal retainers in the last days of Trump's reign. Paxton on the other hand, has fully embraced Trumpism as his legal woes mount and his second election under indictment looms. With a very busy legislative session ahead of us, it's impossible to tell which approach, if either, will enable the conservatives to maintain power in an increasingly purple Texas. As of right now, even the bigwigs are scrambling on how to deal with the most blatant domestic attack on American democracy since the Civil War.