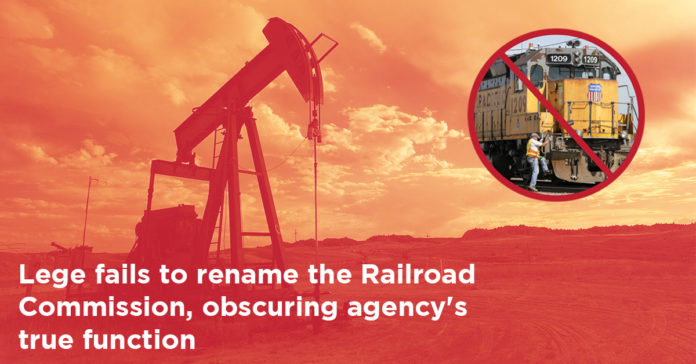 A move to bring more transparency to Texas state government was snubbed again this year for the fifth consecutive session. House Bill 857, authored by State Rep. Rafael Anchia (D-Dallas), sought to change the name of the Texas Railroad Commission to the Texas Energy Resources Commission to accurately reflect the function of the 128-year-old agency. The bill died in a House committee chaired by Rep. Chris Paddie (R-Marshall), who received $79,500 from the bill's detractors in the oil and gas industry in the last election cycle.

Anchia told the Dallas News that he filed the bill to "help consumers connect the commission with oversight over oil and natural gas companies and encourage the public to report problems." It was part of his legislative package on increasing pipeline safety in response to a gas explosion tragedy in his district.

Most Texans do not know that the role of the Railroad Commission is to oversee the oil and gas industry—rather than railroads, as the name suggests. The commission stopped regulating railroads in 2005, yet bills to rechristen the agency have died every session for the last decade, even when the issue would allow Texans to decide through a constitutional election.

For example:

Opponents of the efforts, lobbyists for the oil and gas industry, have suggested one reason to reject this bill is that a name change would "disrupt the energy market" due to the Texas Railroad Commission's name recognition.

Yet lack of transparency only serves the industry that wants to retain their influence over the Commission, whose members receive millions of dollars in contributions every election.

Texans should know the agency's true function because it sets gas rates in Texas, regulates the oil and gas industry (including pipelines), and mediates disputes with the industry.