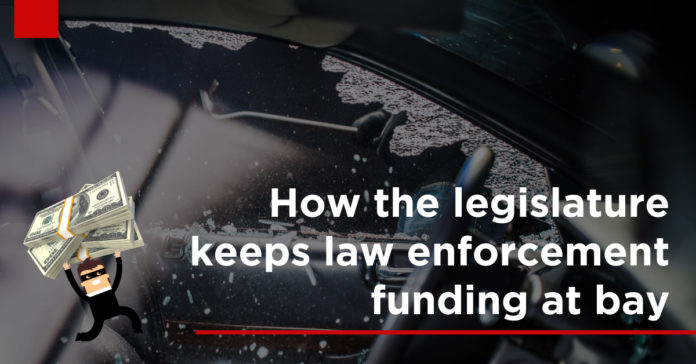 For many, summer in Texas means escaping the heat, but Northwest Houston police are seeing a different type of wave on the horizon: burglary of motor vehicles.

At a recent Houston Northwest Chamber of Commerce Safety and Security Task Force meeting in June, HPD commander Steve Spears noted a surge in burglary of motor vehicles (BMVs) in the Willowbrook area, up 30 percent from previous years. The area experiences high traffic due to summer travel and shopping, but drained law enforcement resources make it difficult for HPD officers to respond accordingly.

As it turns out, this lack of resources is a problem that extends far beyond the city of Houston.

In response to the recent spike in BMVs and automobile theft, Lt. Tommy Hansen from the Galveston County Sheriff's Office argued that law enforcement are getting the short end of the stick from the Texas legislature. Lt. Hansen, who is chair of the Texas Automobile Burglary and Theft Prevention Authority, met with various law enforcement officials back in April 2019 and discovered they were all missing promised funding from the Legislature.

According to a bill enacted in 1991, Texas lawmakers approved a $1 add-on to all auto insurance policies to fund a burglary and theft task force. However, law enforcement officials claim this funding never made its way to their pockets in order to help curb these crimes. And in 2011, HB 1541 passed through the legislature and made the total add-on to insurance policies $2. HB 1541 maintained that the funding collected from the add-on increase could be appropriated only to the Automobile Burglary and Theft Prevention Authority for purposes of automobile crime prevention.

Lt. Hansen said that although the provisions in this bill collects close to $50 million per year from Texans' auto policies, the task force only receives about a fourth of that funding, or close to $12.8 million.

The remaining money ends up in the General Revenue fund, rather than with law enforcement. While Texans continue to pay extra for their insurance policies, law enforcement lacks the money to purchase more high-tech equipment to go after auto theft offenders. What's more, many Texans don't know about this provision or their contributions to the legislature's bank.

While criminals go unpunished for burglarizing Texans' vehicles, it's unclear who receives the majority of money from the fund, or what the legislature is doing to remain transparent, accountable, and putting Texans' best interests at the forefront.