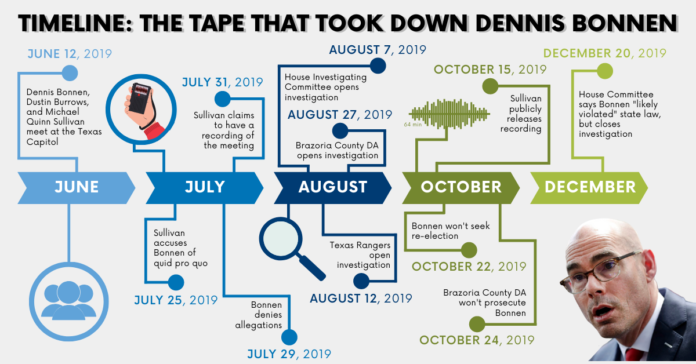 June 12, 2019 – The Meeting
A meeting between the following two Republican representatives and a conservative Republican activist took place June 12, 2019 at an office in the Texas Capitol.
Representative Dennis Bonnen: Texas House of Representatives Speaker
Representative Dustin Burrows: Chairman of the Texas House Republican Caucus
Michael Quinn Sullivan: Leader of Empower Texans, a conservative group that has often used their leverage to get Republican challengers to run against incumbents they believe aren't conservative enough in primary elections. Texas Scorecard is the print and online publication of Empower Texans.
July 25, 2019 – Michael Quinn Sullivan Goes Public
Sullivan published a blog post on Texas Scorecard, detailing his version of the meeting. Sullivan alleges Bonnen made him an offer: If Sullivan agreed to spend his organizations' money to target a list of 10 current Republican House representatives in their primary elections (in an effort to replace them with "better" Republicans), Texas Scorecard reporters would receive previously denied Texas House media credentials. The alleged list included:
The List:
● Drew Darby ● Phil Stephenson 
Sullivan claimed Bonnen left the office toward the end of the meeting so Burrows could read the list of names. Sullivan also accused Bonnen of making vulgar comments about a few Democrat House representatives.

Michael Quinn Sullivan sent a letter to Bonnen and Burrows on June 19, which has not been publicly released (we'll come back to this). He states in his blog that the letter was to reject their offer. He received this response letter from Bonnen on June 27.

July 26, 2019 – Bonnen's Letter to House Republicans
Speaker Bonnen sent an email to Republican members of the Texas House of Representatives, offering his version of the story. Bonnen confirmed the meeting took place and explained the events that led to the meeting. He did not directly acknowledge the alleged list Sullivan provided, but he did call Sullivan's account of the meeting a contrived effort to destroy the Republican majority in the House.

July 29, 2019 – Bonnen Addresses the Public
Bonnen released a public statement, vehemently denying Sullivan's accusations. Bonnen said he never provided Sullivan with a list, and once again said Sullivan's only goal was to cause chaos. Bonnen also said he asked Burrows not to comment on the matter, as Burrows was only there as a witness to the conversation, and the attack was on Bonnen.

July 29, 2019 – Sullivan Pressures Burrows to Come Forward
After Bonnen's public statement, Sullivan released another blog post on Texas Scorecard. He pressured Burrows, as Bonnen's professed "witness," to answer the following questions:
Does he stand by Bonnen's misrepresentation of the meeting and its substance?
Did Speaker Bonnen not in the meeting say "he'll show you the list…"?
Then did Bonnen not leave the room and did Burrows not read a list of Republican targets the two of them hoped Empower Texans' political action committee would "fund" against?
July 31, 2019 – Sullivan Has a Recording
With no response from Burrows, Sullivan announced he recorded the meeting and threatened to release the recording if Bonnen and Burrows refused to recant their "false claims." Sullivan said in the meantime he would allow Republicans to listen to the tape.

July 31, 2019 – Bonnen Says to Release the Tape
Bonnen called for Sullivan to release the recording in its entirety.

July 31, 2019 – Two Lawmakers Listen to the Tape
The same night that Sullivan offered Republicans the chance to listen to the recording, Rep. Travis Clardy—on the alleged list of targets—and Rep. Steve Toth listened and confirmed Sullivan's claims.

August 6, 2019 – Bonnen Apologizes
After additional lawmakers listened to the tape and confirmed Bonnen did target a list of Republicans and did say vulgar things about his colleagues, Bonnen apologized for saying "terrible things." Many Representatives took to Twitter, accepting and applauding Bonnen's apology.

August 7, 2019 – Texas House General Investigating Committee
The Texas House General Investigating Committee, which holds subpoena power, announced they would review allegations against Bonnen. Rep. Morgan Meyer, chairman of the committee, was named to this position by Bonnen.
Note: Meyer previously received nearly $20,000 in political contributions from Bonnen.

August 8, 2019 – Texas Democrats Sue
The Texas Democrats sued Dennis Bonnen and Michael Quinn Sullivan for violating numerous campaign finance and election laws.

August 12, 2019 – The Hearing
The public part of the hearing actually never happened. Less than two minutes after the session began, the committee went into executive session, meaning only committee members were allowed to participate. After roughly an hour of closed-door deliberation, the committee emerged with a unanimous vote.

The burden of investigation moved from the House General Investigating Committee to the Texas Rangers Public Integrity Unit. The Texas Rangers were tasked with conducting an initial inquiry and to consult with a prosecuting attorney. If the Rangers' findings demonstrated reasonable suspicion that an offense occurred, the prosecuting attorney would lead the case with the help of the Rangers.

August 27, 2019 – Brazoria County District Attorney Joins Investigation
Brazoria County District Attorney Jeri Yenne said she requested that the Texas Rangers Public Integrity Unit investigate Bonnen's meeting on August 13, one day after the House General Investigating Committee made the same request. Yenne is the top prosecutor for the county of Bonnen's residence. According to a law passed in 2015, if the Rangers concluded that Bonnen had committed a crime, the investigation would be referred to Yenne for review.

October 15, 2019 – The Tape is Publicly Released
A 64-minute recording of the June meeting with Bonnen, Burrows, and Sullivan was released on the website of WBAP's talk radio station. The tape largely confirmed Sullivan's claims. Bonnen can be heard offering media access to Empower Texans and suggesting they target certain Republicans. Bennen can also be heard calling a House member "vile" and suggesting that another House member's "wife's gonna be really pissed when she learns he's gay." A transcript of the recording was also released.

October 15, 2019 – Bonnen Claims No Laws Were Broken
An hour after the tape was released, Bonnen's team issued a statement calling the tape "clear evidence…disproving allegations of criminal wrongdoing."

October 22, 2019 – Bonnen Announces He Will Not Seek Re-Election
Dennis Bonnen announced he would not seek re-election.

October 24, 2019 – Bonnen Won't Face Criminal Prosecution From DA Yenne
After receiving and reviewing the Texas Rangers report, Brazoria County District Attorney Jeri Yenne decided not to prosecute Bonnen. "As repugnant as Speaker Bonnen's actions and statements are, I do not believe there is sufficient evidence from the June 12, 2019 meeting to warrant a criminal prosecution of Speaker Bonnen for Bribery or Solicitation of a Gift by a Public Servant, therefore no criminal charges will be brought," Yenne said in a statement.

Though DA Yenne chose not to prosecute, the House General Investigating Committee had three legal advisors retained to assist in the reviewing the final report and to advise them "on the most appropriate next steps."

December 20, 2019 – Texas House Committee Closes Investigation
The House General Investigating Committee unanimously adopted the final report from its legal advisors. The report said Bonnen "likely violated" state law during the June meeting, but members of the committee decided not to pursue legal action against Bonnen and announced the investigation was closed.

Rep. Morgan Meyer (R-Dallas), chairman of the committee, said Bonnen "likely violated" section 572.051(a) of the Texas Government Code. However, according to advisers in the report, the law provided no "independent statutory consequences" for state officials who breach it.
Any further action will be left to the 150-member legislative body. The Texas House of Representatives rules allow for the proposal of articles of impeachment. According to Section 665 of the state's government code, if members decide to act on Bonnen's impeachment, they will have three methods of doing so during the legislative interim.