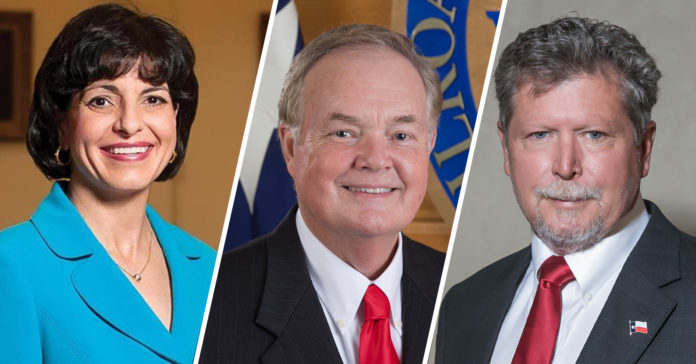 It's a poorly understood fact that when it comes to oil and gas in the state of Texas, it's the Railroad Commission that has the most power. If the state is to avoid a future electrical grid shutdown, then a hard look at who makes up that commission and what they actually do is going to need to be done.
Why does a railroad commission govern oil and gas, anyway? It stems from the days when most pollution came from trains, with the commission slowly gaining more control over power sources until by 2005 it no longer even regulated trains at all. The name stays because it's intentionally misleading. A great many Texans have no idea just how important the commission is to their lives, and entrenched power structures like it that way. At one point, it literally set world oil prices until OPEC supplanted it in 1973.
The commission was initially an appointed position, but it's been an elected one since 1894. Three members serve overlapping six-year terms. The current board is composed of Jim Wright, Wayne Christian, and Christi Craddick. All of them are Republicans with big ties to oil and gas money.
Though ERCOT and the PUC have gotten most of the blame for the long blackouts during Winter Storm Uri, their scapegoating has been very much beside the real problems. Failure to winterize power producers properly after the 2011 storm was the prime culprit of why the lights went out, and natural gas plants freezing was a big part of the failure. That falls firmly under the railroad commission's power.
"Everybody's trying to throw ERCOT, wind and power plants under the bus, but it's the gas system that primarily failed us," Michael Webber, an energy resources professor at the University of Texas at Austin, told the Houston Chronicle. "And the gas system is really a Railroad Commission thing."
The people who make up the railroad commission are perfect avatars of the larger Texas Republican adherence to deregulation and free markets. Chairwoman Christi Craddick has so many conflicts of interest in the industry she is supposed to oversee that a fellow Republican, former railroad commissioner Ryan Sitton, even criticized her.
"If I'm voting on an item, and I own direct interest in that item then, yes, that would be a conflict of interest," he said during his 2014 campaign. Sitton moved his own investments into a blind trust while in office, which Craddick apparently did not.
A KXAN investigation into Craddick's finances came back with some damning evidence. She has financial stakes in dozens of oil and gas companies, none of which she disclosed on minutes when voting on issues that would reflect them. More than 35 percent of her campaign contributions come from wealthy oil and gas families, including $205,000 from oil mogul Syed Javaid Anwar and $90,000 from James L. Davis of West Texas Gas. All told, wealthy oil and gas executives have donated $1,650,846 to Craddick between 2011 and 2016.
Governor Greg Abbott appointed Craddick to the Southern States Energy Board in 2015. The board essentially served as a fossil fuels cheerleading group that pushed relaxing regulations as much as possible during the Trump Administration even as the rest of the world was sounding the alarm about the ongoing climate crisis. Their meeting in 2019 was sponsored by American Electric Power, Duke Energy, Marathon and Phillips 66, as well as petrochemicals giant Koch Industries, and featured mostly a parade of climate science denial and adherence to more deregulation.
Fellow railroad commissioner Jim Wright owes even more of his electoral success to a small group of wealthy donors from the oil and gas industry. Half of the money his campaign received from 2013 to 2016 came from such donors. It was Wright who defeated Sitton in the primary and went on to clobber Democratic challenger Chrysta Castañeda in the 2020 election. Wright also personally owns an oilfield waste company. Incidentally, Wright was fined over $180,000 in 2017 over a leaky storage tanks that dripped toxic waste.
Wayne Christian has gathered the least controversy of the railroad commission but has still made his loyalty to an unregulated oil and gas industry clear. In an editorial for World Oil, he makes the case that increased pressure to move to renewable industry was partially at fault for the winter storm blackouts.
"The issue isn't the existence of renewable energy, but that it has displaced reliable generation that makes up our 'base load,' not through natural market forces but through massive subsidies and punitive regulatory policies from progressives in Washington, D.C.," he said. He also blamed coal plants in Texas shutting down on renewable energy policies, which is only true in the fact that federal subsidies have made wind power cheaper and the deregulated Texas market is keen to buy that power.
For 25 years, the railroad commission has been exclusively in Republican hands and almost universally dedicated to making the oil and gas industry as profitable as possible. In some cases, their personal fortunes and electoral viability depend on it. They have little incentive to call for more regulation of these companies, and when the next hard freeze comes Texas will reap the effects of that reticence.