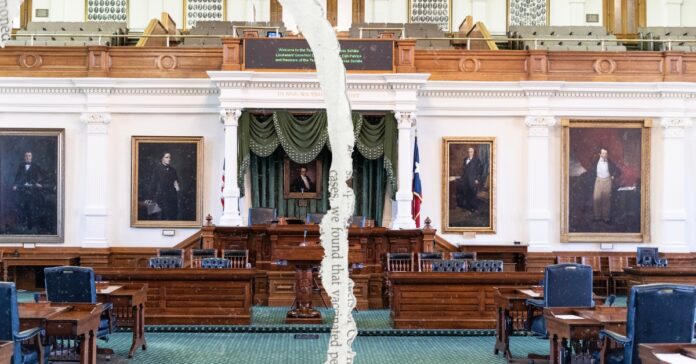 Gov. Greg Abbott's and Lt. Gov. Dan Patrick's legislative baby – a school voucher bill – is not as popular as they have been letting on. It has been reported that Senate Bill 8 is stuck in the Texas Senate, where there do not appear to be enough votes to pass it.

On Tuesday, the latest version of Senate Bill 8, which would allow families to use taxpayer money to send their children to private schools and restrict classroom lessons on sexual orientation, received initial approval and went to the Senate for a full vote.

The Senate education committee, led by Sen. Brandon Creighton, R-Conroe, voted 10-2 to advance the bill.

At the Texas Senate the bill hit a brick wall, not garnering enough support to pass. Even if it does pass, the Texas House could be an even greater obstacle, since it is probably 20 votes short, according to Harvey Kronberg's Quorum report.

Lt. Gov. Patrick will continue to apply pressure in the dynamic. An insider source told Reform Austin that Patrick's eye is especially gravitating towards Sen. Juan "Chuy" Hinojosa, D-McAllen, due to his Catholic constituency in Rio Grande Valley who want vouchers for their parochial schools, and the fact that he is Vice Chair of Senate Finance.

Hinojosa has, however, stood firm on his opposition to vouchers all throughout the session. He also sponsored Senate Bill 10, which focuses on improving teacher pay and working conditions.

Rumor also has it that a few other Republican Senators are against the bill, like Sen. Robert Nichols, R-Jacksonville, and could possibly be joined by Sen. Charles Perry, R-Lubbok, who allegedly asked for more information on certain parts of the bill but has yet to receive them from the Lt. Gov's office.
What Happens Next
The latest version of the bill would give parents who opt out of the public school system access to an Educational Savings Account with up to $8,000 in taxpayer money per student, which could be used to pay for a child's private schooling and other educational expenses.
It also comes with a little sweetener for rural lawmakers. For every student that leaves a school district with less than 20,000 students, the district gets $10,000. This program is only good for two years.
In addition, the education savings account structure is wrapped into a broader legislative proposal that emphasizes "parental empowerment." Per SB8, if a private school in Texas wants vouchers, the government can't require private schools to change creeds, practices, admissions policies, curriculum, performance standards, employment policies, or assessments.Basically, private schools receive taxpayer money through education savings accounts but are not obligated to adhere to the same standards as public schools due to a lack of accountability within the program.
Since SB8 was heard last week and was just released from Senate Ed on Thursday, it has to spend some time on the calendar before it can be heard. Most likely that will be Wednesday or Thursday of next week – that is if they can get the votes for it.