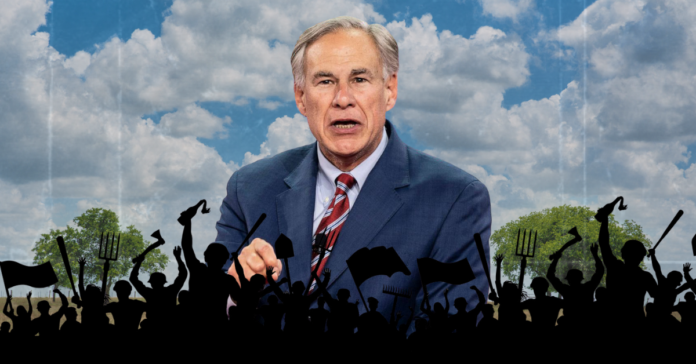 Gov. Greg Abbott believes that touring rural areas where Republican members of the Texas House or Senate are against vouchers is enough to get them and their constituents on board with the "school choice" idea. But he seems to be overlooking one small detail: "rural public schools are the lifeblood of their communities."

Keith Bryant, Superintendent of Schools in Lubbock-Cooper ISD, illustrates the effect of a voucher program in rural public schools best:

"They are unifiers, gathering places, and information providers. Many times they are the largest employers in their communities, and, often, school events are the largest draw of visitors to their towns. Disruptions to funding for rural schools are disruptions to the fabric of life in rural communities."

Follow The Leader?

In a state where the money follows the child, students dropping out of public schools would inevitably affect – an already scarce – budget. Those who oppose a "school choice" program argue that the Legislature should focus on increasing public school education funding, instead of diverting those dollars into a system that holds no accountability.

School funding isn't that complex, Bryant told RA News, who explains school funding as a pie that everyone in public schools in Texas is sharing.

"Every public school in Texas is sharing this pie. If someone takes a slice out of the pie to fund vouchers for private schools or homeschooling, there is less pie remaining for Texas public schools."

Simply put, school choice is a distraction, said Claire Campos-O'Neal, parent of two kids and President of the Del Valle Education Foundation.

"If Gov. Abbott was listening to the majority of Texas parents with school-aged children, he would know that what we want is more funding for public schools, not "school choice." All Texas students deserve a free high-quality education and quality costs money. It's simple – put more money into public education."

Currently, Texas trails the national average by over $4,000 per student, earning our state an F-rating and ranking 42nd in the nation in per-student spending – the basic allotment per student is $6,160. In addition, teacher compensation has stagnated. Texas ranks 28th in the nation for teacher pay, $7,652 less than the national average, according to the latest National Education Association report.

Gov. Abbott's efforts to lobby for vouchers in rural areas might be putting pressure on some GOP lawmakers who in the past have voted against vouchers, but their constituents aren't going to let them succumb without a fight.

"Historically rural Republicans have been champions of public education and voted against "school choice" bills," Campos O'Neal told RA news. "It deeply saddens me to think that they would even consider public education (schools that admit and serve all Texas students) as a bargaining chip"

Just last week, thousands of members of the Texas PTA held a bipartisan rally outside Abbott's office on the South Lawn of the Texas Capitol to demand that the Legislature oppose private school voucher programs.

Rural lawmakers are also speaking out against Abbott's voucher plan. State Rep. Ken King, R-Canadian, said that he is fundamentally opposed to taking public dollars and giving them to private institutions to educate our kids. 
"No. 1, it's a bad idea because we fund public schools based on population—it's price per head. Rural schools get the least funding because we have the least amount of kids. When you take money out of the system, our schools get hit first," King told the Canadian Record, the publication serving his district. "No. 2, the two places these charter schools, private schools, magnet schools do not go is rural Texas, and they don't go to the inner cities," King added. "They can't make any money there."
Footing The Bill

"Any way you slice the pie," the voucher system will have an impact on rural public schools, in addition, it will distribute it to schools and programs with "no locally-controlled oversight and no accountability to the people footing the bill – the taxpayers," Superintendent Bryant explained.
Texas public schools are held accountable when it comes to addressing student achievement, school safety, and the curriculum that is being taught. Texans have a right to know how their tax money is being spent. Meanwhile, a voucher program would be handing out taxpayer dollars to people to educate their kids however they want without any oversight.
"What about the parents that want their kid to learn Sharia law? Or the parent that wants a school that teaches homosexuality is mainstream?" said King. "The taxpayer is not going to know where your tax dollars went or what kind of education you got."
Even those who oppose school choice agree that parents have a right to choose what is best for their child, but just not with taxpayers' money.
"I oppose the notion that the citizens of our state should pay for private school tuition or homeschooling resources when we have no voice in, knowledge of, or measure of accountability for the education being provided in these settings," Bryant said.