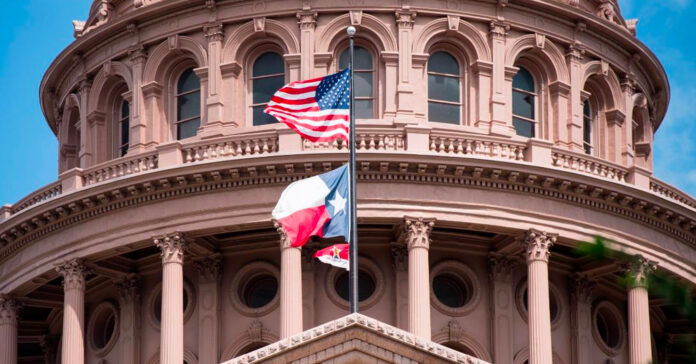 Update July 7 9:10AM: Abbott releases proclamation with 11 items for the first special session.
With the special session just around the corner and Governor Abbott remaining silent about possible items on the session's legislative agenda, Texans are still wondering what to expect.
Set to start this Thursday, July 8th, the 30-day session will most likely focus on GOP priorities, as Gov. Greg Abbott holds the exclusive power of setting both the agenda and the parameters lawmakers must follow.
Although he has not made an official proclamation on the bills to be considered during the session, based on his recurrent declarations, we do know Abbott will be pushing for many Republican priorities which died in the eleventh-hour walkout staged by the Democrats.
"I fully expect to have a session where we will pass an election integrity bill, as well as bail reform," Abbott told The Dallas Morning News earlier this month. "Those are both needed and they both must pass. And as we get there, we may be adding some additional items."
Voting Restrictions
Abbott has evidenced his urgency for SB 7 on many occasions, a bill known as "election integrity" for the GOP and voter suppression for everyone else, which would not only limit the hours and tighten the rules for early voting but also through last-minute changes would have lowered the burden of proof for overturning an election. While Republicans in both chambers now claim to oppose some of the provisions in the conference committee report for SB 7, it is expected bans of 24-hour voting and drive-thru will be revived.
Speaker Dade Phelan suggested he would prefer breaking up the omnibus voting bill, SB 7, into smaller bills to get it passed. Lt. Gov. Dan Patrick and Abbott prefer one legislative vehicle. In a press release Tuesday, Patrick said he would support the House version of SB 7 before all the new changes. Any such bill during a special session is likely going to be heard in a new House select committee instead of the Elections Committee chaired by Briscoe Cain (R-Deer Park).
Changes to Bail Laws
Texans can also expect changes to Texas bail laws, making it more difficult for pre-trial detainees who have previously committed violent offenses from getting out on bail or personal bonds. HB 20 was one of the bills to die because of the Democratic walkout late last session. CLEAT, which represents Texas police unions, supports the bill.
"Critical Race Theory" Ban
Abbott has also hinted improvements to the "critical race theory" ban will also be on the special session agenda. Abbot made these comments in a statement after signing HB 3979. There were no witnesses in favor of the bill during the regular session, but it is a pet project of GOP donors as per Senate sponsor Bryan Hughes (R-Mineola).
Social Media Deplatforming
One of Dan Patrick's priority bills, SB 12, which prevents social media deplatforming of conservatives, is also expected to be on the special session call. Abbott spoke in favor of the legislation at a town hall in June, even though a similar bill passed in Florida has been put on hold by the federal courts.
Legislative Funding – Article X
But perhaps one of the most expected items to be discussed is the line-item veto of Article X, which has left the entire legislative branch without funds. The veto is being used by Abbott to create leverage over Democratic lawmakers, pressuring them into passing his GOP priorities. It is expected Abbott will hold Article X funding back during the special session until his priority items are passed.
This is also playing out in the Texas Supreme Court this week. Democrats sued in the Supreme Court to overturn Abbott's veto, and the Attorney General and Solicitor General have since sided with Governor Abbott, claiming the Governor's veto power is broad and outside of judicial review.
These developments trigger a series of possible strategies for Democrats, as questions remain whether they will show up for the special session or stage another quorum-breaking walkout.
If they do stage a walkout, in spite of being outnumbered in both chambers, GOP priorities will not pass. The state constitution requires at least two-thirds of each chamber to be present to constitute a quorum, and Democrats hold enough seats to prevent the passage of legislation. However, without a quorum present, the legislative branch's funding cannot be reinstated, and if the Texas Supreme Court upholds the governor's veto, the funding will remain blocked.
If the legislative staff – who carry the weight of the legislative activities on their shoulders – remain unfunded later in the special session, there will be no way to carry out the long-delayed redistricting in the fall.
What else?
Other items that could be on the call but have not been disclosed by Abbott since the end of the regular session include funding the border wall, a ban on taxpayer-funded lobbying, preventing trans athletes from playing in girls sports, and banning cities from regulating employment leave and benefit policies.
On the other hand, there are items Gov. Abbott has expressed no interest in putting on the special session call. Chief among them is power grid reform.
When Abbott signed the omnibus power grid reform bill SB 3 he stated "everything that needed to be done was done to fix the power grid in Texas." Within a week of his statement, ERCOT told Texans to conserve their electricity, and some providers were covertly adjusting the home temperatures for ratepayers with smart thermometers. Conversely, Lt. Gov. Dan Patrick penned an op-ed calling for power grid reforms like consumer relief from overpricing during the storm and adding more costs to renewables to "level the playing field."
On Tuesday, Abbott changed course and included adding costs to renewables as part of a directive to the PUC in a likely bid to place the focus of the special session on issues important to his 2022 Republican primary.
Another issue not expected to be addressed is Medicaid expansion. During the regular session, the Legislature refused to take any hearings on any bills and the House voted down a budget amendment to direct Abbott and the HHSC director to develop their own plan for a Medicaid waiver and submit it to the federal government. Little was done for the uninsured this session, despite a pandemic and job losses which only added to the uninsured rolls because of the hit to Texans' jobs.
There are still two days until the special session and Gov. Abbott has yet to release a proclamation declaring what is on the call and Texas taxpayers will pay at least $1.2 million for this special session. Will the state's pressing issues which did not get addressed this past session get on the call or will the Governor continue to play politics to appease party activists?