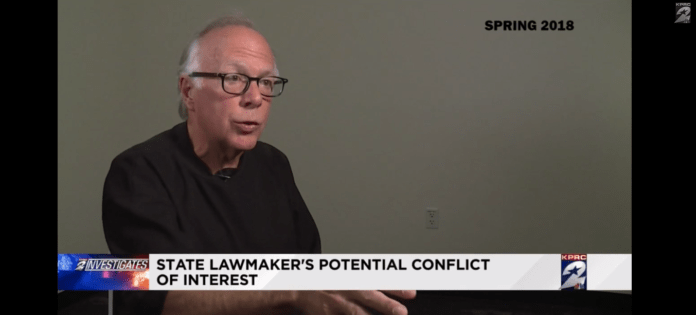 Reform Austin has written repeatedly about the need for ethics reform at the Capitol. As the new legislative class prepares for the 86th legislative session, eliminating corruption and strengthening ethics requirements should be at the top of each legislator's agenda. New members need look no further than a veteran of the Texas House, Representative Todd Hunter (R-Corpus Christi), as an example of why change is needed.
Hunter's potential conflict of interest with the Texas Windstorm Insurance Agency (TWIA) raises questions about who he is actually representing, his constituents in House District 32, or the insurance companies who put money in his pockets?
In addition to his position as a member of the Texas Legislature, Todd Hunter has had a 40-year career as a civil litigation attorney in the Coastal Bend. Not only does Hunter represent areas hit hard by Hurricane Harvey in Austin, he makes his living representing constituents in legal cases.
The Texas Windstorm Insurance Association, or TWIA, is the insurer of last resort for 14 storm-prone counties along the south Texas coast, and parts of Harris County. TWIA was created by, and is governed by the Texas Legislature. In 2017, House District 32 communities such as Corpus Christi, Port Aransas, and Rockport were devastated by Hurricane Harvey. Since Harvey made landfall, affected property owners have been battling TWIA, claiming their coverage for windstorm damage has been short-changed. Over the past 15 months, 302 lawsuits have been filed against TWIA for failure to help Texas residents. And Todd Hunter, a member of the Legislature, which oversees TWIA, is involved in many of those lawsuits.
Todd Hunter is doing his second tour of duty in the Texas House. After serving four terms representing Nueces County beginning in 1989, Hunter retired from the Legislature in 1997. After leaving the House, Hunter worked as a lobbyist for TWIA from 2003-2007. In 2008, Hunter returned to politics, winning election to represent House District 32. In the aftermath of Hurricane Ike, Hunter was appointed in 2010 as a mediator between TWIA and affected homeowners, for which he was paid tens of thousands of dollars.
More recently, Hunter, who once oversaw TWIA as a member of the House Insurance Committee, has been more critical of his former client. In September 2018, he joined Coastal Bend residents in protesting a 10 percent increase in premiums by TWIA. With all of the complications residents in his district are experiencing with TWIA, Todd Hunter has promised to "look at the legislation for TWIA and reform it" during the upcoming legislative session.
However, recent reports by KPRC Houston news indicate Todd Hunter is now teaming up with law firms to sue TWIA over Harvey claims, essentially profiting from the same agency he's vowed to reform. Hunter admitted to being "leveraged" by law firms in the suits because of his political position in the Texas House.
Over the course of his tenure in the Legislature, Todd Hunter has been all over the map with regard to issues with insurance and TWIA. In addition to representing plaintiffs in civil litigation and serving as TWIA's lobbyist for several years, Hunter worked as a leading advocate to "stop storm chasing lawyers", and even helped push a bill into law, requiring policyholders to provide advance notice to their insurers before filing a lawsuit. Hunter's efforts to limit "weather-related lawsuit abuse" during the 85th session earned him plaudits from Texans for Lawsuit Reform in 2017.
Now Hunter is joining lawsuits on behalf of constituents against TWIA – his former lobby client and an agency for which he has oversight responsibility in the Texas Legislature. With Hunter representing Texas areas most affected by storms, he has an obligation to advocate for his constituents, not his business interests.
Todd Hunter's actions make crystal clear the need for increased ethics laws and transparency.