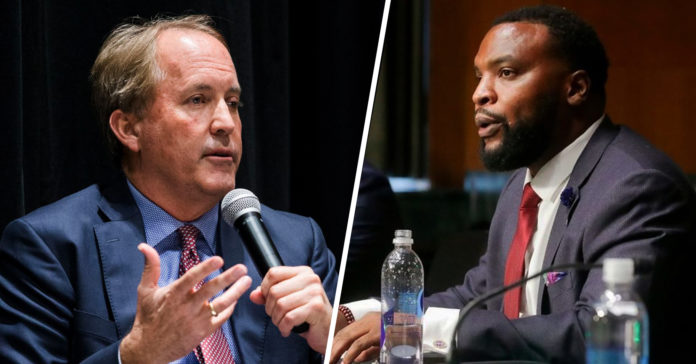 When President Trump was elected in 2016, many wondered if the former reality TV star had the background necessary to be the nation's commander in chief. During his tenure, Trump pushed the boundaries of his office and became the only president in history who was impeached twice.
But Texas Attorney General Ken Paxton proves that having a traditional background doesn't guarantee a traditional elected official. Ken Paxton is under indictment for federal securities fraud, is being investigated by the FBI for abuse of power charges, and helped incite a riot that led to the deaths of 5 people at the U.S. Capitol Building this January.
Despite all this, Texas keeps electing him, but who is going to challenge him for his seat next election cycle?
Most recently, Lee Merrit, a prominent lawyer and civil rights advocate announced his intention to run for the coveted post last Friday.
"Texas deserves an attorney general that will fight for the constitutional rights of all citizens," tweeted Merritt last Saturday. He had previously mentioned the idea to run at protest over a man's death in a suburban Dallas jail.
The Dallas native has earned quite a reputation across the country for defending people who have been fatally killed by law enforcement. He represented Botham Jean, a Dallas man killed by an off-duty police officer in his own apartment, and Atatiana Jefferson, a woman from Fort Worth who was shot and killed by an officer who opened fire at her from outside her home window. 
Joe Jaworski, a member of the democratic party, made his announcement last year, the first candidate to openly express his desire to unseat Paxton. "I have always thought the attorney general should be the attorney for the people, not a particular political party or ideology," he said.
Joe Jaworski is a mediator and was Galveston's mayor back in 2011. He's the grandson of the late Leon Jaworski, a Watergate special prosecutor.
He already has a website where he lists his top priorities if he becomes Texas Attorney General.
"As Attorney General, I will never embarrass Texas in The Supreme Court of the United States" his website says at the top. He is also a supporter of the Affordable Care Act and the legalization of cannabis for recreational use.
George P. Bush hasn't made any official announcements yet but said he was "keeping his options open" last year.
"Several donors have asked Commissioner Bush to consider running for Attorney General in 2022 in light of the recent allegations about that office," said Ash Wright, a senior political adviser for Bush, "Commissioner Bush has always said he will 'keep all options open' and that remains his policy. Like many conservative leaders around the state, he is very concerned about the allegations regarding Paxton." 
Whether he decides to run still a mystery, but even the fact that he's considering it speaks volumes Paxton's hold on the office.
Paxton has already stated he will run for reelection next year. He is currently under investigation by the FBI after vetting allegations made by eight of his former top aides denounced him for illegally using his office's power to benefit a political donor.