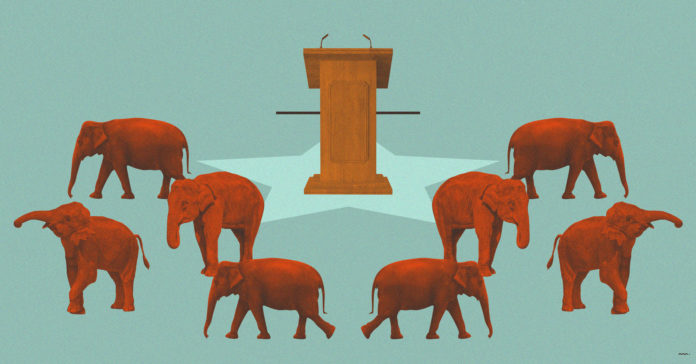 It was clear that State Rep. Dade Phelan's (R-Beaumont) goal in announcing his anointment as the next Texas House Speaker was meant to quell a drawn out fight. There is disappointment in the process from outside the state capitol, but inside, Phelan has moved quickly to win the support of the chamber's Republican majority and many Democrats. There appears to be unity, if only on this issue and if only right now before the rough and tumble games of the legislative session begin in January.
"Now that we know Rep. Dade Phelan will serve as our next Speaker, it's time for all representatives to focus on the issues we face together as a state – especially the challenges we face as a result of the still-spreading COVID-19 pandemic and the related revenue shortfall," stated Texas House Democratic Caucus Chair Chris Turner (D-Grand Prairie). We look forward to working with Rep. Phelan cooperatively and effectively to pass policies that will build a better future for all Texans.
Nine candidates, five Republicans and four Democrats, initially announced their intentions to seek the position.
Following Phelan's hastily called Wednesday morning news conference, State Rep. Trent Ashby (R-Lufkin) was out with a statement indicating he was still in the race and wanted to see the new speaker selected in an open process in accordance with the GOP Caucus bylaws. Hours later, Ashby reportedly had decided to throw his support behind fellow Republican Geanie Morrison (R-Victoria).
That left Morrison as the only remaining Republican in the race besides Phelan. Following a Thursday meeting of House Republicans, Morrison announced her withdrawal from the race and support of Phelan, the Quorum Report was the first to report. 
State Reps. Christopher Paddie (R-Marshall) and John Cyrier (R-Lockhart) haven't formally filed notice they are withdrawing, but they have indicated on social media that they are out, and they are included on Phelan's list of supporters.
Among the Democrats, State Reps. Oscar Longoria (D-Mission), Senfronia Thompson (D-Houston) and Joe Moody (D-El Paso) did not formally withdraw their candidacies, but they are also listed among Phelan's supporters.
Thompson even broke her two-year Twitter silence to let the public know she backs Phelan.
"I proudly support @DadePhelan for speaker of the House. I do not arrive at these decisions lightly and my support for @DadePhelan will not change," Thompson wrote.
While Phelan celebrates his new power, some GOP party leaders and influencers are complaining about the process.
"The actions of Rep. Dade Phelan don't present a good first step in restoring trust, confidence, and credibility for the House GOP Majority, Texas Republican Party Chair Allen West stated on Twitter. Texas Republicans want a principled constitutional conservative legislature, and policy agenda. This is not representative of the RPT platform, or legislative priorities."
Empower Texans and Texans for Fiscal Responsibility President Michael Quinn Sullivan agreed.
"Interesting to see @DadePhelan and ~50 @TXGOPCaucus  #TxLege members kick off the 87th Legislative session in complete defiance of the @TexasGOP Party platform. It is almost like they don't care…," Sullivan stated.
Some may recall that it was Sullivan's sharing of a secretly recorded conversation with Texas House Speaker Dennis Bonnen that led to Bonnen's decision to retire from politics at the end of his term in December.
Democrats lost the ability to influence the outcome of the speaker's race when they failed to flip enough seats in Tuesday's election to regain the majority in the lower chamber.
The House GOP Caucus has a retreat scheduled for later this month, but it does not meet formally until December.