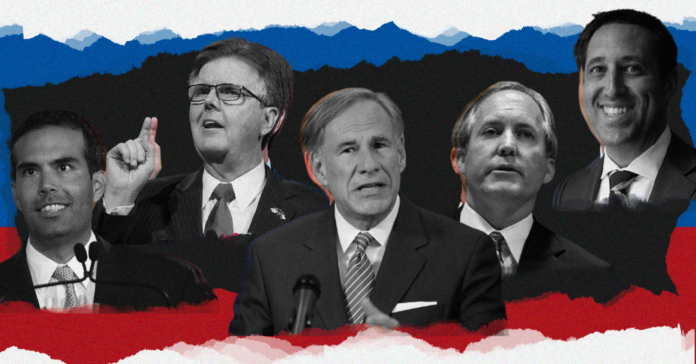 With ballots still being counted in key swing states in the tight presidential race, some Texans are already setting their sights on the next political contests — in 2022.
Democrats' hopes to turn Texas blue, including delivering the state for Joe Biden and flipping the state house to earn a seat at the table during redistricting, were dashed by a colossal Republican blowout.
Despite being flush with cash and determination, Democratic candidates in statewide and local races were met by Republican voters stubbornly determined to not cede power.
Gov. Greg Abbott, who will be facing re-election himself in 2022, wasted no time in taking to Twitter to talk some smack about the Democrats and their failed efforts.
"'Groundhog Day here in Texas': Biggest red state stays red," Abbott tweeted. "Texas Democrats have gone 26 years without winning a statewide race. That is the longest losing streak of its kind in America. Texans appear to like it that way!"
Tuesday's brutal battering won't stop Democrats as we head to the 2022 midterm elections, when the governorship and the state's other top offices are up for grabs again. Texans will be voting for governor, lieutenant governor, attorney general as well as Congressional, state senate and state house seats as well as in county races.
"We have to take a look at what happened and why," said Matt Angle, founder and director of the Democratic-supporting Lone Star Project political action committee. "Then Democrats need to be more like Republicans and quickly pick ourselves up, dust ourselves off and look forward."
Among Republicans looking to "keep all options open" is Texas Land Commissioner George P. Bush, who has hinted that he is possibly considering running for attorney general.
"Several donors have asked Bush to consider running for attorney general in 2022 in light of recent allegations about that office," Ash Wright, a senior political adviser to Bush, told the Texas Tribune.
Possible interest in the race by Bush, the son of Florida Gov. Jeb Bush and nephew of former President George W. Bush, was triggered by Texas Attorney General Ken Paxton's latest scandal. A group of top Paxton aides reported to law enforcement officials that they believed their boss committed bribery and abused the AG's office to assist a political donor.
All seven of the aides have resigned or been fired since the story broke.
This is not the first scandal involving Paxton while he has served as AG. He was indicted five years ago for securities fraud but has yet to stand trial. A political spokesman for Paxton told the Texas Tribune that Paxton intends to seek re-election.
Former Galveston mayor Joe Jaworski, an attorney and grandson of Watergate special prosecutor Leon Jaworski, has announced his bid to run for attorney general as a Democrat in 2022. Jaworski stated that Paxton's actions are the reason he is running.
Besides the AG's race, the governor's race could draw candidates on both sides of the aisle.
Abbott's decision-making, particularly his management of the coronavirus response, raised the ire of members of both parties. Democrats faulted him for being too late or too lax with shutdown and mask orders. Republicans criticized him for not convening a special session of the legislature to have input in the response and for issuing overbearing orders they say robbed Texans of their liberties.
Abbott's overreach resulted in Republican blowback when some county level Republican Party organizations censured him, party leaders and conservative activists sued him and elected Republican officials, party leaders and grassroots activities staged a protest against him at the Texas Governor's Mansion.
Lt. Gov. Dan Patrick, who is most closely aligned with President Donald Trump and led the president's re-election campaign in Texas, is also a top target for Democrats. Patrick's comments during the shutdown that grandparents should be willing to risk their health and lives to re-open the economy sent shockwaves across the country.
After Tuesday's results, Republicans are telling the Democrats to go on and bring it in 2022.
"This election cycle proved that Texas is not a battleground state," the Republican Party of Texas said in a statement. "However, if Democrats want to keep wasting their money here, it's their money. We are now preparing for the 87th legislative session and ramping up for future elections, as we do not intend to lose our momentum of electoral gains."
Democrats have banked on shifting demographics that are making the state younger and more diverse, particularly in the suburbs and major cities. They continue to believe those changes will eventually turn the tide in their favor.
"The 2022 election will be a challenge for Democrats as they encounter a competitive Texas but an uphill battle to unseat well-entrenched incumbents," said University of Houston Political Science Professor Brandon J. Rottinghaus.
"Democrats all want to be the first out of the chute to challenge unpopular Republicans who've spent their capital defending Trump in Texas," Rottinghaus said. "Democrats are hungry to capitalize on modest gains in 2018 and 2020 but recognize that unseating an incumbent Republican statewide is a long trail drive.
"Starting early, especially fundraising, is critical to their success," Rottinghaus said.
Abbott could face a primary challenger from the conservative wing of the party due to anger over coronavirus orders and restrictions. But given Abbott's popularity with the Republican base and his hefty campaign war chest, a challenge "could make some noise" but is likely to fail, Rottinghaus said.
But Democrats are more motivated to replace the Republican leadership and will likely mount an aggressive campaign with competitive candidates.
"We're definitely up for the challenge," Angle said.