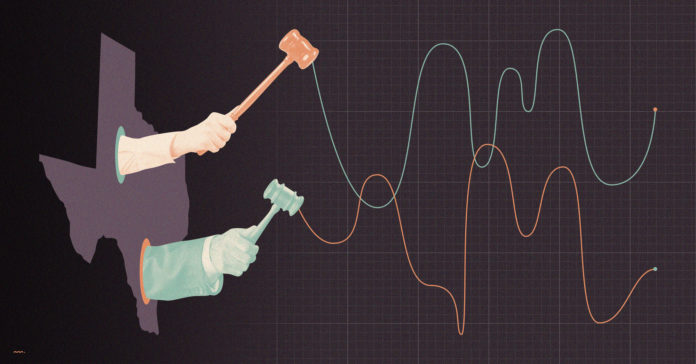 Texas Democrats failed in their bid to flip the Texas House of Representatives this election, and in the aftermath, State Rep. Dade Phelan (R-Beaumont) has declared himself the new speaker. Providing he is able to fend off some infighting that has erupted since his self-proclamation and win the election, Phelan will have a lot on his plate when the Texas legislature convenes in January.
Despite the ongoing pandemic, redistricting will almost certainly be the first order of business. Every 10 years following the census, states are given the chance to redraw their congressional districts in order to account for their population changes. This means the political boundary lines will change.
With Republicans in control, as they were a decade ago, they will have the opportunity to create districts favorable to themselves, such as Texas' notoriously gerrymandered 2nd Congressional District, where Republican Dan Crenshaw easily defeated Democratic challenger Sima Ladjevardian this week. That district stretches from the Houston suburbs to inner-city neighborhoods. With the Trump Administration's court packing in recent years, court challenges are likely to be met with the same sort of reception Democratic efforts to enhance voter accessibility faced leading up to Tuesday's election.
"They'll be able to draw tailor-made districts to maximize the number of Republicans who are elected," said Rice University political science professor Mark Jones to KERA.
Census results are not expected until June 2021. Lt. Gov. Dan Patrick has already said that he expects the legislature to have to convene in a special session to address the results.
The legislature has been out of session since 2019, and there has been quite a lot going on to put it mildly. Add on the retirement of Texas House Speaker Dennis Bonnen and the possibility of a party control flip, and plotting what will happen in January has been somewhat difficult.
George Floyd Act
Another contentious issue will be the George Floyd Act and its reforms to Texas policing. In August, the Texas Legislative Black Caucus laid out several proposals such as ending qualified immunity for victims of police brutality, making it imperative that officers intervene to stop brutality in progress by their peers, removing a mandate that police must arrest a suspect for a crime, and provisions against deadly force.
This package of legislative proposals was put together after Houston native George Floyd was brutally killed in police custody in Minneapolis, sparking nationwide protests that have continued for months despite the pandemic and election. Gov. Greg Abbot has voiced support for the bill so there is a fair chance it will get a fair hearing even though Democrats won't be holding the gavel of power.
"George Floyd has opened the doors to the conscience of people all around the world," said TLBC chair Harold Dutton in announcing the reform package in August. "When we talked about it before, some people didn't get the message. We stand on better ground than we ever have before."
The Budget
Texas is currently looking at a multibillion dollar budget shortfall due to the crash in oil prices and the economic downturn caused by COVID-19. With no end to the pandemic's hold on the state in sight, the question of how the state will be able to adequately fund all of its needs will involve tough decisions.
On the issue of the ongoing pandemic, Phelan has already called for continued delay of STAAR testing in schools this year. He has also been open to ideas such as additional sales tax holidays to help people and businesses with the cost of stocking up on personal protective equipment and expanding the Texas Workforce Commission to deal with the overwhelming number of unemployment claims brought by the pandemic's job losses.
Phelan see
In his press conference Wednesday, Phelan vowed bipartisan cooperation, working to keep money flowing to schools, and addressing the pandemic. It will be a while before talk can coalesce into action and the public can see and judge for themselves whether Phelan is following through. Regardless, he has his work cut out for him.