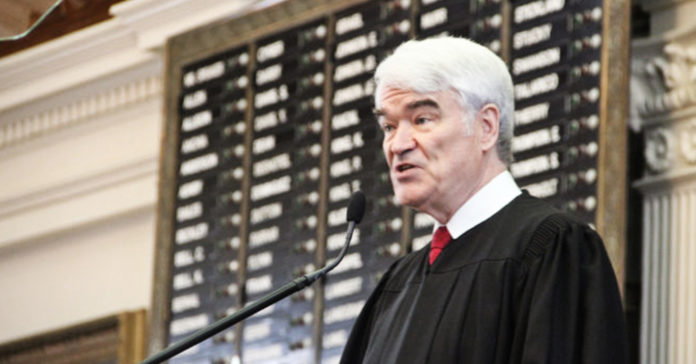 Nathan Hecht has served as Chief Justice of the Texas Supreme Court since 2013 and has presided as a justice on that same court for over three decades — the longest ever tenure for any person. Yet many are unfamiliar with the man who is currently the most powerful state judge in Texas. Hecht, a Republican, is up for reelection this November.
Over Hecht's lengthy occupation of his seat on the Texas Supreme Court, he has been widely criticized for his campaign finance practices, was once mired in controversy over ethics violations concerning misuse of office and improper campaign contributions (for which Hecht was fined thousands of dollars and officially reprimanded), and more recently, his court's judicial opinions regarding coronavirus relief efforts and voting have been vehemently denounced by Democratic critics.
Just as lengthy as Hecht's judicial record is his list of large, wealthy donors. Hecht has received nearly $600,000 in campaign contributions from just nine law firms, according to data compiled by the Texas Signal, an online progressive media outlet. Of particular note, Hecht received over $100,000 from the law firm Locke Lord — one of the largest firms in America, which represents the oil and gas, insurance, pharmaceuticals, and banking industries, among others. Locke Lord is also Hecht's former employer. Hecht has ruled in favor of parties represented by Locke Lorde each and every time they have appeared before him in court — an eye-popping rate of success at which almost any lawyer would raise their eyebrows, the Texas Signal reported. 
Hecht's questionable financial history, however, goes beyond contributions from elite law firms. In May 2006, he was sanctioned by the Texas State Commission on Judicial Conduct for "improper use of his office and position" to promote the nomination of Harriet Miers to the United States Supreme Court by President George W. Bush. (Bush later withdrew Miers's nomination.) Hecht's advocacy included giving 120 media interviews in support of Miers, and, as reported by The New York Times, assuring members of the Arlington Group, a rightwing Christian advocacy coalition, that Miers held pro-life views. After incurring $344,000 in legal fees battling those ethics charges, Hecht attempted to convince two Republican state legislators to introduce a bill in the Texas Congress that would have made Texas taxpayers reimburse him for those fees. Those efforts failed once his legislative allies learned that Hecht had managed to solicit "donations" and had secured a reduction in legal fees in order to resolve his debt. The controversy, however, did not end there. 
Just two years later, the Texas Ethics Commission held that Hecht received improper political contributions and misused campaign funds when he received those discounted attorneys' fees, solicited funds to pay his legal bills and improperly used campaign funds for personal travel. Hecht was subsequently fined $29,000 by the Ethics Commission. Attempting to defend his actions, Hecht said, "Here is the problem: if judges are sanctioned like this and it's unjust and it's wrong and they want to prove it, they can represent themselves or hire a lawyer that you can't pay for on a judge's salary." At the time of the controversy, Hecht was earning $152,000 a year. 
In more recent events, as reported by the Texas Tribune, Hecht's judicial opinions surrounding coronavirus relief and voting have garnered widespread denouncement from Democrats. In May of this year, the Texas Supreme Court, under Hecht's leadership, lifted a ban on evictions and debt collections, put in place to assist Texans suffering from the economic impact of the pandemic. Hecht's court also temporarily blocked a lower court ruling that expanded vote-by-mail access. 
Texas is one of only a handful of states with partisan elections for its highest court, and this November, Hecht will be facing a challenge from Judge Amy Clark Meachum, a state district judge in Travis County. If elected, Meachum would be the first woman to ever serve as chief justice of the Texas Supreme Court.