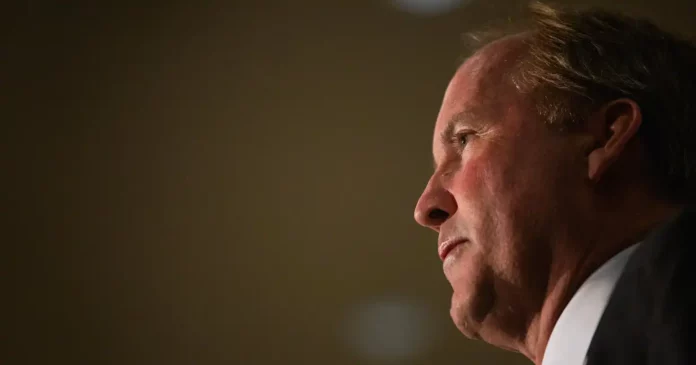 Attorney General Ken Paxton and four of his former top deputies who said he improperly fired them after they accused him of crimes have reached a tentative agreement to end a whistleblower lawsuit that would pay those employees $3.3 million dollars.
In a filing on Friday, attorneys for Paxton and the whistleblowers asked the Texas Supreme Court to further defer consideration of the whistleblower case until the two sides can finalize the tentative agreement. Once the deal is finalized and payment by the attorney general's office is approved, the two sides will move to end the case, the filing said.
"The whistleblowers sacrificed their jobs and have spent more than two years fighting for what is right," said TJ Turner, an attorney for David Maxwell, a whistleblower and former director of law enforcement for the attorney general's office. "We believe the terms of the settlement speak for themselves."
Paxton, a Republican who won a third four-year term in November, said in a statement that he agreed to the settlement to save taxpayer money and start his new term unencumbered by the accusations.
"After over two years of litigating with four ex-staffers who accused me in October 2020 of 'potential' wrongdoing, I have reached a settlement agreement to put this issue to rest," Paxton said. "I have chosen this path to save taxpayer dollars and ensure my third term as Attorney General is unburdened by unnecessary distractions. This settlement achieves these goals. I look forward to serving the People of Texas for the next four years free from this unfortunate sideshow."
The tentative agreement would pay $3.3 million to the four whistleblowers and keep in place an appeals court ruling that allowed the case to move forward. Paxton had asked the Supreme Court to void that ruling. The settlement, once finalized, also will include a statement from Paxton saying he "accepts that plaintiffs acted in a manner that they thought was right and apologizes for referring to them as 'rogue employees.'"
The attorney general's office also agreed to delete a news release from its website that called the whistleblowers "rogue employees." The news release had been deleted as of Friday morning.
The settlement will be structured to pay whistleblower Ryan Vassar for 27 months of back pay for work he would have done had he not been fired. That will allow Vassar, former deputy attorney general for legal counsel, to claim 27 months of service credit toward his state pension fund.
The attorney general's office also agreed to stop opposing Maxwell's bid to change paperwork filed with the Texas Commission on Law Enforcement about his removal from the attorney general's office. Such paperwork is important in law enforcement work, and a firing could be a red flag to future employers.
The settlement, which was mediated by attorney Patrick Keel of Austin, is contingent on the approval of funding.
The other two whistleblowers in the suit are Mark Penley, former deputy attorney general for criminal justice, and Blake Brickman, former deputy attorney general for policy and strategic initiatives.
The whistleblower lawsuit was filed after eight former top deputies to Paxton accused him of bribery and abuse of office in October 2020 and reported Paxton's alleged actions to authorities. All eight of those employees were either fired or resigned.
Their reports led to an FBI investigation. No charges have been filed and Paxton has denied wrongdoing.
In November 2020, four of those former employees filed a whistleblower lawsuit claiming Paxton had improperly retaliated against them after they accused him of criminal acts. They sought reinstatement and compensation for lost wages, as well as pay for future lost earnings and damages for emotional pain and suffering.
Two weeks ago, three of the four plaintiffs in that lawsuit – Penley, Maxwell and Vassar – asked the Texas Supreme Court to put their case on hold while they negotiated a settlement with Paxton. Brickman initially sought to oppose the motion but signed onto the settlement agreement filed with the court Friday.
Paxton has argued in state court that he is exempt from the Texas Whistleblower Act because he is an elected official, not a public employee, and that he fired the employees not in retaliation for their complaint but because of personnel disagreements. An appeals court has ruled against him and allowed the case to move forward. Last January, Paxton appealed his case to the Texas Supreme Court.
The whistleblower suit isn't Paxton's only legal problem.
Paxton is still facing felony securities fraud charges tied to private business deals in 2011. He has denied wrongdoing in the nearly 8-year-old case.
The Texas State Bar also sued Paxton last year for professional misconduct for allegedly misrepresenting that he had uncovered substantial evidence of fraud in a bid to overturn Democrat Joe Biden's election victories in four battleground states. Paxton has denied wrongdoing and dismissed the suit as politically motivated.
This story originally appeared on the Texas Tribune. To read this article in its original format, click here.