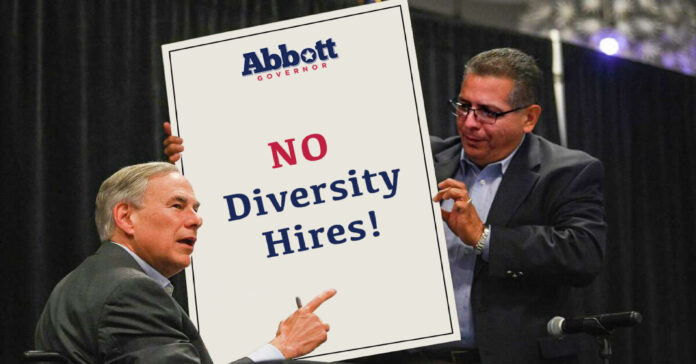 With the U.S. Supreme Court preparing to hear cases on affirmative action, Governor Greg Abbott appears to be trying to beat the rush. This week, he sent out a memo barring state agencies and public universities from using diversity programs in hiring.
The Texas Tribune obtained the memo on Monday. Abbott's chief of staff, Gardner Pate, advised agencies that they were forbidden to consider any metric other than merit, and claimed that diversity programs lead to discrimination. He did not state against who or cite sources.
Diversity, equity and inclusion programs, also known as DEI, are voluntary hiring practices used by organizations to rectify inherent biases against minorities in systems. While many, but not all, discrimination against marginalized groups is illegal, proactive initiatives signal to applicants that organizations are deliberately seeking to avoid discrimination.
This has led to a conservative backlash claiming that DEI programs are biased against white men despite there being no evidence of systemic discrimination. Former adviser to President Trump Stephen Miller, who has ties to white nationalism, has made a career in Texas over the last several years by suing schools on behalf of white and Asian people over discrimination. Miller likely hopes to land a case before the conservative Supreme Court, who has been striking down many progressive protections and programs.
The Equal Employment Opportunity Commission already prohibits DEI programs from "unnecessarily trammel the rights of non-targeted groups, usually non-minorities or men." Employers are encouraged to adequately document the qualifications of applicants. DEI has successfully been defended in court, such as in White v Oakland County Community College. As long as employers refrain from rigid quotas and consider merits equally, they are legally viable under current precedent.
Nonetheless, Texas universities are already scrambling to comply with Abbott's order. The Texas Tech biology department agreed to remove a candidate's feelings on DEI from their hiring process after an open records request and a piece in the Wall Street Journal. The piece was penned by John D. Sailer, who has made a career criticizing diversity outreach, particularly from Black groups.
Abbott's attack on diversity comes as whites in Texas have become a minority in population, but remain a majority in power positions. It also mirrors similar pronouncements from Florida Governor Ron DeSantis. The two are widely expected to challenge Trump for the Republican nomination for president in 2024, and have been regularly attacking progressive agendas in a bid to shore up their conservative bonafides.
Meanwhile, diversity advocates point out that Abbott's assertion that DEI programs are illegal has little basis in law.
"Anti-discrimination laws protect all Americans by ensuring that employers do not make hiring decisions based on race, religion, or gender — while diversity, equity, and inclusion initiatives work in tandem with those laws to encourage companies to solicit applications from a wide range of applicants, which is legal and beneficial," Andrew Eckhouse, a lawyer at Kaplan Law Firm based in Austin, told The Houston Chronicle.