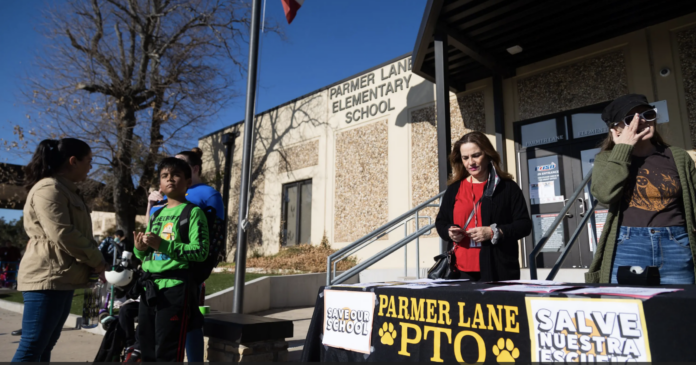 During a triumphant 2019 ceremony at Parmer Lane Elementary in Austin, Gov. Greg Abbott sat on a small stage in front of a large Texas flag as he signed a massive overhaul of the state's public school finance system.
The new legislation injected $6.5 billion into public education spending, plus about $5.1 billion devoted to lowering Texans' property tax bills. It included raising the total amount the state gives schools per student by about 20%, setting aside funds for teacher raises and reducing the amount of money wealthy districts would have to send to poorer ones under the state's recapture program, informally known as "Robin Hood."
"You could not overstate the magnitude of the law that I'm about to sign because this is a monumental moment in public education history in the state of Texas," said Abbott, flanked by about a dozen Republican and Democratic lawmakers. "This one law does more to advance education in Texas than any law I have seen in my adult lifetime."
Four years later, that same school where the law was signed is one of several campuses in the Pflugerville Independent School District under threat of being closed. The district, which expected a $17 million windfall from the 2019 law, is now grappling with a $12 million budget deficit under the pressure of mounting inflation and its still-high financial dues to the state.
The pandemic also had a direct impact on enrollment and, perhaps more significantly, student attendance, a crucial metric that helps determine how much money school districts get from the state. In Texas, if a student misses school, their district's attendance average goes down and so does the amount of money it receives. And in a post-COVID-19 world in which parents are quicker to keep their children home if they're feeling ill, some districts' finances have become more volatile than ever.
Districts like Pflugerville now believe the funding formula should be based not on attendance but on enrollment — which they view as a more stable benchmark — to better reflect schools' reality after the pandemic. As a new legislative session begins with an unprecedented $188.2 billion available to pay for state business, school leaders are hopeful but uncertain if lawmakers will have the appetite for another ambitious revamp of the school finance system.
"[Enrollment-based] funding would help us right now," Doug Killian, superintendent of Pflugerville ISD, told The Texas Tribune. "I'm hoping for the Legislature to save us, but I really don't have that belief that they're going to do what they need to do."
Financial strains
Every weekday, Esmeralda Alvarado walks her son to Parmer Lane Elementary with enough time to get to work. Alvarado is familiar with the neighborhood, which gives her a sense of peace when her son and his 13-year-old sister walk back home on their own in the afternoons.
First: A flyer in Spanish and English advertises an informational meeting about the potential closure of Parmer Lane Elementary School. Last: In their backyard in Pflugerville, Esmeralda Alvarado ruffles the hair of her son Emilio, who is in second grade at Palmer Elementary School. Credit: Evan L'Roy for The Texas Tribune
She was shocked to hear Parmer Lane might close. It would throw off her family's daily routine and maybe cost her her job, she said.
But she was also frustrated. Her property taxes have only gone up in the 18 years she has owned her home, yet her school district is struggling.
"We're paying for our schools, and now I won't have my own school close to my house," Alvarado said.
Pflugerville ISD, which serves families in the suburban city of Pflugerville, north of Austin, announced last month that Parmer Lane Elementary could close as the district looks to save money. Most of the district's 10 proposed plans to stay afloat call for shuttering two to three elementary schools that are located in older buildings and have low enrollment and attendance rates. Only one proposal would result in no school closures and trade them for heavy rezoning.
Parents have also expressed concerns about the potential closures' impact on class sizes, long school bus drives and equity. All of the schools being considered for closure have a high percentage of Black and Hispanic students and are classified as Title 1 schools, meaning they have a high population of economically disadvantaged students.
Terrance L. Green, an associate professor at the University of Texas at Austin, said schools that close because of economic struggles are usually majority Hispanic or Black, disrupting decades of community building and leading to negative student outcomes in reading and math.
"In these communities, schools often represent a place of hope, pride and dreams. So, when schools are closed, it not only affects students, families, teachers and staff members, it also reverberates through the entire community," Green wrote in his research findings.
His research has also found that districts that close schools due to financial reasons don't really save money in the long run because they incur new transportation costs and often continue paying for the maintenance of the old buildings.
"The data is clear that you don't save money unless you are ready to fire a whole bunch [of faculty]," he told the Tribune.
Killian said the district will do everything to make it an equitable transition since — at the moment — he sees no option other than to close some schools to save money. Since last school year, the district has made cuts across department budgets, reduced administrative staff and stopped filling positions. Killian said the district can't find anywhere else to cut.
"There's not a lot of low-hanging fruit anymore, and so we're having to look at how we staff, what campuses are open [and] whether or not they have enough kids in them to make them as efficiently staffed as possible," he said.
Killian describes the Pflugerville ISD's deficit as a "perfect storm."
The first factor is the state's recapture program, which requires the state to take funding from school districts with higher property values within their boundaries, like Pflugerville ISD, and give it to poorer school districts that can't raise much money. Even though the 2019 school finance law lessened the recapture burden on property-rich districts, Pflugerville ISD still has to make a $12 million payment to the state this school year.
Killian said the law was good and did give the school district more money, but inflation has eroded its value: The amount of money schools get per student went up four years ago, but it has stayed the same while the cost of living keeps rising.
Then there's the pandemic, Killian said, which altered the way people think about schooling and poked holes in the state's school funding system.
Under the current formula, schools get money from the state based on their attendance rate, which measures how many kids actually show up during a school year. Pflugerville's current attendance rate is about 91%; it was about 94% before the pandemic. A difference of a few percentage points in the attendance rate can mean millions of dollars in losses for a school district.
With the current attendance-based funding, schools have a hard time budgeting the right way because attendance is unpredictable, especially amid a pandemic, said Amanda Brownson, executive director of policy and research at the Texas Association of School Business Officials.
"Now, as waves of COVID and waves of flu run through a district, attendance rates fall, and they're falling more than they used to fall," she said. "Frankly, people probably used to come to school a little bit sick. They don't anymore."
And Pflugerville isn't the only school struggling with attendance.
In the El Paso Independent School District, officials closed schools between 2019 and 2020 due to budget deficits that stemmed from declining enrollment and attendance rates.
In the McAllen Independent School District, superintendent J.A. Gonzalez said his district could have an extra $6.7 million this year if it weren't for an attendance rate of about 94%, the lowest figure it's had since COVID-19 hit.
Gonzalez said kids are missing school more often because COVID-19 scares are still frequent, the flu and RSV are also making rounds and, mentally, some kids and parents are struggling to get plugged in since coming back to school full time.
"It's just an interesting phenomenon that happened across our society," Gonzalez said. "After COVID, people got used to working remotely, or people got used to staying home or people got used to a different lifestyle."
A new fight for a new formula
In November, state Rep. Gina Hinojosa, D-Austin, filed House Bill 31, which would remove average daily attendance from the state's funding formula and replace it with average enrollment in an effort to get more money to school districts.
The average daily attendance is calculated by the sum of children present each school day divided by days of instruction that schools are required to give. The school district then gets $6,160 per student in that average.
Under Hinojosa's bill, schools would likely be funded based on an enrollment snapshot from the previous school year. Supporters of the change believe it should be more favorable for districts because it wouldn't punish them for students missing school.
"The general concept is, 'Let's not shortchange our kids in schools; let's fully fund our schools based on the enrollment that our schools have to anticipate and pay for,'" she said.
Hinojosa estimates that switching the funding formula to enrollment would cost the state an extra $5 billion on the next state budget cycle.
"Anybody who has their kids in public schools knows that our schools desperately need at least that kind of investment," she said. "Our public schools are really struggling right now, and we need to be responsive as a state to ensure that they can survive and thrive."
However, it's unclear whether lawmakers will want to update the funding system again, especially as Abbott, Lt. Gov. Dan Patrick and other Republicans have said they'll support "school choice" this session, a term used to describe programs that give parents state money to pay for private schooling. Critics say such measures take away money from the public education system.
State Rep. Gary VanDeaver, R-New Boston, who is on the House Public Education Committee, believes schools need an incentive to keep kids going to class, which he said the current attendance-based funding model provides. Rolling out a new enrollment funding model would also be costly, he said.
"I don't know that I would give [Hinojosa's bill] great odds of making it across the finish line," he said.
VanDeaver said he'd be more in favor of raising the basic allotment this session instead of reinventing the funding model. Doing so would give schools more money and also allow them to give teachers raises, he said.
Killian, Gonzalez and other superintendents would prefer to move away from the attendance-based formula — as most other states in the country already have — but they said they'd take the basic allotment increase if that's on the table instead.
Either way, it will likely be too late to help Pflugerville ISD with its current financial struggles. The district wants to make a decision about what steps to take, and whether they'll involve school closures, by February.
Before then, the Pflugerville community will have a chance to propose to Killian and the rest of the school board solutions on how to keep the schools open.
Rena Clegg, who has a child at Parmer Lane and also taught at the school, laments that a place beloved by families and known for its diversity and togetherness might close because of the district's money problems.
"It's just one of those places where everybody is a family, and no matter what happens, they're going to destroy something that's been built there," Clegg said.
Disclosure: Texas Association of School Business Officials (TASBO) and University of Texas at Austin have been financial supporters of The Texas Tribune, a nonprofit, nonpartisan news organization that is funded in part by donations from members, foundations and corporate sponsors. Financial supporters play no role in the Tribune's journalism. Find a complete list of them here.

This story originally appeared on the Texas Tribune. To read this article in its original format, click here.