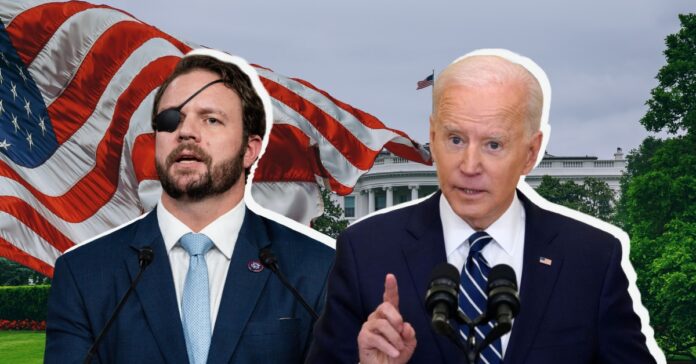 Texas Rep. Dan Crenshaw compared Joe Biden's handling of classified documents to former President Donald Trump's on social media, claiming Biden's was "much, much worse."

In recent weeks there have been concerns raised over Biden's handling of classified documents. These concerns stem from the revelation that fewer than a dozen classified documents were found at the Penn Biden Center, a think tank office in Washington D.C., that Biden used for about three years.

Later on, Biden's lawyers found additional classified documents in a second location, at the President's Wilmington Del., residence.

"First, we learned Biden kept classified materials at his think tank that is described as a "dark-money, revolving door nightmare where foreign competitions like China donated millions of dollars to the university so that they could have access to future high-ranking officials," Crenshaw posted on Twitter.

"Now, we learn that Biden kept additional classified materials at his home in Delaware in his GARAGE."
He then continues to compare Trump's situation with Biden's. Criticizing U.S. congress for the FBI raid on Trump's Mar-a-Lago estate back in August – where about 100 documents marked as classified were among thousands of records seized.

"This is hypocrisy at the highest level and it's dangerous," Crenshaw tweeted. 

So far, Biden's attorneys turned over the materials they found, and said they were cooperating with the Archives and the Justice Department. The president said on Tuesday he and his team were cooperating fully with a review into what happened.

Meanwhile, Trump kept thousands of government records, a few hundred of which were marked as classified, inside his personal residence in Florida for over a year after departing the White House, and did not return them immediately or willingly despite numerous requests by the National Archives, as reported by Reuters.