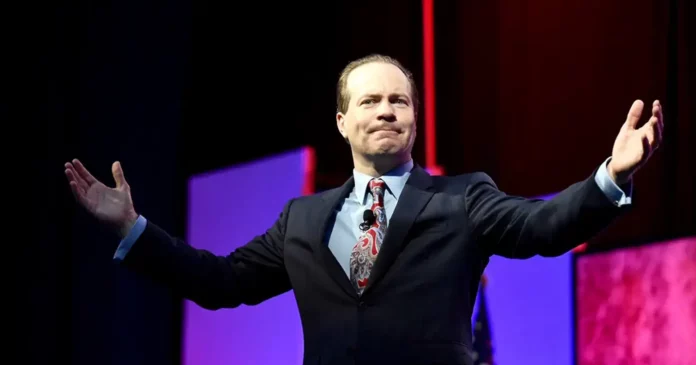 In 2016, former Harris County GOP chair Jared Woodfill received an urgent warning about Paul Pressler, his longtime law partner and a Southern Baptist leader. In an email, a 25-year-old attorney from Woodfill's Houston firm said he'd recently gone to lunch with Pressler, who told him "lewd stories about being naked on beaches with young men" and then invited him to skinny-dip at his ranch.
Woodfill — an outspoken anti-gay politician and prominent conservative activist who'd just played a key role defeating an equal rights ordinance for LGBTQ Houstonians — responded to the young man's request for help with shock and indignation. "This 85-year-old man has never made any inappropriate comments or actions toward me or any one I know of," he wrote of Pressler at the time.
But new court records show that wasn't true.
In recent sworn testimony, Woodfill said he'd known since 2004 of an allegation that Pressler had sexually abused a child. Woodfill learned of those claims, he said, during mediation of an assault lawsuit filed against Pressler that he helped quietly settle for nearly a half-million dollars at the time. Despite his knowledge of the accusation, Woodfill continued to work with Pressler for nearly a decade — leaning on Pressler's name and reputation to bolster their firm, Woodfill & Pressler LLP.
Rather than pay him a salary, Woodfill testified, the firm provided Pressler a string of employees to serve as personal assistants, most of them young men who typically worked out of his River Oaks mansion. Two have accused Pressler of sexual assault or misconduct.
REFERENCE
In 2004, leaders of First Baptist Church of Houston delivered this letter to Paul Pressler, a prominent evangelical figure who'd been accused of sexual misconduct by another church member.(171.0 KB)DOWNLOAD
Woodfill led the Harris County Republican Party from 2002 to 2014 and has for years been at the helm of anti-LGBTQ and other hardline conservative movements in Houston and Texas. In 2015, amid tense debate over a Houston equal rights ordinance that would have made LGBTQ workplace discrimination illegal, he and well-known GOP power broker Steven Hotze co-led a campaign that, among other things, said the measure would allow children to be sexually groomed and abused in bathrooms, paid for hundreds of thousands of dollars in opposition advertisements and compared the gay rights movement to Nazis.
Since then, Woodfill has remained a fixture in Texas GOP politics: During the height of the pandemic, he and Hotze filed numerous lawsuits challenging COVID-19 mandates, and he's currently representing conservative political candidates challenging the 2022 election results in Harris County. Woodfill is also representing Hotze in a criminal investigation stemming from a 2020 incident in which a private investigator, allegedly acting at Hotze's behest, held at gunpoint an A/C repairman who he believed was transporting fake ballots.
Woodfill's deposition came as part of an ongoing, six-year-old lawsuit in which a former member of Pressler's church youth group accuses him of decades of rape beginning when he was 14. The suit also accuses Woodfill and others, including leaders of the Southern Baptist Convention, of concealing and enabling Pressler's behavior — claims that prompted a 2019 Houston Chronicle and San Antonio Express-News investigation into widespread sexual abuse in the SBC, the nation's second-largest faith group.
Released over the last few weeks, the thousands of pages of new court records show how Woodfill leaned on his Pressler connections to bolster his political and legal career — despite warnings about his law partner's behavior. And they shed new light on how Pressler, a former Texas Court of Appeals judge and one-time White House nominee under George H.W. Bush, allegedly used his prestige and influence to evade responsibility amid repeated accusations of sexual misconduct and assault dating back to at least 1978, when he was forced out of a Houston church for allegedly molesting a teenager in a sauna.
Pressler is best known for his work in the Southern Baptist Convention, where he was instrumental in pushing its 16 million members and 47,000 churches to adopt literal interpretations of the Bible, strongly denounce homosexuality and align more closely with the Republican Party. And for decades, he was a high-ranking member of the Council for National Policy, an uber-secretive network of conservative judges, mega donors, media figures and religious elites led by Tony Perkins, head of the anti-LGBTQ Family Research Council.
The new records show that in 2004, leaders of First Baptist Church of Houston, a massive Southern Baptist congregation, investigated claims that Pressler, then a deacon, had groped and undressed a college student at his Houston mansion. The church leaders deemed the behavior "morally and spiritually" inappropriate and warned Pressler but took no further action, citing differing accounts of the incident and Pressler's stature in their church and the Southern Baptist Convention. In recent depositions, plaintiffs attorneys also briefly mention new complaints from two others about Pressler, though those documents remain sealed ahead of the looming civil trial in the case.
At least six men have now accused Pressler of sexual assault or misconduct, including two who say they were molested while minors and two who say they were solicited for sex in incidents after 2004, when Woodfill and First Baptist leaders were separately made aware of complaints about Pressler.
Pressler has not been criminally charged in any of the incidents. Neither Woodfill nor his attorney responded to a list of questions about Woodfill's handling of the allegations against Pressler. In a Wednesday email, Woodfill's lawyer David Oubre said they are "confident Mr. Woodfill will be successful in defeating these claims."
"A big name"
The new allegations came as part of an ongoing lawsuit in which Duane Rollins accuses Pressler of decades of rape and molestation beginning when Rollins was 14 and a member of the church youth group led by Pressler, who was then in his late 40s. Those alleged attacks, Rollins says in court documents, pushed him into years of drug and alcohol addictions that kept him in prison for much of his adult life. While in prison therapy sessions in 2015, Rollins says he uncovered repressed memories of sexual abuse by Pressler. He was later diagnosed with post-traumatic stress as a "direct result of the childhood sexual trauma he suffered," according to medical records filed in court.
In 2017, Rollins sued Pressler, Woodfill and Southern Baptist figures and institutions that he says enabled and concealed Pressler's behavior, arguing that, because of trauma and manipulation by Pressler, it took him decades to reconcile that he was sexually abused. Last year, after the defendants fought to have the suit tossed by arguing the assault claims were outside the statute of limitations, the Texas Supreme Court agreed with Rollins' arguments and allowed the lawsuit to go forward.
The new filings give insight into Woodfill's long relationship with Pressler beginning in the mid-1990s. At the time, Pressler, then 65, was phasing out of years of work in the Southern Baptist Convention and focusing more on politics. Woodfill was still in his 20s and said Pressler's conservative bona fides were a valuable asset.
Pressler's support has long been sought and touted by Republican political hopefuls, including Sen. Ted Cruz, who has known Pressler since he was a teenager. In 2012, Pressler hosted a retreat at his Texas ranch, where a group of prominent conservative leaders agreed to support Rick Santorum over Mitt Romney in the upcoming presidential election.
"Obviously everybody knew who he was. He was a big name," Woodfill said during his deposition. "A lot of people would come and ask for his endorsement."
Over the course of their law partnership, Woodfill testified, Pressler did almost no work for the firm, but was provided numerous young, male assistants who tended to his and his family's needs — including his son who has a physical disability.
"I can think of one or two cases that he brought in," Woodfill testified. "He may have gone to one hearing in his entire time with us, two at the most. Really, it was his name. … He got an employee that worked for him. So he didn't get a salary. He didn't get a draw. He didn't get a bonus. We paid for someone to come and assist him. That's how he got compensated."
The latest lawsuit marks the second time Rollins has sued Pressler over allegations of assault.
In 2004, Woodfill represented Pressler in a lawsuit in which Rollins accused him of assault stemming from a 2003 incident in a Dallas hotel room, during which Rollins says Pressler injured him during a physical altercation and, citing his stature as a former Texas judge, threatened him if he came forward. In order to avoid publicity, Woodfill helped settle the suit for $450,000 in a one-day mediation that also included a confidentiality agreement, he said in testimony last month.
Copies of the lawsuit did not refer to the incident as sexual assault. But as the case was being mediated, Woodfill said under oath last month, he was told by Rollins' then-attorney that Pressler had "been sexually inappropriate" with Rollins, had "done some things to him when he was a child" and "sexually abused (Rollins) … when he was a child or in a youth group or something."
During his deposition, Woodfill declined to discuss most other details of the 2004 lawsuit, citing the confidentiality agreement. Even so, Woodfill's testimony directly contradicts his previous assertions that he had no knowledge of Pressler's alleged grooming and sexual misconduct toward young men — claims that he has repeated since at least 2016, when he denied any knowledge of such behavior after the young attorney detailed Pressler's alleged invitation to hot tub naked, as well as in subsequent media interviews and court filings.
Rollins' attorneys say Woodfill "had an incentive to turn a blind eye to Mr. Pressler's abuse."
"As a former state judge and prominent religious figure, the Pressler name was too important to lose or see tarnished," lawyers for the law firm Baker Botts wrote in a recent filing. "Thus, when allegations of inappropriate sexual conduct surfaced, they were quietly swept under the rug to avoid the risk of losing a business partner."
Records show that Pressler remained a limited partner at the firm until around 2012, when Woodfill said Pressler retired. The firm was renamed Woodfill Law Firm and has been involved in numerous lawsuits involving conservative causes over the years. The firm has also faced accusations of impropriety, including money laundering allegations that sparked a 2018 raid and investigation by the Harris County District Attorney's office, though no charges were ever filed in the matter.
"If brought to light"
Rollins' latest lawsuit also brought to light other sexual misconduct allegations against Pressler, including an affidavit that was submitted as part of the 2004 lawsuit. Woodfill declined to comment on the affidavit while under oath, citing confidentiality rules.
In the affidavit, which was made public this year, another college student says Pressler pressured him to get naked and then groped him at his Houston mansion. According to court records, the young man met Pressler through First Baptist Church of Houston and then was hired by Woodfill's law firm as Pressler's assistant. The Texas Tribune does not identify victims of alleged sexual assault without their consent.
In the newly-surfaced affidavit, the young man said he was invited to live with the Presslers. "Moving into the Pressler home was in the fashion of being invited to be a member of the family which, by that time and owing to the church relationship, I had become," he wrote in his affidavit.
One night in May 2004, he was asked by Pressler to give him a neck massage on his bed, he said in the affidavit. Pressler then removed his pants and began to give the young man a massage, the man said. Pressler later invited him on a trip to Europe, and the college student said he was "non-committal." When he went outside after, Pressler followed him and suggested they undress to get him "adjusted to traveling in Europe," where he said nudity among men was common, according to the affidavit.
The young man said he declined multiple times but eventually gave in to Pressler's requests and briefly undressed. Pressler later suggested they pray together naked, he said in the affidavit, after which the college student got dressed and hurried into the home. Pressler followed him inside, he said, and "reached to hug me goodnight."
He said Pressler then "quickly and without warning or invitation, grabbed my swim trunks and pulled them down far enough to expose my genitals and buttocks."
"I was horrified and froze," he said. "Apparently, in response to my reaction, he backed away and went upstairs."
Court records show that, after the college student mentioned the incident to a church leader, a small group of top First Baptist leaders briefly looked into the matter but determined it was a "he said, she said" type of ordeal that would be damaging to Pressler if made public. Pressler was beloved by many at the church and had just served on a search committee that brought the church's new pastor on around the same time.
"Given your stature and various leadership roles in our church, the Southern Baptist Convention and other Christian organizations, it is our considered opinion that this kind of behavior, if brought to light, might distort your testimony or cause others to stumble," First Baptist leaders wrote in a 2004 letter to Pressler that was recently made public as part of Rollins' lawsuit. "We desire neither, but, rather, pray that God continues to use your gifts and talents to accomplish His will and purpose."
In an interview, a lawyer for First Baptist defended the church's actions, saying leaders immediately looked into the allegations and, after interviewing both Pressler and the college student, found nothing that was conclusive or criminal.
"The church acted promptly when we heard this alleged behavior," Houston attorney Barry Flynn said. "Remember: We didn't know if this was true or untrue."
Flynn said the church has strict rules on background checks for anyone who works with children — but noted that Pressler primarily taught adult Bible study classes. And, he added, even if the church had checked his background, they would not have found anything criminal.
In a deposition, a top church leader reiterated that stance and compared Pressler's behavior to boys who playfully "depants" one another. He said Pressler's defense — that he was readying the young man for a trip to Europe — was believable.
Pressler remained a deacon at the church, First Baptist leaders testified, but significantly curtailed his involvement there until around 2007, when he transferred to Second Baptist Church of Houston, a massive network of Houston-area churches that's led by former SBC President Ed Young, and has been previously accused of concealing other sexual abuses. Flynn, the First Baptist attorney, said there was "no communication" between the two churches about the allegations against Pressler.
A pattern of behavior
In the years after leaving First Baptist, Pressler was accused of sexual misconduct by at least two other young men — including a young Houston Baptist University student who testified that, as a result of Pressler's sexual advances, he stopped pursuing a career in ministry, frequently had panic attacks and attempted suicide.
That man's allegations are similar in detail to those described by the 25-year-old attorney who wrote to Woodfill in 2016. The attorney, whom the Tribune is not naming, was a recent law school graduate who said in an affidavit that he moved to Texas in 2016 for a job at Woodfill's law firm. During that time, he said, Woodfill introduced him to Pressler, calling him his "mentor for over 25 years," a "hero of the faith" and a "great man."
Two months later, the young attorney said he ran into Pressler at a political fundraiser at the home of Hotze, and was encouraged by Woodfill to go to lunch with Pressler. The following week, he said, he arrived at Pressler's home to pick him up. Pressler answered the door without pants on and invited him inside, after which he showed him pictures of "important people" he knew and talked about swimming naked in Europe numerous times, the attorney wrote in his 2018 sworn affidavit.
At lunch, Pressler told the attorney about a 10-person hot tub at his Dripping Springs ranch and invited him there, saying "when the ladies are not around, us boys all go in the hot tub completely naked," he said.
Horrified, the attorney addressed the incident with a longtime employee of Woodfill's law firm, who made it clear that this was not the first time he'd heard such allegations, the attorney said in the affidavit.
"I discovered that this was not unusual behavior for Pressler, and that he had a long history of lecherous behavior towards young men. Even going as far as bringing scantily clad men and parading them through the office," he wrote in his affidavit.
Emails show that the attorney reached out to Woodfill, who claimed it was the first time he'd heard of such alleged behavior by Pressler. Woodfill later offered the attorney a $10,000 raise, court records show, and said he'd talk to Pressler and keep him away.
"However," the attorney wrote, "within two weeks Pressler was at a political luncheon that Woodfill required me to attend."
This story originally appeared on the Texas Tribune. To read this article in its original format, click here.