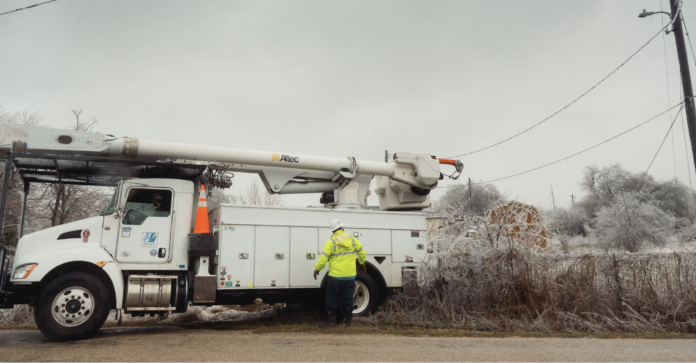 Hundreds of thousands of businesses and households across Central and East Texas remained without power Thursday, as utility crews continue scrambling to fix power lines downed by freezing rain and fallen trees.
Statewide, more than 400,000 customers didn't have electricity Thursday morning. About 150,000 of those are served by Austin Energy, which warned that some outages could extend until 6 p.m. Friday. The outages persist as residents head into another day of closed college campuses, public schools and a paused Legislature.
In the Dallas-Fort Worth area, roads were still glazed in ice. Already treacherous driving conditions were expected to worsen with more freezing rain expected through Thursday afternoon.
National Weather Service meteorologist Steve Fano said power outages like the ones seen in Central Texas are a possibility for North Texas.
"Definitely have a plan in place in case power does go out," Fano said.
The freezing rain and power outages halted Texans' normal lives in scores of counties. School districts across the affected areas were closed through at least Thursday. Thousands of flights that were scheduled to arrive at or depart from airports in Dallas and Austin were canceled this week. Delays and cancellations continued Thursday morning, according to FlightAware.
The causes of electricity outages are unlike those from the infamous 2021 winter storm, when the state's power grid nearly collapsed during a catastrophic freeze that killed hundreds of Texans. This year's winter storm is not as cold, prolonged or widespread as the one two years ago. And the current outages are due mostly to localized issues like downed power lines, not a problem with the power grid itself.
Still, this week's weather and outages offered a fresh reminder that city and state emergency officials historically have not prioritized preparations for severe winter weather, as Texas is warm during much of the year. Exposed overhead power lines, cheaper to build than buried ones, accumulate ice during intense cold and frozen precipitation can weigh them down and snap them, spurring and prolonging power outages even when the power grid remains stable.
At one point Wednesday, more than 170,000 of the state's roughly 350,000 outages were customers of Austin Energy. By about 7 a.m. Thursday, roughly 154,000 customers of the Austin utility provider still lacked power. In comparison, roughly 400,000 customers were affected across the entire state at that time, according to PowerOutage.us, even as the state's main power grid remained stable, .
Austin Energy used Twitter to update customers on crews' progress throughout the day Wednesday. At 11:35 a.m., it warned that some outages could persist another 12 to 24 hours. By about 4 p.m., after tens of thousands of customers had lacked power for hours, the company said outages would persist into Thursday and urged people to relocate. Later on Wednesday evening, Austin Electric's General Manager Jackie Sargent told Mayor Pro Tem Paige Ellis in an email that the utility provider expected to have all outages restored by 6 p.m. on Friday.
Wednesday evening, Austin Energy tweeted that its online outage reporting tool wasn't working. The company asked people to call in issues, but also warned customers that there were long wait times to get through.
As the number of customers without power fluctuated throughout Wednesday, those without electricity criticized government and utility officials for not using broader communication channels so they could prepare to be without power for so long.
"I take responsibility for not being more prepared but do wish there were more clarity in preparedness from the city. My expectation was icy roads, not power outages," said Allison Rizzolo, who lost power in Austin late in the morning. "I get that there's a fine line between preparedness and panic, but I wish they'd been more aggressive in their communications."
On Wednesday, ice had also cracked trees throughout Austin. Images of some splitting in half circulated social media while crews worked to cut and clear fallen limbs from roadways.
"At this point what we're doing, at least on the Travis County side, is if there's a tree down on the road, a crew will go out and cut it up and just push it to the side just to try to get to the next tree because there are so many that are down," County Judge Andy Brown said in an interview. "Really asking people still to stay inside if they can and not travel."
The outages in Austin had been caused by more than 1,300 individual incidents, said Austin Energy spokesperson Matt Mitchell, each one demanding an individual assessment by crews traversing the fallen debris and icy roadways.
As repairs were underway, other customers reported more outages throughout the day.
"It's like whack-a-mole," Mitchell said.
After surviving the 2021 freeze, Texans affected this weekhad been preparing for a repeat.
After running out of wood to burn during that previous freeze, Wenona Cave, a 47-year-old in Flynn, started stockpiling wood in anticipation of another winter storm. She said her current stash stood about 15 feet long and 5 feet high.
"I live out in the country, so it's not like I can just run to Walmart," Cave said. "I try to make sure I have food I can eat without having to cook, and make sure I have lots of flashlights and batteries and candles."
The lack of electricity can hit medically fragile Texans especially hard if they rely on electricity for medical equipment.
"In an event you're going to lose power, you're going to lose access to resources," said Stephanie Duke, a disaster resilience coordinator with Disability Rights Texas. "So really having contingency plans is how you better prepare."
Others tried to prepare only to become frustrated by what they described as a lack of communication from government officials. Kasey McCarty, who lives in Austin's Southwood neighborhood, did not lose power until about 7:20 p.m. but was without internet service all day.
The 52-year-old said she's signed up for every text alert in town, but she heard nothing from Austin Energy, the city or the state. Without strong internet service, she can't access smartphone applications meant to help residents during emergencies. She isn't hearing much about the storm on the radio, either.
"I do consider ourselves lucky and prepared but the serious lack of any city or statewide emergency alert system is disturbing and irresponsible. AND the complete lack of information on local radio," she texted the Tribune. "I'm current on Haiti unrest, Brady retirement, benefits of dark chocolate but have no clue what is going on in Austin."
National Weather Service officials said the ice storm would continue across the Southern Plains and Mid-South "as warm, moist air aloft flows northward from the Gulf over a shallow layer of freezing temperatures at the surface."
"Outside of our office in north Tarrant County, it's like an ice rink," said Hunter Reeves, a NWS meteorologist in North Texas. "We have this round of freezing rain that's just coming through, and it's not going to go anywhere."
Meanwhile, residents in Austin waited for power to be restored, but many only heard the cracks of more trees succumbing to the freeze.
Samantha Aguilar, Sneha Dey, Joshua Fechter and William Melhado contributed to this story.

This story originally appeared on the Texas Tribune. To read this article in its original format, click here.