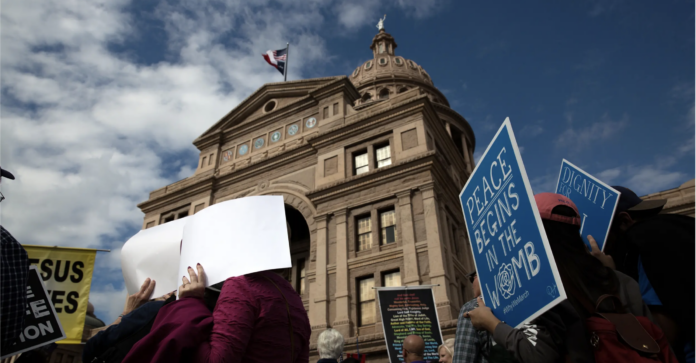 For decades, the abortion battle lines in the Texas Legislature were as clearly drawn as they were deeply entrenched. Every two years, Republicans would try to find new and novel ways to outwit Roe v. Wade, while Democrats relied on the courts as a bulwark against further restrictions.
But now, the deed is done, the war is won and abortion is almost entirely banned in Texas. The number of monthly legal abortions in the state has dwindled into the low single digits.
In overturning Roe v. Wade, the U.S. Supreme Court not only undid the constitutional protection for abortion. It also made irrelevant many of Texas' most contentious political scuffles of the past half-century, forcing both sides to revisit their time-honored legislative strategies.
This session, Democrats are the ones stoking outrage and trying to circumvent the courts, while many Republicans are hoping to sidestep the issue entirely, focusing instead on property taxes, education issues and anti-LGBTQ efforts.
None of the "Big Three" — governor, lieutenant governor and speaker of the house — have indicated they intend to focus on abortion this session, likely hemming in both the rightward edge of the Republican Party, which is pushing for additional restrictions, and Democrats, who are hoping to chip away at the near-total bans.
"Obviously, we're not going to be able to repeal the legislation," said state Rep. Donna Howard, a Democrat from Austin. "So we focus on mitigating damage and making our primary focus access to health care."
Pushing for more
While the overturn of Roe v. Wade may move abortion down the priority list for some Republicans, the issue certainly isn't disappearing from the discourse anytime soon.
As of Friday, 151 lobbyists had registered their intent to advocate for and against abortion legislation this session, including from Texas' aggressive, nationally influential anti-abortion movement.
"We've just had a huge historical victory," said John Seago, with Texas Right to Life. "But in our opinion, the victory is not fully accomplished, it's not really secured, until we enforce our laws."
Immediately after the decision, some anti-abortion Republicans promised legislation to tighten the existing laws, which prohibit abortion except to save the life of the pregnant patient.
A main target is companies that help pay for employees' out-of-state abortions. Rep. Jared Patterson, a Republican from Dallas, has filed a bill that would prevent those companies from receiving tax incentives from the state.
Rep. Briscoe Cain, a Republican from Deer Park, has promised to file a bill that circumvents district attorneys who won't bring abortion-related charges. Cain has not yet filed that bill; he did not respond to request for comment.
A similar bill was filed that would allow the attorney general to take over election fraud cases.
The Attorney General would also be permitted to seek financial penalties from any district attorney who "prohibits or materially limits the enforcement of any criminal offense," under two bills filed in the House and the Senate.
"Rather than adopt politically-motivated virtue signaling and blanket immunity for criminals, district attorneys have a duty to evaluate the merits of each alleged crime on a case-by-case basis to ensure the public safety of Texans," said state Rep. David Cook, a Republican from Mansfield who filed the legislation alongside state Sen. Tan Parker of Flower Mound, in a press release.
House Speaker Dade Phelan mentioned the role of district attorneys in curbing crime rates in his opening remarks to the House.
"If rogue district attorneys will not uphold the law," Phelan said, "it is time to rein them in."
The legislation does not address abortion directly, but Seago said these efforts will help the cause.
"But the devil's in the details," Seago said. "Are we just going to punish those DAs for not doing their job, or are we going to adopt tools to go around them to make sure the laws are enforced?"
Texas will likely see more anti-abortion bills between now and the March 10 filing deadline. Other states have seen legislation that would criminalize pregnant people who get abortions, tighten restrictions on medication abortion and institute more roadblocks for minors seeking abortions.
But in a busy session, with a budget to negotiate and a surplus to spend down, any new proposals will be competing with myriad other Republican priorities.
"That's one of the challenges that we're gonna have now," Seago said. "We've had this historic victory, but we're always competing with other issues."
Pushing for expanded exceptions
Democrats, meanwhile, are hoping to expand the list of circumstances in which health care providers are permitted to perform abortions. Bills have been filed that would allow abortions in cases in which the fetus is incompatible with life, to preserve the mental health of the pregnant patient or in cases of rape or incest.
But to make any progress on that front, Democrats will need Republicans to join their cause. While a few have shown an interest in adding rape and incest exceptions, Lt. Gov. Dan Patrick has thrown cold water on even that incremental step.
"Whether anything else goes beyond [the existing exceptions], at this point, I don't know," Patrick told WFAA, a TV station in Dallas, last week. "I don't hear a groundswell for it … I'd have to see a big groundswell."
Gov. Greg Abbott told WFAA that he would like the Legislature to clarify the existing exceptions, but did not commit to whether he would sign a rape and incest exception if it passed.
There does seem to be bipartisan interest in expanding women's health care, however. One of Phelan's top priorities is expanding postpartum Medicaid, from two months after birth to a full year. The Senate has resisted similar proposals in the past.
"Thankfully, we've heard a lot of conservatives in the last two years, since this last session, come on board," Seago said. "They're seeing that this makes good sense financially, and it's just the right thing to do."
Democrats have also filed bills that would expand maternal health care, increase funding for family planning and strengthen the social safety net.
"Hopefully, my colleagues who have been pushing their so-called pro-life agenda … will put their money where their mouths are and help us take care of these moms and babies," Howard said.
Democrats are also pushing to expand access to contraception, especially for minors. Texas teens almost always have to get parental consent to access birth control. One of the few programs that offered confidential contraception was recently blocked by a federal court.
"We've said all along, if you want to avoid abortions, the best way we can all come together is to prevent the unplanned and unwanted pregnancies in the first place," Howard said. "And part of that has to do with access to contraceptives."
Rep. Ana-Maria Ramos, a Democrat from Dallas, has filed a bill that would allow minors to access birth control without parental consent. Ramos, who had her first child at 15, said the state's high teen birth rate is evidence that young people are having sex — and that they need more tools to do so safely.
"The only reason I was able to get my GED, get my law degree and become a legislator was because I was able to get contraception and able to plan a future for myself and my daughter," Ramos said.
Democrats and Republicans are expected to file additional bills between now and the deadline in March, each trying to move the needle in opposite directions. Ramos said she's hopeful that women's health care will emerge as the central issue.
"There's not much more they can do to strip away women's rights," Ramos said. "Of course, you say that, and then they think of something else."

This story originally appeared on the Texas Tribune. To read this article in its original format, click here.