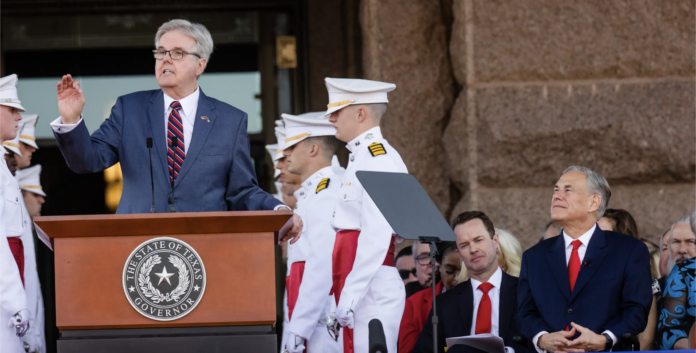 Lt. Gov. Dan Patrick said Tuesday he will "absolutely" run for reelection in 2026, a reversal from previous comments he made saying this would be his final term.
"I really love what I do," Patrick said, praising the collegiality of the state Senate he leads. "I'm in good health, and I just won by eight hundred and thirty-some thousand votes, so why wouldn't I come back? I think we'll be in good shape in '26 in the primary and the general."
Patrick won a third term last year by 12 percentage points, defeating Democrat Mike Collier. Patrick said prior to that election cycle that if he won reelection in 2022, "that'll be my last term."
"That'll be time," Patrick said in July 2020. "I'm kind of a term-limits guy. That'll be 12 years as lieutenant governor, if I'm blessed enough to win again."
While the 2026 election is over three years away, Patrick's announcement is particularly notable given the logjam of ambitious Texas Republicans who have been waiting for an open statewide office. That group includes a number of GOP senators in Patrick's own chamber.
Patrick made the comments at a daylong conference in Austin hosted by The Texan, a Texas political news site started by former GOP state Sen. Konni Burton.
As part of the interview, Patrick also clarified a comment he made in his campaign that concerned some advocates for school choice, which is poised to be a major issue this legislative session. Patrick had said on a radio show that lawmakers would "bracket out rural Texas" in a school choice program, nodding to longtime resistance from rural Texans who fear such initiatives undermine their public schools.
On Tuesday, Patrick said he made the comment "on one of my 15-hour days and I really didn't say that right."
"What I meant by bracketing — I wasn't talking about bracketing out the parents," Patrick said. "What I was talking about was finding a way to bracket the schools so that we can get the bill passed and so that parents can still have school choice, but we have to do something to get those votes to convince those Republicans to vote for it by telling their school superintendents, 'You're not going to lose money by losing a handful of students.'"
Patrick has long championed programs that allow parents to use state dollars to send their kids to schools outside the traditional public school system, including private schools. But the cause has new momentum this session with clearer-than-ever support from Gov. Greg Abbott. Patrick said during his inaugural address earlier this month that he and Abbott are "all in on school choice" and promised they would protect rural schools.
Such legislation is likely to come down to the House, where rural Republicans have typically been key to block school choice proposals. Patrick has had an acrimonious relationship with House Speaker Dade Phelan, R-Beaumont, and he signaled Tuesday that more conflict could be coming as the Senate gets to work for the 140-day session.
"I look forward to working with the speaker, but I make no apologies for passing a conservative agenda to the House," Patrick said. "I try to stay out of fights, but I'm not going to let people stand by and make excuses."
Phelan recently defeated a push by a small group of House Republicans to ban Democratic committee chairs, a practice that Phelan has defended as a worthwhile tradition. Patrick noted he was "eight years ahead of this movement" when he took office in 2015 and significantly reduced the number of Democratic committee chairs in the upper chamber. He unveiled his latest committee appointments Monday, and only one panel, the Criminal Justice Committee, will continue to be led by a Democrat, Sen. John Whitmire of Houston.
Patrick defended Whitmire, saying he is the dean of the Senate and "most importantly" an expert on prisons. Patrick reiterated that if Whitmire leaves the Senate — Whitmire is running for Houston mayor in a November election — the lieutenant governor would replace him with a Republican.
Patrick repeatedly said he wanted to stay out of House business, but he suggested there would be conflict if a conservative priority in the Senate gets held up in a Democrat-led House committee.
"If a Democrat's controlling a major committee anywhere and we can't get a bill out, that's a problem," Patrick said. "That's a problem."
In addition to the 2026 election, Patrick addressed the 2024 presidential election, where he is backing former President Donald Trump's comeback bid. Patrick, who chaired both of Trump's previous campaigns in Texas, was asked about the potential candidacy of Ron DeSantis, the Florida governor who has emerged as Trump's most serious threat in the primary.
"I just don't know Ron DeSantis," Patrick said before briefly praising his governorship in Florida. "I have nothing negative to say about him — I think he's done a really good job — but I'm a Trump guy."

This story originally appeared on the Texas Tribune. To read this article in its original format, click here.