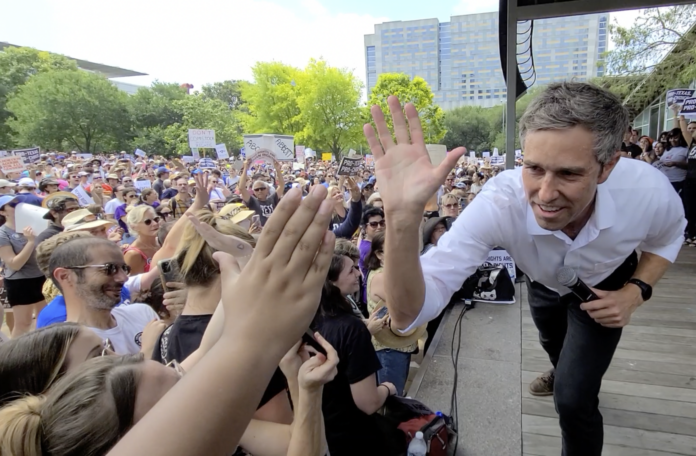 A phalanx of local Democratic leadership spoke to an electrified crowd of 4,000-5,000 reproductive-rights supporters at Discovery Green park in Houston, Texas on this sweltering Saturday morning. Houston Mayor Sylvester Turner started things off with a clarion call to those in attendance. "This is a defining moment," he repeated over and over to cheers from the crowd.
"If the draft opinion turns out to be true." Turner said in reference to the draft Supreme Court opinion leaked earlier this week, "that sends an earthquake all throughout our country. Because if you can overturn 50 years of settled law that has been challenged time and time and again…overlook stare decisis…then everything is in question in our country."
"But we've had sufficient warning,' Turner continued. "If you restrict people's right to vote, if you suppress people's right to vote, we've been put on notice."
State Rep. Ann Johnson asserted that "they knew this moment was coming on Roe," in reference to the Texas Legislature. She continued, "They passed a trigger ban that says 30 days after this opinion comes down, no abortion at all in Texas. Don't be confused by their six week ban."
State Sen. Carol Alvarado followed by saying, "we deserve to make our own choices", then led the crowd in a, "my body, my choice" chant.
Rep. Sylvia Garcia came up next and read some of the various signs held up by the crowd, but gave special focus to a sign with a picture of a hanger and the words, "never again."  She said that if Roe is overturned, we will "turn back the clock to the days of hangers," in reference to the gruesome tool of back-alley abortionists in pre-Roe days. 
Rep. Garcia continued by talking about The Women's Protection Act. "We've already passed codification of Roe v. Wade in the House," she said. "It's the Senate that's the problem."
Harris County Judge Lina Hidalgo then took the stage to loud applause. She said, "as goes Harris County, so goes Texas. And as goes Texas, so goes the nation. That's why they're working so hard to tear us down," she said. She ended with, "let's get Beto O'Rourke to the Governor's Mansion. They don't know what they have activated here, but they are about to find out."
Rep. Sheila Jackson Lee entered the stage brandishing a wire hanger, then held it aloft as she talked about women being forced into back alley abortions, and "some did not make it." She then held up the draft Supreme Court opinion saying, "in it it says that Roe and Casey should be overturned," before tossing it to the ground. She then exclaimed, "we are not going back!"
Rep. Jackson Lee introduced O'Rourke and welcomed him with an embrace. O'Rourke opened by saying, "this has been among the toughest weeks for so many people across this state, and across this nation. But as I look out at each and every single one of you, there is something extraordinarily beautiful in the way that we have decided to come together. That in these tough times, Texans turn out." He praised the crowd for their willingness to show up and fight. "This is power in Texas. You are power in Texas."
O'Rourke continued, "few generations have what we have at this moment. The opportunity to stand up and be counted, and to fight for these rights while they're under attack."
O'Rourke invoked Roe v. Wade by saying, "it was Texas women themselves who won the right to privacy and a legal, safe abortion in the state of Texas," in reference to Jane Roe and the attorneys who fought the case. He went on to talk about voter suppression laws passed in Texas. "And though we're up against some tough odds right now in restoring the right to vote to every single one of our fellow Texans, I know that it's possible."
He then turned his sights on his opponent. "If Greg Abbott cared about life, we wouldn't have a Child Protective Services with 30,000 kids, many of them sleeping in CPS offices, under the table, on the desk. We wouldn't have 100 children in the custody and care of the state of Texas lose their lives last year because this guy is more concerned with scoring political points than helping the most vulnerable among us."
"If this guy really cared about the heartbeats of Texas kids," O'Rourke continued, "an 11-year-old in Conroe, Texas, would not have died of hypothermia because this guy could not keep the lights on and the heat running in the energy capital of the world."
He went on to talk about the difficulty low-income women have getting health care and asked why a governor that claims to be pro-life hasn't done anything about it. He talked about the challenges these women face "in the least-insured state in the country. We lead the developed world in the rate of maternal mortality, three times as deadly for black women here in the state of Texas. This guy does not care about life."
"Listen, let's be clear-eyed about it," he continued. "Our fellow Texans are under attack unlike anytime in our lifetimes. The voter suppression bills that Greg Abbot signed last year made this the toughest state in the nation, bar none, in which to cast a ballot, or to register to vote, or have a voice or say in the direction of community, your state or your country. But we now have in this campaign over 67,000 volunteers with the promise to pick up a clipboard, knock on doors, meet those voters where they are and bring them into this democracy and ensure that we win this election."
O'Rourke closed the rally with a request for more volunteers to sign up. Then a massive line formed that stretched the length of Discovery Green for the chance to take a photo with O'Rourke.
If there was a lack of energy on the democratic side of the ballot this year, the leaked Supreme Court opinion appears to have changed that.