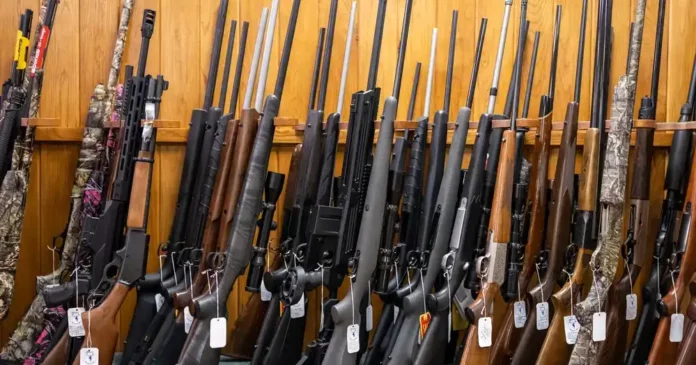 A new poll finds that sizable majorities of Texas voters — including Republicans — support raising the minimum age to buy all guns from 18 to 21 as a state House committee faces pressure to advance a similar proposal.
Released Wednesday, the survey from the University of Texas at Austin found 76% of voters support "raising the legal age to purchase any firearm from 18 years of age to 21 years of age." Twenty percent of voters oppose the idea. Republicans back the proposal 64% to 31%.
The finding comes as families of victims of the Uvalde school shooting press the House Select Committee on Community Safety to approve a bill that would increase the age to purchase a semi-automatic rifle from 18 to 21. The committee held a hearing on the legislation about two weeks ago but has not taken a vote to send it to the full House yet. The deadline to do so is Monday.
The proposal has always faced long odds, as Gov. Greg Abbott and other Texas GOP leaders have opposed it, calling it unconstitutional. But the survey underscores how popular it is as voters look to the Legislature to address gun violence in its biennial regular session, which ends May 29.
Asked what they think should be lawmakers' top priority, voters gave double-digit support to only two issues out of 278 surveyed: "immigration/border security" at 22% and "gun control/gun safety" at 11%.
The idea to increase the minimum age to buy all firearms ranked third in popularity out of 16 legislative proposals included in the survey.
The Uvalde families returned to the Capitol on Tuesday to hold a news conference urging the chair of the House committee, Rep. Ryan Guillen, R-Rio Grande City, to allow a vote on the raise-the-age bill.
"We, the families of murdered children, are asking for a vote regardless of the outcome," said Kimberly Rubio, who lost her 10-year-old daughter, Lexi, in the shooting. "I want each committee member to go on record so the mothers in their district know where they stand."
Looking toward the 2024 election
The survey, which was conducted by the Texas Politics Project at UT-Austin, also gauged the latest opinions on state leaders and the 2024 Republican presidential primary.
As he begins his reelection campaign, U.S. Sen. Ted Cruz garnered a positive net approval rating, with 45% of voters approving of his performance and 41% disapproving. That was a sizable improvement over the UT poll in February, when the split was 40% to 46%.
Abbott, who is not up for reelection this cycle, saw his approval rating remain fairly steady. Forty-six percent of voters approved of his job performance and 41% disapproved, compared with 46% and 43%, respectively, in February.
As for the 2024 primary, the survey found former President Donald Trump remains overwhelmingly popular with Republican voters, with 78% rating him favorably and 16% unfavorably. His closest competition — Florida Gov. Ron DeSantis — proved similarly popular, with 73% of GOP respondents saying they have a favorable opinion of DeSantis and 10% saying they have an unfavorable opinion.
None of the other declared or potential 2024 candidates was as well liked — or as well known — in the poll as Trump or DeSantis. For example, 46% of Republican voters registered a favorable view of Nikki Haley, the former U.S. ambassador to the United Nations, while 17% registered an unfavorable view.
Looking toward the general election, DeSantis is more popular than Trump when it comes to all Texas voters. Trump's favorability rating with them was 6 percentage points underwater, while DeSantis' was a net positive of 5 points.
Energy grid, other legislative priorities
When it comes to the legislative agenda, the poll asked voters how important it was for lawmakers to address 15 different issues this session.
At the top of the list was improving the "reliability of the state's energy grid," which 94% of voters said was important to some degree, including 48% who called it "extremely important." That has been a top priority for Lt. Gov. Dan Patrick, who is pushing legislation to incentivize more natural gas power in Texas — and who has threatened to try to force a special session if lawmakers cannot find common ground on it.
The runners-up among the 15 issues included reducing property taxes, increasing funding for school safety and making the state's water supply more reliable.
Another issue that is bound to shape the end of session is school choice, or giving parents more options for where to educate their children and how to spend state education money on their school of choice. The poll found 60% of voters support "establishing a voucher, educational savings account (ESA), or other 'school choice' program." Twenty-six percent of voters oppose the concept.
Critics of such programs have argued they hurt public schools, but the poll shows a plurality of voters believe the opposite. Forty-seven percent of voters surveyed said "school choice" initiatives will improve public education, while 26% said they will hurt public education.
Voters were more sour on the impact of another issue that GOP leaders have been championing: removing books from public school libraries that have been deemed inappropriate. Forty percent of voters said that will harm public education, compared with 36% who said it will improve public education.
When it comes to higher education, the Texas Senate has courted controversy by passing legislation that would require universities to shutter their diversity, equity and inclusion offices, part of a broader crusade against so-called DEI policies this session. The poll asked voters how they feel about such policies, and they were divided: 35% had a positive view, 32% had a negative view and 33% said they did not know or had no opinion.
The poll was conducted from April 14-23 and included 1,200 registered voters who were interviewed via online panel. The margin of error was plus or minus 2.83 percentage points.
This story originally appeared in the Texas Tribune. To read this article in its original format, click here.