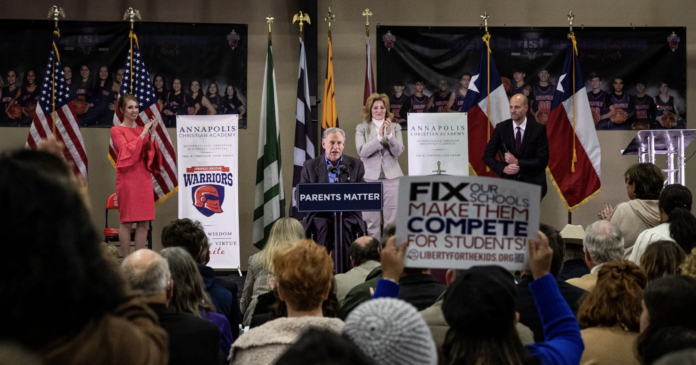 The easy way or the hard way.
That's how Gov. Greg Abbott has described the choice for state lawmakers in his own party as they enter a third special session focused on his yearlong crusade for "school choice." They could pass a bill that satisfies him and allows state funds to be used for private school options — the easy way — or they could keep gridlocking and face his wrath in the Republican primary — the hard way.
Abbott's framing has set a stark political overtone for the special session, which begins Monday — about a month before candidate filing opens for the March primary.
Texas has not had a special session this close to the primary since 1992, when then-Gov. Ann Richards called one in January to address redistricting. And if a fourth special session is needed — something Abbott has already threatened — the lawmaking could spill over into the candidate filing period, which ends Dec. 11.
"We will have everything teed up in a way where we will be giving voters in the primary a choice," Abbott said last month during a tele-town hall.
The governor is under intense pressure to broker a breakthrough on an issue that has long hit a wall of opposition in the House, where Democrats and rural Republicans have stood firm together. And it has already been an exhausting year at the Capitol, with a regular session, two special sessions and the impeachment trial of Attorney General Ken Paxton, which spiked tensions between the two chambers.
"The governor and the speaker have to come to an agreement," Lt. Gov. Dan Patrick, the presiding officer of the Senate, said in a TV interview last month.
Patrick and his Senate have long been onboard with school choice — and they are likely to resist efforts to water down whatever legislation gets proposed.
Abbott himself set a high bar when he announced his special session agenda Thursday, calling for "legislation providing education savings accounts for all Texas schoolchildren." Education savings accounts allow parents to withdraw their children from public schools and use state funds to subsidize the costs of other education.
Republican House Speaker Dade Phelan has struck a mostly detached tone on the issue this year, noting the historical resistance in the House and how every member seems to have a different definition of "school choice." But in a speech last week in his hometown of Beaumont, Phelan said he hoped for a resolution.
"I hope we're able to come to some type of agreement on the subject matter and get something done," Phelan said, noting he has been talking with leaders in other states who have tackled the proposal "incrementally."
In the House, most focus will be on the 24 House Republicans, many representing rural districts, who voted for an anti-voucher budget amendment during the regular session. While it was a smaller group than in previous sessions, it illustrated how the GOP still has an uphill battle within their own ranks.
The softening resistance could be on display at a "Parental Empowerment Leadership Summit" that the Texas Public Policy Foundation is hosting in Austin on Thursday. Two of the speakers — Cody Harris and Dustin Burrows — are House Republicans who have been on the record against school vouchers in previous years.
On Thursday, after Abbott announced his special-session agenda, including education savings accounts, Burrows tweeted he "wholeheartedly" supported it.
Rep. John Smithee, an Amarillo Republican who has shown increased openness to Abbott's push, said in a recent interview he "would be surprised if something didn't pass in the first special session."
"You have the governor and [U.S.] Sen. [Ted] Cruz basically saying, 'We're gonna campaign against [House Republicans who oppose vouchers],'" Smithee said. "That's no small issue for Republicans who represent Republican-dominated districts."
Abbott's choice
Abbott laid out the stakes for the special session in blunt terms during the tele-town hall. He said he would call the Legislature back in October, and if school choice did not pass, he would call another special session. If it still did not pass, he said, "I think it's time to send this to the voters themselves."
While Abbott has not detailed how he would get involved in primaries, school choice advocates believe he is ready to back primary challengers to House Republicans who oppose his agenda. During the tele-town hall, Abbott spoke favorably of how Iowa Gov. Kim Reynolds got school choice passed earlier this year after successfully campaigning against several GOP lawmakers who stood in the way.
Abbott's campaign declined to offer specifics about his primary plans for this story.
"The Governor's energy and focus is on the important work of the special session and securing the border during this exploding Biden border crisis," Abbott's chief political adviser, Dave Carney, wrote in an email Thursday. "There is plenty of time for politics down the road."
The last time Abbott made a concerted effort to support House primary challengers who crossed him was during the 2018 election cycle, when he heavily campaigned for opponents to then-Reps. Sarah Davis of West University Place, Lyle Larson of San Antonio and Wayne Faircloth of Galveston. Abbott went one for three, helping defeat Faircloth.
However Abbott engages in a primary this time, he faces a number of tricky political crosscurrents. For starters, some of the firmest holdouts on school choice are Republicans he has openly supported before.
Take for example Rep. Glenn Rogers, a Graford Republican who has long been opposed to vouchers. Abbott endorsed him in 2020 and 2022, each time dipping into his own campaign funds to help Rogers fend off opponents from his right.
Rogers said in an interview Friday he has been "very grateful" for Abbott's support.
"I support Gov. Abbott on every issue that I know of except for vouchers and will continue to do so," Rogers said. "I'm voting based on what I believe represents my district."
If Abbott wants to back primary challengers, though, he may find himself on the same team as his own intraparty antagonists. The biggest donors involved in House primary challenges — Tim Dunn and Farris Wilks — also bankrolled Abbott's own primary challenger for reelection last year, Don Huffines. The candidates they back typically support vouchers but will be running on additional issues, like opposition to Paxton's impeachment.
If Abbott does not want to back the same candidates as people like Dunn and Wilks, it raises the possibility that he would find a second primary challenger to get behind in a given race.
The groups
A constellation of school-choice groups stands ready to assist in the primaries. They have a sensitive balance to strike with the primary so close: lobbying lawmakers for a favorable outcome during the special session while also ramping up to potentially campaign against them next year.
Scott Jensen, a senior strategist for the American Federation for Children, acknowledged the upcoming filing deadline means his side cannot afford to wait until after the special session to plan for the primaries. But he said they are just following the lead of the two of the biggest GOP names in the state — Abbott and Ted Cruz — who have already made clear this will be an issue for them in the primaries.
"We're just trying to calmly walk [lawmakers] through the logic of that and help them find a good landing spot," Jensen said. "I think there's a way to achieve the governor's goal of a universal ESA program that members can comfortably support."
AFC announced late last month it was launching a national super PAC, with plans to spend "at least $10 million in support of school choice champions and against opponents."
Jensen said his group has been recruiting candidates in Texas Houseseats where lawmakers "have been fairly clear that they're going to be voting against the proposal." If they have a change of heart, though, he said his group is done looking and "all previous sins are forgiven."
There is also the Family Empowerment Coalition PAC, which formed in June and quickly raised $365,000 and doled out $195,000 in campaign contributions to lawmakers. The group is trying to make clear to House memberson the fence that they will have their back in the primary.
"We know that for a handful of members … they perceive this as being a tough vote and they want to know that if that happens, that they're not gonna be standing alone in the primary," said Leo Linbeck III, one of the leaders of the group. "We're set up to defend people who take the vote and if they draw a primary challenge for taking that vote, we're gonna weigh in. We're gonna show up."
Cruz, a longtime advocate for school choice, has also made clear he will continue to get involved in primaries based on the issue. Last year, he found himself opposite Abbott in several primaries by endorsing candidates Cruz saw as stronger on the issue.
House Republicans who vote against Abbott's agenda can count on support from Phelan's campaign. The speaker traditionally works to reelect all incumbents from his party, and Phelan confirmed in August that will remain his policy regardless of Abbott's plans.
Phelan is already anticipating a large battlefield, saying in his Monday speech that he expects there to be 35-40 competitive seats in the primary and general election.
Alex Fulton, political director for Associated Republicans of Texas, said the group will continue supporting incumbents for reelection regardless of how they vote on school choice. ART has already endorsed several anti-voucher rural Republicans for reelection, such as Rogers and Rep. Kyle Kacal of College Station.
It remains to be seen if there will be a pro-incumbent group more narrowly focused on public education that will play a large role in the Republican primaries. One source of intrigue is the political action committee funded by Charles Butt, the HEB CEO and major booster of public schools, which had $9.5 million saved up at the end of June. The PAC did not respond to a request for comment.
Brian Mayes, the head of a Republican-leaning ad firm that works with public schools, predicted educators themselves will be "more involved in the primaries than ever."
"It's going to be a bloody civil war," Mayes said. "I think there's a lot of educators that are just fed up. … They're tired of the far right using them as a political football game."
Primary challengers
Some primary challengers are already in place.
Marc LaHood, who is running against Rep. Steve Allison, R-San Antonio, said school choice was one of the reasons he decided to challenge Allison. LaHood called Allison a "staunch opponent" of the idea. Allison was among the 24 Republicans who voted for the anti-voucher budget amendment.
LaHood, a San Antonio lawyer who ran for Bexar County district attorney in 2022, said he did not think the primary would change much if Allison came around on the issue.
"If he folds to pressure, great, because I think that's in the best interest of our children, but as a man of integrity, as a legislator who's gonna do what he thinks is the best thing, I don't have a lot of confidence in someone that's gonna fold," LaHood said.
Allison did not respond to a request for comment.
Other Republicans are waiting to see how the special session goes. Among them is Hillary Hickland, an activist mom of four from Belton who is considering a run against Rep. Hugh Shine, R-Belton. She took her three school-aged children out of public schools in recent years and said she wants families who are not as privileged as hers to have the same opportunity.
Shine was among the 24 House Republicans who voted for the anti-voucher budget amendment, despite appearing with Abbott at a school choice event in his district weeks earlier. Shine did not respond to a request for comment.
"I'm not quite there yet [on running]," Hickland said, "but his vote is something I'm paying close attention to."
Disclosure: Texas Public Policy Foundation has been a financial supporter of The Texas Tribune, a nonprofit, nonpartisan news organization that is funded in part by donations from members, foundations and corporate sponsors. Financial supporters play no role in the Tribune's journalism. Find a complete list of them here

This story originally appeared on the Texas Tribune. To read this article in its original format, click here.