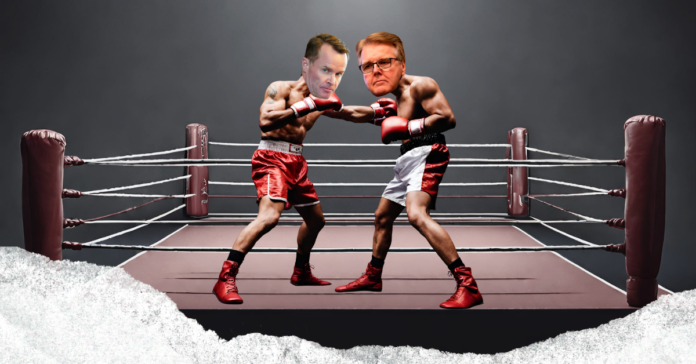 With the start of the special session just hours away, House Speaker Dade Phelan and Lt. Gov. Dan Patrick are at each other's throats. Phelan is openly criticizing Patrick for accepting campaign contributions from a significant conservative PAC, which recently hosted the notorious white supremacist Nick Fuentes. In retaliation, Patrick is urging Phelan to step down, asserting that he has "hit rock bottom."

On Sunday, The Texas Tribune reported that Jonathan Stickland, the influential figure at the helm of an ultraconservative group Defend Texas Liberty PAC, hosted a gathering that included the notorious white supremacist Nick Fuentes and other right-wing activists on Friday.

Following a tip, a reporter and photographer from The Texas Tribune conducted surveillance and witnessed Fuentes, along with individuals like Kyle Rittenhouse (who was acquitted in a 2020 homicide case involving two Black Lives Matter protesters), entering a single-story office building located in a secluded business park in west Fort Worth. Fuentes made his entrance around 11 a.m. and departed just after 5:30 p.m.

Fuentes is an admirer of Adolf Hitler, and has called for "holy war" against Jews, stating that "all I want is revenge against my enemies and a total Aryan victory."
A day after Texas Tribune's article, Speaker Phelan released a statement condemning Stickland and called upon elected officials who have accepted political donations from Defend Texas Liberty PAC to "immediately redirect every single cent for these contributions."

Phelan then singled out Lt. Gov. Patrick who has received $3 million from the organization: "I expect him to lead the way in redirecting these funds."

"This is not just a casual misstep. It's indicative of the moral, political rot that has been festering in a certain segment of our party for far too long. Anti-Semitism, bigotry and Hitler apologists should find no sanctuary in the Republican party. Period. We cannot – and must not – tolerate the tacit endorsement of such vile ideologies," said Speaker Phelan.

Shortly afterward, Lt. Gov. Patrick responded, calling on Phelan to resign before 1 p.m. on Monday, when the Texas House is supposed to gavel in for the special session.

In his statement, Patrick states Phelan has "hit rock bottom" and there should be no place for him in the Texas House.

"I didn't think even Dade Phelan would stoop this low. He has now absolutely hit rock bottom. His latest political stunt is disgusting, despicable, and disingenuous."

Patrick and Phelan's feud has been escalating for months and reached a boiling point in the aftermath of Texas Attorney General Ken Paxton's impeachment trial. Phelan expressed his deep concern over Patrick's apparent bias during the trial and Patrick condemned Phelan and his team for ramming through the first impeachment of a statewide official without "paying no attention to the precedent."