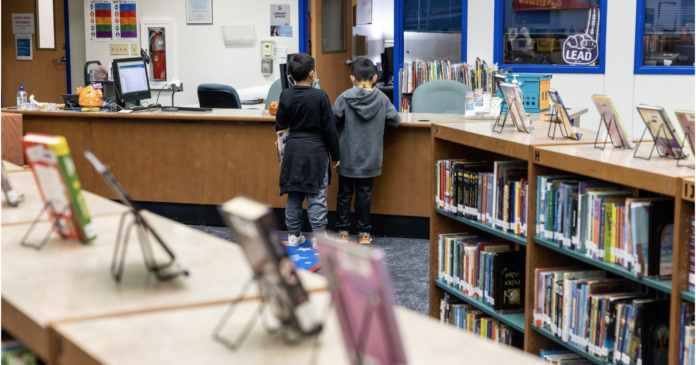 State Rep. James Talarico's favorite book includes nine sex scenes and a sexual assault and happens to be a Texas classic.
If not the great Texas novel.
So during a legislative debate about a bill trying to rid school libraries of "sexually explicit material," Talarico asked bill author Rep. Jared Patterson if Larry McMurtry's beloved, Pulitzer Prize-winning "Lonesome Dove," would be removed under the proposed legislation.
"I don't care if it's 'Lonesome Dove' or any other novel — if it has sexually explicit material, I would view that as an incredible win for the students of the state to not have that material in the library," said Patterson, who had not read the book.
Patterson told members of the House Public Education Committee that the aim of his bill is simple: If a book has sexually explicit content, it has no home on any bookshelf in any of Texas' nearly 9,000 K-12 campuses.
To many of those who would be affected by the bill, the legislation is anything but simple.
Legal experts, librarians and some parents have raised concerns that the bill's language is vague and broad enough to ensnare books that are not inappropriate. They worry those titles' absences from shelves could restrict the learning and growth of students whose experiences may not be reflected in the books that would remain.
Among other things, House Bill 900 — deemed a priority of Speaker Dade Phelan — would require a mandatory school library standard, ratings by book vendors before they sell them to schools and banning some books that portray sexual conduct, as well as parental consent to access library materials that include sexual content that is allowed under the bill. The Public Education Committee advanced the bill Wednesday, the same day a Senate bill that limits school library books was debated in a committee meeting in the upper chamber.
Proponents of such measures say schools are infested with inappropriate books that deal with matters that are better discussed at home — if at all. Opponents fear the books that will end up being targeted will be those that explore race; sexual orientation and gender identity; and unique, traumatic experiences that a student may not be comfortable discussing but could read about in a book. Other bills would make it easier to charge municipal librarians with crimes for allowing access to books deemed inappropriate.
The legislation targeting school library books is the latest frontier in a larger battle that's being waged across the state about what information public schools provide kids. In 2021, lawmakers restricted how educators can teach controversial current events and America's history of racism. This year, legislators are considering proposals that would outlaw gay pride events at schools and limit school lessons about sexual orientation and gender identity.
Though the bills do not explicitly mention books that center LGBTQ people or experiences, some worry that's what will be targeted in any bans that pass.
"There's a lot of ways that these bills that are plainly aimed at attacking LGBTQ+ youth, and educators are going to sweep much broader," said Paige Duggins-Clay, a legal analyst at the Intercultural Development Research Association, a San Antonio education nonprofit. "Just the fact that we are debating these issues and debating the humanity and the dignity of queer youth is causing a lot of harm."
Patterson did not respond to interview requests sent via email, but denied such characterizations.
"This is not a fight about silencing minority voices and this is not an argument about race or gender, or religion or political ideology," Patterson said at the beginning of the hearing. "There is one common denominator in the books that we're addressing with this bill and that is sexually explicit content."
Rating books' content
Under HB 900, any entity that sells books to schools in the state will have to give every title that has references or depictions of sex one of two designations — sexually relevant or sexually explicit.
The bill defines "sexually relevant" as material that describes or portrays sexual activity and is part of required school curriculum. It defines "sexually explicit" as material describing or portraying sexual behavior that is "patently offensive" and not part of required curriculum. State law defines "patently offensive" as materials that are an affront to "current community standards of decency."
Vendors will not be able to sell to districts or to open-enrollment charters any books they deem to have "sexually explicit material." Students wanting to check out "sexually relevant" material would have to get parental approval.
And by September, vendors will have to retroactively give every book they've sold to school districts in the past one of those two labels. The same list will be required to be submitted annually for books sold during the preceding year.
The rating requirement and its deadline will "create a state of chaos" that will hinder business in the state and limit the quantity of material that will be going into school libraries, said Shirley Robinson, executive director of the Texas Library Association.
Vendors range from independent local shops to big-time companies and stores like Amazon or Walmart, Robinson said.
"We're all trying to get at the same thing, which is to make sure that librarians and parents are partnering together for the best interest of our students," she said. "Where it starts to get really difficult is in some of the specific requirements of these bills that do not take into consideration how broad the state of Texas is."
The state has about 5.3 million schoolchildren and more than 1,000 school systems with varying resources and capabilities. The bill would also require school systems to follow library collection standards to be adopted by the State Library and Archives Commission in consultation with the State Board of Education. Currently, the state's voluntary library standards offer guidelines that school districts must consider, but are not required to follow. A library commission spokesperson said the state agency had no position on this year's proposed bills.
School boards have typically set policy that helps support library standards at the district level, serving as a sort of first line of defense to help ensure that materials are appropriate, Robinson said. There are also policies that inform specific situations — such as when a book needs to be replaced — as well as policies for people to contest the availability of particular books.
"There are so many processes and policies that are in place that are in accordance with our state and federal statutes that already comply with the Texas penal code," Robinson said, adding she and her colleagues "are trying to figure out" how HB 900 would change those.
The bill would prohibit the acquisition of harmful material; prohibit the possession, acquisition and purchasing of books rated sexually explicit; allow the exclusion of materials that are pervasively vulgar or deemed educationally unsuitable; and recognize that obscene content is not protected by the First Amendment, according to the bill's text.
But librarians and educators say the bill's definitions could be interpreted any number of ways. And that some books that have literary, scientific or other value could be unfairly deemed sexually explicit.
Some librarians worry the legislation will keep important literature away from kids, which could exacerbate mental health issues the COVID-19 pandemic already worsened, they say. The disruptions caused by the pandemic — such as school closures and social isolation — affected students throughout the country. Without books that reflect their experiences, youth from marginalized communities may feel further isolated.
But some librarians fear speaking out because they're scared of potential backlash.
"The concern here is that they are trying to go to a one-size-fits-all solution for libraries," said Lucy Podmore of the Texas Association of School Librarians. "Librarians know that campus needs vary from campus to campus."
Current standards don't require campuses to have certified librarians, individuals required to have a bachelor's degree, a master's degree in library or information science, at least two years of classroom instruction experience and certification. HB 900 does not create a mandate that campus librarians be certified.
The Senate's approach
Although similar, Senate Bill 13, a priority of Lt. Gov. Dan Patrick, has some key differences from HB 900.
The bill would require that parents have access to a list of school library materials a child has obtained.
Districts will be required to notify parents who opt in each time their child obtains a library material from the school library, including the title, author and genre.
Similar to HB 900, the Senate pitch would create new library standards — although a bit differently. The state library commission would submit proposed standards to the education board for approval or disapproval.
The standards would prohibit material deemed harmful and require a commitment to limit children's exposure to pornography.
School systems would be required to adhere to the standards.
Sen. Angela Paxton of McKinney, who filed the bill, said during a Senate committee hearing this week that an amended version of the legislation bars content that meets the Federal Communications Commission's definition of indecent material, which has been upheld by the Supreme Court. Additionally, she said the new SB 13 would make it clear the bill's standards for the library commission apply to school libraries, not all libraries. The Texas Tribune could not immediately get a copy of the reworked bill.
"The premise of this bill is very simple," Paxton said. "No child should pick up a book in their school library and find inappropriate, harmful material within its pages."
The bill relies on existing state law's definition of harmful material, which is content that appeals focused on sex, nudity or excretion; is considered patently offensive; and has no "redeeming social value" for kids.
It would also remove from state law the ability of teachers or librarians to argue that material has educational value as a way to defend themselves against criminal charges. That would pave the way for educators to be prosecuted when accused of selling, distributing or displaying materials deemed harmful to a minor.
Some people testifying before the Senate panel pushed back on that portion of the bill and expressed fear that subjective interpretations of what is and isn't harmful could be applied unevenly and unfairly, with little recourse for librarians and teachers.
"The First Amendment of our Constitution protects everyone. Texas law should as well," David Wheeler, the owner of a game and comic store, testified during the hearing. "Librarians, book sellers, teachers and others should be protected if they in good faith believe that books that they have included in a collection, displayed or sold have literary, artistic, political or scientific value."
Paxton said the bill "does not do anything" to get librarians arrested and said that affirmative educational defenses have been used as an excuse in the past.
Disclosure: Amazon Web Services has been a financial supporter of The Texas Tribune, a nonprofit, nonpartisan news organization that is funded in part by donations from members, foundations and corporate sponsors. Financial supporters play no role in the Tribune's journalism. Find a complete list of them here.
---
We can't wait to welcome you Sept. 21-23 to the 2023 Texas Tribune Festival, our multiday celebration of big, bold ideas about politics, public policy and the day's news — all taking place just steps away from the Texas Capitol. When tickets go on sale in May, Tribune members will save big. Donate to join or renew today.
This story originally appeared on the Texas Tribune. To read this article in its original format, click here.