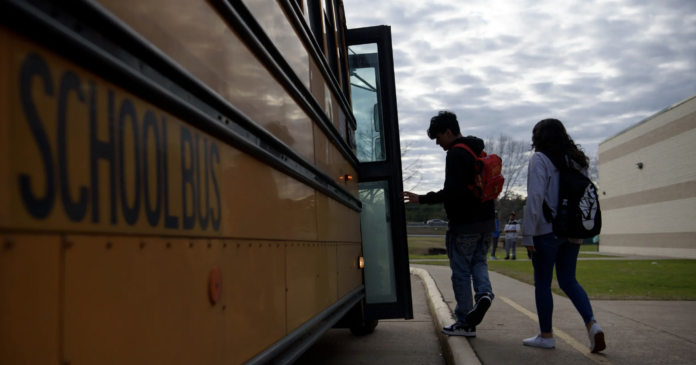 With the legislative session now underway, lawmakers will once again have the chance to tackle issues that have plagued Texas' public schools since the COVID-19 pandemic hit three years ago, like school funding and teacher shortages.
And they have a historic $32.7 billion surplus to work with. Both the Senate and House's budget proposals include money for school safety, and lawmakers from both sides of the aisle have expressed willingness to increase school funding for teacher raises.
But they'll also address other issues that have dominated the discussion on public education recently, including how sexual orientation and gender identity are taught in schools, a renewed push to pass a "school choice" program and school safety in the aftermath of the mass shooting in Uvalde, where 19 elementary school students and two teachers were killed in May.
Here are the public education issues to keep an eye on during this session.
School funding
Three years into a pandemic that has upended school districts' finances and amid rising inflation, some districts are facing tough decisions that might include closing schools and shutting down programs.
Lawmakers have already filed some legislation that would give more money to school districts.
State Rep. Gina Hinojosa, D-Austin, filed House Bill 31, which proposes basing the state's public education funding system on student enrollment instead of average attendance.
Currently, Texas gives schools money based on their average daily attendance rate. If a student misses school, their district's attendance average goes down, and so does the amount of money it receives. And in a post-COVID-19 world in which parents are quicker to keep their children home if they're feeling ill, some districts' finances have become more volatile than ever.
Texas has about 5.5 million K-12 students, but only about 92% of them regularly attended classes last school year, meaning schools missed out on millions in funding from the remaining students. Hinojosa's bill would help schools receive funding for every enrolled student, even if they miss class.
Hinojosa estimates that it would cost the state an extra $5 billion during the next state budget cycle to change the formula from attendance to enrollment. So far, there is little indication that lawmakers will want to overhaul the school finance system the way the 2019 Legislature did.
Other lawmakers would rather see the state increase the amount of money schools receive per student. Rep. Donna Howard, D-Austin, filed House Bill 882, which would increase that amount to $7,075 and would adjust it annually according to inflation. Educators say inflation has diminished the value of the dollar amount they get per student, which has been sitting at $6,160 since 2019.
Increasing that amount would also mean more money for teacher raises, since school districts must use 30% of any additional revenue they receive to increase employee salaries.
School safety
In the aftermath of the Uvalde massacre, school safety is on top of the priority list for both Republicans and Democrats. Ways to make school safer and provide more mental health services are being discussed.
Under both the House and Senate budget proposals, $600 million will be set aside to enhance school safety measures.
Senators recommended providing additional funding for individual campuses to improve their security and proposed creating review teams that would conduct threat assessments on Texas schools. Senators also recommended expanding access to the state's mental health telemedicine system to all school districts and hiring more mental health professionals to support this expansion.
Sen. José Menéndez, D-San Antonio, has filed two other bills related to mental health. Senate Bill 112 would require high school students to take one mental health course before graduating, and Senate Bill 113 would reimburse school districts after contracting mental health providers for on-campus services.
In addition, a recent Senate report also recommends lawmakers pass legislation that would make it a state felony for anyone who is barred from owning a gun to purchase one. Such a law would not have prevented the Uvalde shooter from purchasing guns since he legally purchased two semi-automatic rifles in the days before the shooting.
After the Uvalde shooting, parents of the victims and Democrats have called for lawmakers to raise the minimum age to buy an assault-style rifle. Sen. Ronald Gutierrez, D-San Antonio, filed Senate Bill 145, which proposes raising the minimum age for buying or renting firearms from 18 to 21. The gunman in the Uvalde shooting had just turned 18 years old when he bought two AR-15-style rifles that he used in the massacre.
In the House, Rep. Shawn Nicole Thierry, D-Houston, has filed House Bill 801, which would require districts to have only one entrance per school campus.
Teacher shortages
Even before COVID-19, Texas was already facing a teacher shortage. Issues like low pay, working overtime, health worries during the pandemic and being caught in the middle of Texas' culture wars have led more teachers to leave the profession.
The Texas Education Agency has noted that the state is struggling to fill its teacher vacancies. Retaining teachers has also become increasingly difficult, and schools are having to refill positions on a yearly basis.
To combat this, Menéndez filed Senate Bill 657, which would create a retention incentive program. Under the bill, teachers that stay in the profession and in the same district could receive $10,000 annually for four years. His bill also would give students a $40,000 scholarship to pursue teaching. Rep. Diego Bernal, D-San Antonio, filed House Bill 74, which would establish a scholarship program similar to Menéndez's.
Other ways lawmakers could address the shortage is through raises. Rep. James Talarico, D-Round Rock, filed House Bill 1548, which would give teachers a $15,000 pay raise. Howard's HB 882, which would raise the funding per student, would require school districts to use 30% of the additional revenue on employee salaries.
School choice
Some Republicans believe this is the session that school choice will be expanded in Texas.
"School choice" is a term used to describe programs that give families state funds for private schooling. Critics say such programs would siphon money out of public schools and have been vehemently opposed by lawmakers representing rural parts of the state, where schools often act as important community hubs.
Some lawmakers who support school choice programs believe that they will have enough backing this session from families displeased with public schools over pandemic response rules and how race and history are taught. Gov. Greg Abbott, Lt. Gov. Dan Patrick and the Texas GOP have listed school choice as a legislative priority.
Sen. Mayes Middleton, R-Galveston, filed Senate Bill 176, which could become the most expansive school choice program in the state. It would create an education savings account program that would allow parents to use state funds to pay for their children's private school, online schooling or private tutors.
Under Middleton's legislation, families that opt out of the state's public education system would receive the average amount of money it costs Texas public schools to educate a child, which is currently about $10,000 a year. The money would roll over on a year-to-year basis and could be used to help families pay for higher education. The funds for the program could come from both taxpayer money and donations.
In addition to Middleton's bill, Rep. Matt Shaheen, R-Plano, has filed House Bill 619, which would give tax credits to individuals who make contributions to private school scholarship funds. Rep. Cody Vasut, R-Angleton, filed House Bill 557, which would reimburse parents who pay for private school tuition.
LGBTQ restrictions
Two years after the Legislature passed the state's so-called critical race theory law, discussion at school board meetings has shifted from how to teach students about race to banning books that center on race, racism, abortion and LGBTQ issues.
Texas lawmakers have already filed at least two bills that would ban classroom instruction about sexual orientation and gender identity in Texas public schools before certain grade levels.
Reps. Steve Toth, R-The Woodlands, and Jared Patterson, R-Frisco, have filed House Bill 631 and House Bill 1155, respectively. Both are similar to legislation in Florida that critics have dubbed the "Don't Say Gay" law.
HB 631 would ban schools from teaching students from kindergarten through fifth grade about sexual orientation or gender identity. HB 1155 would extend that ban to eighth grade.
Their proposals would also prohibit lessons on sexuality and gender identity at any grade level if they are "not age appropriate or developmentally appropriate."
Groups like Equality Texas, an LGBTQ advocacy organization, are tracking anti-LGBTQ legislation this session in an effort to stop them from passing.
"We've seen the way the Florida bill has left students and families feeling unsafe and unsure about their futures," said Ricardo Martinez, CEO of Equality Texas. "The chaos and trauma we're seeing in Florida schools should be a warning to legislators — these bills will harm Texas kids."
Disclosure: Equality Texas has been a financial supporter of The Texas Tribune, a nonprofit, nonpartisan news organization that is funded in part by donations from members, foundations and corporate sponsors. Financial supporters play no role in the Tribune's journalism. Find a complete list of them here.

This story originally appeared on the Texas Tribune. To read this article in its original format, click here.