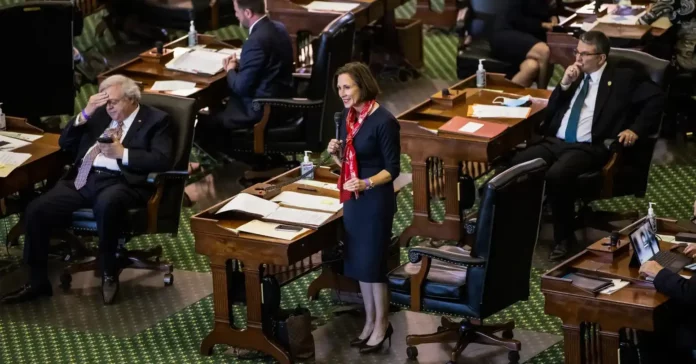 The Texas Senate passed a bill Thursday that would create a $15 million "Innovation Grant" program designed to expand access to mental health services for children and families statewide.
Senate Bill 26, filed by state Sen. Lois Kolkhorst, R-Brenham, will offer grants to health care providers and nonprofit groups who offer mental health treatment, especially those that work with children and their family members. The program would be overseen by Texas Health and Human Services.
"The state doesn't always have to do this. There are great nonprofits doing wonderful work out there. We have local mental health providers doing wonderful work," Kolkhorst said.
Kolkhorst's bill was unanimously approved with a 30-0 vote and will now head to the House. State Sen. Roland Gutierrez, D-San Antonio, pushed forward an amendment that would have required grantees to post gun safety and suicide prevention materials on their website and in their facilities but it failed to pass.
As written, the bill would have Texas Health and Human Services give grant priority to entities that work with children and family members of kids who are considered high risk for mental health issues. The bill also directs the state to consider new funding options for nursing homes that could provide long-term inpatient care to people with behavioral treatment needs but who no longer need to be in the state's psychiatric hospital system.
The bill also would require the state to audit local mental health authorities once every 10 years and publish online data related to mental health care. It will also create a discharge and transition program to help people in state hospitals gradually make their way into the community.
"Senate Bill 26 delivers clear direction for several programs funded in the budget to make sure these funds are spent on patients' treatment and beds, not just bureaucracy," Kolkhorst said. "The bill creates transparency and accountability for our many community health systems to ensure that services are truly getting to those that need it."
In 2022, Texas ranked dead last when it comes to access to children's mental health services and 33rd for adult care, according to Mental Health America, a nonprofit advocacy group.
Today, 98% of Texas' 254 counties were wholly or partially designated by the federal government as "mental health professional shortage areas."
Greg Hansch, executive director of the nonprofit National Alliance on Mental Illness of Texas, said his organization supports SB 26 because it improves communication between state psychiatric hospitals and local mental health authorities.
"We have long maintained that the state should be collecting data about the extent to which individuals are in a lower level of care than what they are clinically recommended for," he said. "Getting the right services at the right time matters. SB 26 will shed light on this key issue, as well as several others."
At a news conference earlier Thursday, Lt. Gov. Dan Patrick singled out both SB 26 and Kolkhorst's other bill, Senate Bill 25, as proof of the Senate's mission to ease the state's strained mental health system. They are part of what Patrick said was a more than $3 billion investment proposed in the 2023 supplemental budget and the upcoming two-year budget to increase access to mental health services in Texas.
Most of that funding would go to building new state psychiatric facilities and renovating older ones.
SB 25 would increase funding for nursing students and training programs. It would provide loan repayment assistance to part-time nursing faculty. The bill is currently before the House Higher Education Committee.
"Today, we are here to talk about the biggest expansion of mental health care in the state and, I would argue, the country," Patrick said.
The state also plans to set aside $100 million from the over $2.3 billion proposed budget to help the state's 37 mental health authorities, which offer local treatment, creating more short-term inpatient treatment for patients who might be undergoing a mental health crisis.
"This is an opportunity of a lifetime to be able to help and direct our community in a time that we really do need it — and post-pandemic, we need it more than ever," Kolkhorst said.
This story originally appeared on the Texas Tribune. To read this article in its original format, click here.