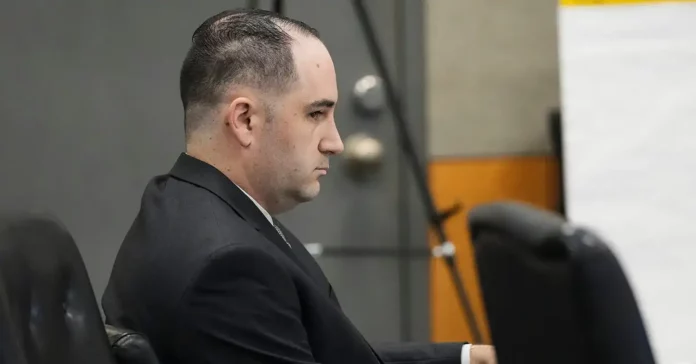 During his eight years in office, Texas Gov. Greg Abbott has had countless pardon requests land on his desk. Almost always he waves them off.
Even in high-profile cases, in which Republicans and Democrats alike have desperately called for the governor to spare the lives of death row prisoners many believe are innocent after years or decades of court scrutiny, Abbott has not used the limited pardon powers he possesses to step in.
Instead, he's deferred to the bedrock of the American legal system: A jury of one's peers determines if someone is guilty of a crime, and appellate courts scour cases for wrongdoings or mistakes.
But in one case, the governor is straying from the norm — that of a U.S. Army sergeant found guilty of murdering a man protesting police brutality in Austin. After a two-week trial and 17 hours of jurors' deliberation, Daniel Perry was convicted last week in the 2020 shooting death of Garrett Foster.
Without any indication the governor reviewed the evidence in the complex case involving self-defense claims and gun rights, Abbott called on the Texas Board of Pardons and Paroles to hand him a pardon recommendation the day after Perry was convicted.
"I am working as swiftly as Texas law allows regarding the pardon of Sgt. Perry," he said on Twitter on Saturday afternoon, after being blasted by hardline conservatives, including firebrand Fox News host Tucker Carlson, on Friday night for his lack of immediate response.
The surprising call prompted immediate criticisms that the move is a blatant attempt to score political points with the far right by a governor contemplating a presidential bid. But it is also a remarkable attempt to extend his power over the judicial system.
In one tweet, Abbott — a former state Supreme Court justice who served three terms as attorney general before moving to the governor's mansion — made clear he intends to bypass the judge, the jury and the criminal justice system's appeals process to impose his desired outcome on the controversial case.
"This is unprecedented," state Rep. Ron Reynolds, chair of the Texas Legislative Black Caucus, said in a statement this week. "In a state where this governor often touts the 'rule of law' and cracking down on crime, here we see him openly stating his intention of pardoning a convicted murderer who took the life of a protester."
An Abbott spokesperson did not answer repeated questions on whether anyone in the governor's office sat in on Perry's trial, reviewed evidence in the case or contacted the victim's family before his announcement. Nor would they shed light on the motivation behind Abbott's decision.
U.S. Rep. Greg Casar, an Austin Democrat who previously battled with Abbott while serving on the City Council, said in a statement this week that the governor's move was purely political.
"There are no winners in a murder trial, but Greg Abbott is abusing this pardon to win a presidential primary," Casar said. "After this move, Abbott can never again claim that he's for public safety, a fair criminal justice system, or common sense."
"Puerile dog whistle"
Attorneys who work in the field say they cannot recall any instance in which Abbott, or any other governor, essentially instructed the Board of Pardons and Paroles to give him the recommendation he needs to legally pardon a defendant.
In the past, Abbott has used his pardon authority as an act of compassion, clearing the records of those convicted of low-level crimes committed years or decades earlier. Once, in 2018, he used his pardon powers to resentence a death row prisoner, Thomas Whitaker, to life in prison in large part because Whitaker's father, the only remaining member of the family Whitaker had murdered, begged for mercy.
But in death penalty cases that raise significant doubts about miscarriages of justice, Abbott has declined to involve himself — even under intense public pressure.
In 2019, for instance, widespread doubts about the guilt of death row prisoner Rodney Reed prompted a bipartisan call from state lawmakers and a recommendation from the parole board for Abbott to exercise his power and halt the execution. He did not. Reed remains on death row as courts again review his case.
Last year, an international outcry reached a crescendo with the approaching execution date of Melissa Lucio, whom many believe is innocent. Abbott said he would weigh the case only after a judgment by the parole board. Lucio's case also remains in the courts' hands.
When a pardon is sought based on a claim of innocence, convicts must typically apply to the board with recommendations from at least two trial court officials or a court ruling of innocence, according to state code.
But the board is also required to look into a pardon for anyone at the request of the governor, who alone appoints its seven members. On Monday, a spokesperson for the board said members were immediately beginning an investigation into Perry's conviction.
Although Abbott's request itself was unexpected, pardons attorney Gary Cohen said what astonished him most was that the governor appeared to be telling the board how to rule, indicating he intends to pardon Perry.
"He's essentially treating them like his minions, like puppets," Cohen said. "In my 35-plus years of doing parole work, I have never seen a governor make a request of a parole board like this."
Even more disturbing, Cohen argued, is Abbott's disregard for Foster's family, for the jury and for the criminal justice process.
"He didn't allege any kind of specific misconduct, he just engages in this puerile dog whistle," Cohen said. "[Abbott] is a former attorney general. He was a justice for the [Texas] Supreme Court. He should know better."
The pardon request has thrown Perry's still-unresolved criminal case into a frenzy. Although he has been convicted, he has yet to be sentenced — a punishment that will be between five years and life in prison. His sentencing hearing is not yet scheduled, and Perry's defense attorneys have waved off commenting on the drama unfolding in the political sphere, saying they are focused on the ongoing case.
Perry shot and killed Foster from his car in downtown Austin in July 2020, two months after the murder of George Floyd by a Minneapolis police officer. Foster was carrying an AK-47, which is legal in Texas. After Perry turned into a crowd of marching protesters, he fired repeatedly at Foster from his handgun, sped away and called police. Perry has said Foster had raised his rifle toward him; witnesses said he didn't.
Defense attorneys this week filed a motion for a new trial, saying that key evidence was excluded that could have led the jury to believe Foster, not Perry, was the aggressor in the incident. The motion said jurors should have seen evidence that they claim shows Foster had on three other occasions stopped cars during protests by blocking them with his girlfriend's wheelchair. His lawyers also said the jury should have been able to review the lengthy police report, in which a detective deemed Foster's death a "justified homicide."
It's not an uncommon motion, and even if it is denied in the district court, the arguments would undoubtedly reappear in the inevitable appeals process in place to safeguard against wrongful conviction — unless Abbott puts his thumb on the scales of justice and pardons Perry first.
Self-defense or murder
Perry's murder trial was never expected to be an easy win for prosecutors. It's a complicated case embedded within the increasingly dangerous political landscape that often pits police supporters against racial justice advocates.
At trial, prosecutors said Perry intentionally and dangerously drove into a crowd of protesters, and that Foster approached Perry's window to speak to him, according to the Austin American-Statesman. Although Foster was armed, prosecutors said his rifle's safety was on, he did not have a bullet in the chamber, and the gun was lowered when Perry shot him five times.
Defense attorneys said Perry drove into the crowd because he was distracted by a text message. They said a protester forced Perry to stop by jumping in front of his car, and others hit and kicked his car. Foster shouted at him to get out, they argued, and lifted his AK-47 toward Perry when the Army sergeant shot him.
Perry's story changed over several interviews with police, including whether he was texting and whether Foster raised his gun, prosecutors said. Multiple witnesses said Foster didn't lift his rifle. In an initial interview with police, which was shown to the jury, Perry sobbed in an interrogation room before telling a detective that he believed Foster "was going to aim at me."
"I didn't want to give him a chance to aim at me, you know?" he said.
After the shooting, Perry's social media presence fueled speculation. He had responded to a June 2020 anti-protester tweet by then-President Donald Trump with "Send them to Texas we will show them why we say don't mess with Texas."
Prosecutors at trial also noted that Perry spoke online with a friend about someone intentionally driving into protesters in Seattle and shooting someone and questioned whether the driver in such an incident could say they acted in self-defense.
The jury found Perry guilty of murder but did not convict him on an aggravated assault charge related to driving in front of another protester.
The conservative backlash was immediate. Texas' GOP Chair and hardline conservative Matt Rinaldi said on Twitter that the case should never have been prosecuted and that a pardon by Abbott "is in order."
Later in the evening, Carlson blasted Abbott for his lack of immediate response to Perry's conviction. Broadcast to his 3.3 million weekly viewers, Carlson said Abbott declined his invitation to discuss the case on his show. He said that meant Abbott's position is "there is no right of self-defense in Texas."
The next afternoon, Abbott came forward.
"Texas has one of the strongest 'Stand Your Ground' laws of self-defense that cannot be nullified by a jury or a progressive District Attorney," Abbott's Twitter post said, referring to Travis County District Attorney José Garza. "I look forward to approving the Board's pardon recommendation as soon as it hits my desk."
Abbott has made a habit of knocking down progressive Austin officials and policies regarding police. In 2020, protests prompted the local City Council to pass a "defund the police" measure, which largely aimed to shift police responsibilities, like 911 dispatch, and their coinciding funds to other departments.
The move had a powerful backlash. The governor started a "Back the Blue" campaign, and the next year signed legislation that forced Austin to walk back its policy and would punish other cities that try to reduce police budgets. The department, like many others in big cities, has struggled with staff shortages. Abbott called the budget reductions "downright dangerous."
Abbott also floated the possibility last year of pardoning Austin police officers who were charged with aggravated assault during the protests. None has yet been convicted.
Politics in pardons
Perry's fate now lay in the hands of the seven people whom Abbott has placed on the pardons and parole board.
It's unclear how independently the board works from Abbott, but gubernatorial intervention has been suspected in at least one other high-profile case: George Floyd.
In 2021, the board surprised the state by unanimously recommending a posthumous pardon for Floyd in a 2004 Houston low-level drug conviction. The officer who arrested Floyd, Gerald Goines, has since been found to have routinely lied during alleged drug buys after a botched, deadly raid prompted an investigation.
Abbott sat silently on the recommendation for months. In the immediate aftermath of Floyd's murder, Abbott had expressed outrage at Floyd's death and even hinted at a possible George Floyd Act in Texas to prevent police brutality. But as protests continued, calls for defunding the police grew and his reelection season revved up, Abbott pivoted toward a tough stand in support of law enforcement.
In December 2021, nearly three months after the board made its recommendation, it was rescinded — citing procedural errors and a lack of compliance with board rules. The announcement was made by the governor's office.
Last September, the board officially rejected Floyd's posthumous pardon request. It did not say why.
In Perry's case, Garza sent a letter to the board Tuesday asking members to conduct a full, independent investigation.
"Before making any decision, I implore you to review the trial transcript, evidence from trial officials that may have an impact on public safety, and request input from the victim's family as to how a pardon may impact them," the district attorney said.
Cohen, who works exclusively on pardons cases, said he respects all of the board members and understands the tremendous political pressure they're under. But he hopes they won't succumb to it.
"If they do, it's going to undermine the rule of law that Republicans think so highly of except for when it doesn't suit their purposes," he said.
This story originally appeared on the Texas Tribune. To read this article in its original format, click here.