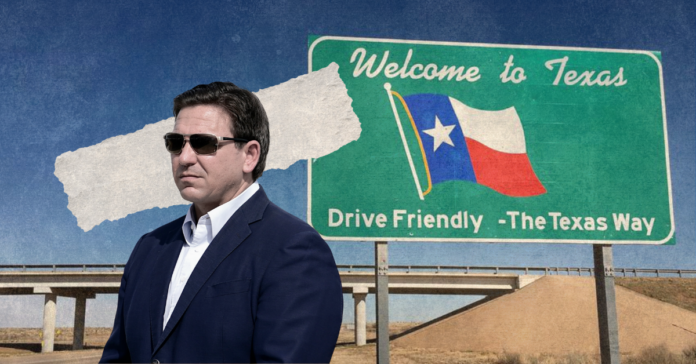 It might not be apparent to the casual observer, but the future of both Texas and America largely hinges on what far-right shenanigans Florida Governor Ron DeSantis will pull next.
Justin Miller at the Texas Observer recently laid out just how desperately Governor Greg Abbott is copying DeSantis's homework. When DeSantis pledged to keep foreign entities from buying land in the Sunshine State, Abbott leaned on the legislature to do the same just five days later. In February, DeSantis vowed to keep diversity, equity, and inclusion (DEI) out of Florida universities, and five days later Abbott's office sent out a memo telling Texas schools that DEI was unconstitutional in hiring practices.
That's nothing compared to the way the two have egged each other on when it comes to anti-immigrant policies. DeSantis and Abbott both launched cruel immigrant expulsion programs the same week, with DeSantis sending a group to the liberal community of Martha's Vineyard and Abbott choosing the home of Vice President Kamala Harris in California as his stunt setting.
Abbott is also pushing his own version of DeSantis' famous "don't say gay" bill that would prevent any discussion of gender identity or sexual orientation in K-12 schools. Whether this would apply to a teacher simply mentioning that they have a queer relationship is unclear, but conservative culture war bills are often vaguely worded on purpose to instill confusion and terror against marginalized populations.
The question is: why is Abbott monkey-seeing-monkey-doing everything that DeSantis is? The most likely answer is that Abbott wants to run for president in 2024 and DeSantis is likely to be his biggest rival if former President Donald Trump doesn't squash them both.
In an August CPAC presidential poll, DeSantis was the clear winner behind Trump, garnering 24 percent of the vote. Abbott, by contrast, didn't even rise out of zero percent. In poll after poll, conservative Americans clearly prefer DeSantis to Abbott.
There is every reason to believe that Abbott will follow in the footsteps of Rick Perry and George W. Bush and put his hat in the ring against President Joe Biden in 2024. One reason he may think he has a shot is the startling success of his anti-immigrant policies. Despite costing the state billions of dollars and not producing much beyond service members' suicides and entrapment lawsuits, his Operation Lone Star has been a hit with voters in the polls. Texans who believe stopping illegal immigrants is the top priority overwhelmingly approved of Abbott's work, and they were a key reason he sailed to re-election in 2022.
Those attitudes are largely mirrored nationwide. When 2024 rolls around, the candidates are certain to try and prove how tough they are on border crossers. Abbott is among the toughest, but DeSantis has been better at grabbing headlines and accolades for his anti-immigrant policies.
This means that even with Abbott's far-right and sometimes downright cruel policies this session, he is still playing catch-up for his potential 2024 rival for the Republican nomination. In the end, it's DeSantis's presidential ambitions that are guiding the actions of Abbott and, by proxy, the state.