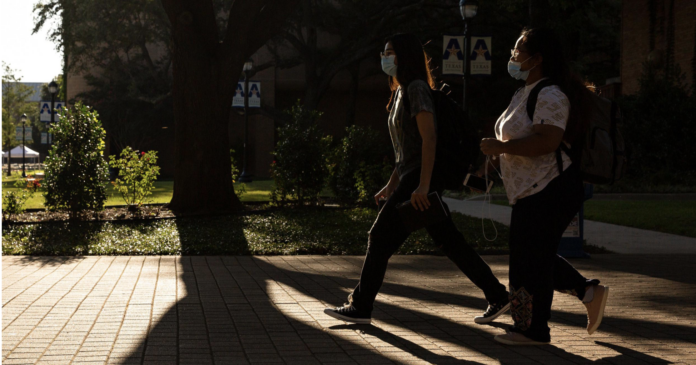 The Texas Senate has given preliminary approval to a bill that would prohibit a college or university professor from "compelling" a student to adopt certain political beliefs, a proposal belonging to a slew of legislation introduced this session that university leaders and faculty worry will restrict academic freedom in the classroom.
Sen. Bryan Hughes, R-Mineola, told lawmakers on the Senate floor Tuesday he believed that universities are places where students are exposed to different ideas to develop their own critical thinking skills and that his bill would not censor the discussion of any topics in the college classroom.
"What we are not for is when professors attempt to compel a student to adopt a certain belief, require adherence to a professor's viewpoint, to a certain viewpoint. That's another matter entirely. That's what this bill is about," Hughes said.
Senate Bill 16 would bar university professors from compelling students "to adopt a belief that any race, sex, or ethnicity or social, political, or religious belief is inherently superior to any other race, sex, ethnicity, or belief."
[How Republicans' threats to tenure and diversity might undercut their own efforts to advance Texas' universities]
Critics have argued the legislation is too vague and will create a chilling effect that will curtail difficult conversations about race and gender in the classroom, rather than supporting free inquiry of ideas. Faculty who testified against the bill said they encourage critical thinking skills and denied that they force students to adopt any beliefs.
"My worry here is that SB 16 is a solution looking for a problem that doesn't exist," said Karma Chávez, a University of Texas at Austin professor who testified on behalf of herself before the Senate subcommittee on higher education last month.
Lt. Gov. Dan Patrick characterized SB 16 as a ban on critical race theory in higher education when he unveiled his list of legislative priorities for the session.
Conservatives over the past few years have targeted critical race theory, an academic discipline that studies how racism shapes policies and societal structures. The term has been adopted as a catchall to describe a perceived liberal bent in lessons about race and racism.
Last legislative session, Texas lawmakers passed a "critical race theory ban" that restricted certain types of conversations about race and racism in K-12 classrooms. In the interim period, Patrick said he would extend that legislation to higher education after a group of UT-Austin professors filed a resolution reaffirming their academic freedom to teach critical race theory in higher education.
SB 16 does not explicitly mention critical race theory, but Hughes said it targets the same concepts.
"Critical race theory is a shorthand way to refer to the bill … but it's about discrimination in higher education," Hughes said Tuesday.
Legislators preliminarily approved the bill with an amendment that would add a process for students or other members of the public to lodge complaints against a professor they believe is violating the law. Faculty who violate the law could see their tenure revoked or lose their jobs.
The Senate will take a final vote on the legislation Wednesday, which is expected to include an additional amendment that would direct the Texas Higher Education Coordinating Board to establish the complaint process.
Testing the premise
SB 16 faced heated pushback from Democratic senators, who accused Hughes of crafting legislation based on a "political narrative."
They posed a variety of hypothetical situations to Hughes as they tried to determine when a professor teaching about an uncomfortable topic or aspect of history might be considered "compelling" a student versus teaching them.
In nearly all instances, Hughes responded that under his legislation, those hypothetical situations would be allowed. But when asked if this bill would allow faculty to teach about the concept of critical race theory, Hughes would not explicitly answer.
Democrats also repeatedly asked Hughes to provide examples of the issue his bill was seeking to address in Texas universities. Hughes responded by citing vague media reports and referring to comments made by a political science professor who testified in support of the bill during a Senate subcommittee on higher education meeting last month. The professor, Carol Swain, taught at Vanderbilt University and Princeton University but had not taught in Texas.
Eventually, Sen. Charles Perry, R-Lubbock, who supports the bill, offered an example of a professor at Texas Tech University who insisted that his biology students affirm that they believe in human evolution. A group of Christian lawyers filed a complaint to the U.S. Justice Department, and the professor eventually removed the requirement. The incident occurred in 2003.
Sen. Royce West, D-Dallas, pointed out that no students had testified that this was an issue in their schools.
"There's nothing that we've heard other than some political narratives that would even suggest that this is a problem in the state of Texas," West said.
But Sen. Mayes Middleton, R-Galveston, said it's important for lawmakers to ensure that students don't "feel they have to censor their sincerely held belief or their ideology, what they truly believe about a particular issue."
He cited his own experience at UT-Austin's law school, where he was afraid to admit to his professors he was conservative for fear of negative consequences or backlash.
But faculty members say there is a difference between sharing opinions in a classroom versus facts and arguments that are backed by research.
Chávez, who is also a member of the Texas Conference of the American Association of University Professors, said she will often listen to classroom discussions where one student will offer an opinion and others will challenge it based on research or scholarship from the course curriculum.
"That's good. I want people to be making arguments," she said, adding that she tells students all viewpoints are welcome as long as they are engaging with the material and verified research.
"But you cannot just make arguments based on an unfounded opinion," Chávez said. "I do think that one of the challenges is when you're talking about studies of race, and sex, and gender, sexuality … the scholarship that exists across the humanities and social sciences, by and large, does not support a conservative viewpoint. Not because it's based on a liberal or politicized opinion, but that's what the principal archival or social scientific research has shown about a given topic. But it's not political, it's research."
SB 16 is one of a few of Patrick's higher education priorities that has faced criticism from faculty and students who accuse lawmakers of political overreach into the college classroom and campus.
Senate Bill 17 would prohibit diversity, equity and inclusion offices, programs and training on public college campuses. The Senate higher education subcommittee approved that bill last week. It now heads to the full education committee for approval.
Another bill, Senate Bill 18, would eliminate faculty tenure for new hires. The education committee approved that bill, sending it to the full Senate for a vote.
Disclosure: Texas Tech University and University of Texas at Austin have been financial supporters of The Texas Tribune, a nonprofit, nonpartisan news organization that is funded in part by donations from members, foundations and corporate sponsors. Financial supporters play no role in the Tribune's journalism. Find a complete list of them here.
---
We can't wait to welcome you Sept. 21-23 to the 2023 Texas Tribune Festival, our multiday celebration of big, bold ideas about politics, public policy and the day's news — all taking place just steps away from the Texas Capitol. When tickets go on sale in May, Tribune members will save big. Donate to join or renew today.

This story originally appeared on the Texas Tribune. To read this article in its original format, click here.