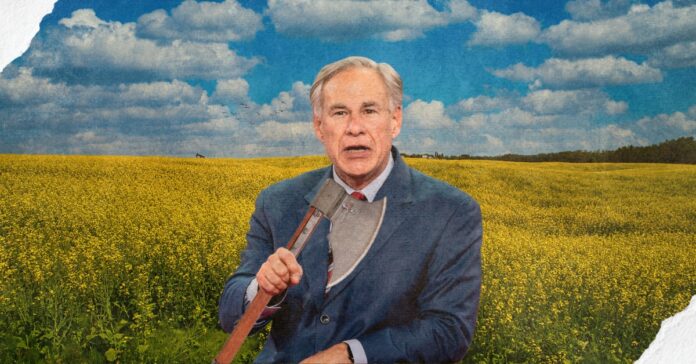 Gov. Greg Abbott has been putting political pressure on Republicans who are not pro-voucher. He especially has his eye on legislators from rural districts where "school choice" programs have been historically unpopular.

Ever since the start of the Legislature, Abbott has been touring rural areas where Republican members of the Texas House or Senate are against vouchers. During his "parental empowerment tour" he has repeatedly gone out of his way to reassure rural lawmakers that school choice will not affect their public school funding – even though he has no proof to back up this claim.

With only 46 days left in the session, the voucher fight is really heating up, and so are Abbott's efforts. Last week, ahead of a pivotal vote for vouchers in the House, the Governor was seen on the chamber floor speaking with lawmakers.

Capitol insiders told RA News that the Governor had proxies in the Capitol during that week pressuring members to vote against an amendment that would prohibit any public funds from being used for private schooling. Some even tell us that Abbott's people have been suggesting that the Governor would veto their legislation if they supported the amendment.

Despite Abbott's efforts, the amendment offered by Rep. Abel Herrero, D-Robstown, passed the House 86 to 52. Twenty-four Republicans – mostly, from rural areas – voted with Democrats. Five went as far as to co-sponsor the amendment: Reps. Charlie Geren, R-Fort Worth, Stan Lambert, R-Abilene, Ernest Bailes, R-Shepherd, Ken King, R-Canadian and Glenn Rogers, R-Graford.

Voting for the Herrero Amendment is something Abbott likely takes personally considering his public campaign for vouchers. It is not unlike the far-right GOP party to go after politicians who don't see eye to eye on their political agenda.

Take for example, Senate District 31, which up until last year was held by Republican Kel Seliger, whose steadfast opposition to vouchers turned him into a target for conservative Christian megadonors, Defend Texas Liberty and the now-defunct Empower Texans.

Ahead of Seliger's 2022 re-election campaign, several far-right donors supported his latest primary challenger, Kevin Sparks, who was on the board of the pro-voucher Texas Public Policy Foundation. After two decades in the Legislature, Seliger decided to retire after deciding the Texas Republican Party had "really gone off the rails."
Abbott's crusade against anti-voucher legislators, especially those in rural districts, is not over. After the Herrero amendment vote, his spokeswoman Renae Eze said in a statement the vote was encouraging.

"The … amendment received the least support ever. This vote shows the legislature remains open to school choice, supporting the majority of Texans who want to expand school choice."

Whispers in the Capitol are that Gov. Abbott is confident he can flip 11 votes in the House which should be enough for voucher legislation to pass.

Keep in mind those Republicans will likely be up for re-election in 2024. Before they think about changing their minds to appease Abbott, they should probably remember that his anger and cash have barely put a dent in his opponent's past political prospects.

Many Republican legislators represent districts whose majorities oppose the voucher scheme, and while Abbott is not content to let them vote with the best interest of their districts in mind, they won't budge despite the Governor's efforts/threats.