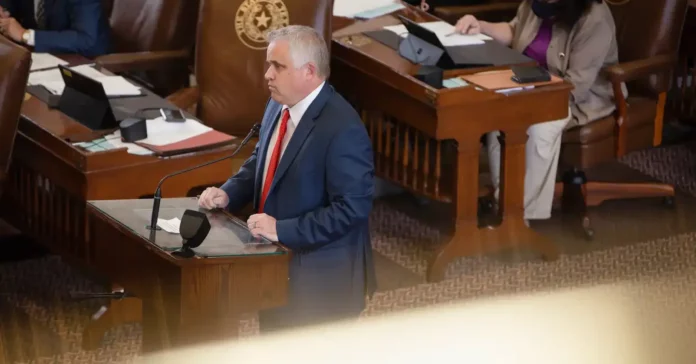 Two state lawmakers have called for the resignation of Rep. Bryan Slaton, R-Royse City, after The Texas Tribune reported that he is being investigated following allegations of an inappropriate relationship with a Capitol intern.
"The past few days in the Texas House, screams of everything that's wrong with a small segment of its elected officials. Unfortunately calling the behavior of [Slaton] 'inappropriate' is a gross understatement," state Rep. Steve Toth, R-The Woodlands, wrote on social media Tuesday morning. "He needs to resign."
Toth added in an interview Tuesday morning that Slaton's alleged actions had humiliated his wife and said the representative needs to step down to take care of his family.
Toth, a staunch social conservative usually ideologically aligned with Slaton, is the second lawmaker to call for Slaton's resignation. On Friday — before the allegations against Slaton were public — state Rep. Briscoe Cain, R-Deer Park, also condemned Slaton on Twitter without naming him.
"I am absolutely furious at a [R]epublican whom I believe to be a sexual predator," Cain wrote on social media. "I've never been so ticked off at another legislator."
Cain has since confirmed he was referring to Slaton.
On Tuesday, at least one Democratic House member also piled on. Rep. Ana-Maria Ramos, D-Richardson, said she agreed with the calls for Slaton to step down.
"The young adults working in the Capitol are vulnerable and predators readily target these young people. We owe it to these young professionals to set the standard and protect them from harm," she said in a tweet.
The calls for Slaton's resignation come after a legislative staffer made a complaint to the House General Investigating Committee that Slaton, who is one of the most socially conservative members of the Legislature, was having an inappropriate relationship with an intern. Slaton is married.
An attorney for Slaton on Monday called the allegations against him in the complaint outrageous and false. He did not immediately respond to requests for comment Tuesday about the calls for his resignation.
The complaint said Slaton had invited the intern to his Austin condo after 10 p.m. March 31. The account was corroborated to the Tribune by a person with direct knowledge of the matter who works in the state Capitol. That source said Slaton drank alcohol with the intern, who is under 21.
Days later, Slaton allegedly showed the intern fake emails that purported to have information about the incident in what appeared to be something of a loyalty test, according to the complaint and a person with direct knowledge. After presenting her the email, Slaton allegedly told her to not speak with anyone about the incident.
House Speaker Dade Phelan has promised a "swift and thorough" handling of the complaint.
The Texas House may expel representatives by a two-thirds vote of its members — in this case, 100 representatives.
The resignation calls by Cain and Toth are noteworthy. The two are members of the staunchly conservative Texas House Freedom Caucus, which takes positions that usually align with Slaton's.
Slaton, however, is not a member of the caucus and has occasionally clashed with some of its members for his abrasive style of politics. He has also been criticized by the Freedom Caucus' members for having his campaigns bankrolled by West Texas oil and gas billionaires Tim Dunn and Farris Wilks. The two are among the biggest donors to some of the most socially conservative lawmakers in the Legislature, who are often criticized as their proxies in a culture war in Austin. They have been known to fund far-right opponents to candidates who vote against their political interests.
On Tuesday, Toth reupped those criticisms.
"What's most troubling about the events of this story is that his behavior appears to be predatory," Toth wrote. "Unfortunately, his handlers have closed their eyes to the signs of his dysfunctional behavior because he was willing to do their bidding."
This story originally appeared on the Texas Tribune. To read this article in its original format, click here.