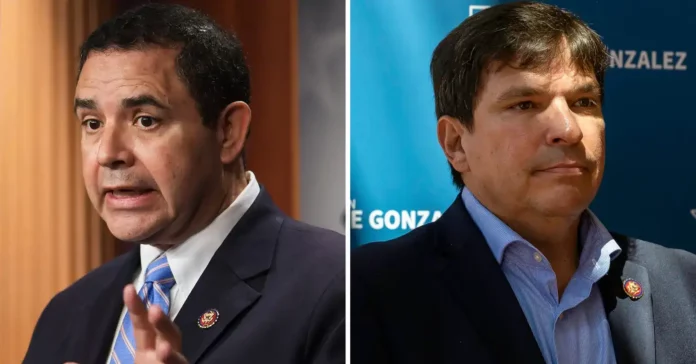 WASHINGTON — Congressional Republicans are pushing an energy bill that would overturn much of President Joe Biden's climate agenda, and two South Texas Democrats are helping them.
U.S. Reps. Vicente Gonzalez of McAllen and Henry Cuellar of Laredo plan to vote for Republicans' sweeping energy and permitting bill, the two lawmakers confirmed to The Texas Tribune. The bill could get a vote in the House as soon as this week before Congress breaks for its Easter recess.
The bill, dubbed the Lower Energy Costs Act, would loosen restrictions on and expand access to fossil fuel production, rolling back several provisions included in Democrats' signature climate and social spending package passed last year. Democrats fiercely oppose the legislation as essentially sabotaging their years of negotiating that led to the nation's biggest ever investment in combating climate change. Biden has said he will veto the Republican bill.
In 2022, Gonzalez and Cuellar ultimately voted along with their party to support the Democratic climate bill known as the Inflation Reduction Act. However, they expressed concern that any added burden on the oil and gas industry would negatively impact their constituents. The two withheld public support for the bill until just before they cast their votes and raised concerns within their caucus with provisions as it was being negotiated.
Both members represent districts heavily populated by blue-collar oil and gas workers, and Republicans relentlessly used high fuel costs to bludgeon Democrats in last year's midterm elections.
"In order to fully realize the benefits of the Bipartisan Infrastructure Law, remain competitive on the world stage, and ensure the American people have access to safer roads and bridges and reliable and affordable energy, we must improve federal environmental review and permitting processes," Gonzalez said in a statement to the Tribune. While this package is far from perfect, it is a step forward. I am hopeful that we can work in a bipartisan and bicameral way to make progress on this issue and deliver for our constituents."
Politico first reported their intention to defect.
Texas Democrats have a long history of defending the state's oil and gas industry, but all Democrats eventually voted for their party's bill. It contained a host of priorities Biden touted from his campaign, including boosting clean energy investments and helping lower health care costs. Democrats had extremely slim majorities in both chambers, and voting against the bill would have been a colossal affront to party leaders.
Other Texas Democrats recoiled at the Republican package, saying it rolled back essential environmental protections at the expense of the health of vulnerable communities. Rep. Lloyd Doggett, D-Austin, took to the House floor to denounce the package as the "Polluters over people act."
"This dirty bill will not bring our energy costs down. But it will drive our hospital bills and our doctor bills way up," Doggett said.
Cuellar and Gonzalez's vote on the Republican package is a sign of support for undoing provisions they voted for only months ago. The new bill includes a rollback of a fee on methane emissions — an extremely potent greenhouse gas — that was a key feature of the Inflation Reduction Act, and would open up more public land for oil and gas drilling. The Republican package also lowers standards for environmental reviews for new infrastructure projects and promotes domestic mineral mining — a key component for renewable energy.
The two Democrats have considerably greater cover voting for the Republican bill. With the Senate still in Democratic control and the House Republican majority too small to overcome a presidential veto, the bill is all but dead on arrival. Votes by Cuellar and Gonzalez will be largely symbolic.
But that symbolism distancing themselves from the more progressive wing of their party and standing by local industry could be key as Republicans continue to eye South Texas as potential winnable territory. Both Congress members faced competitive challenges last year, and Gonzalez continues to be a Republican target into 2024.
This story originally appeared on the Texas Tribune. To read this article in its original format, click here.