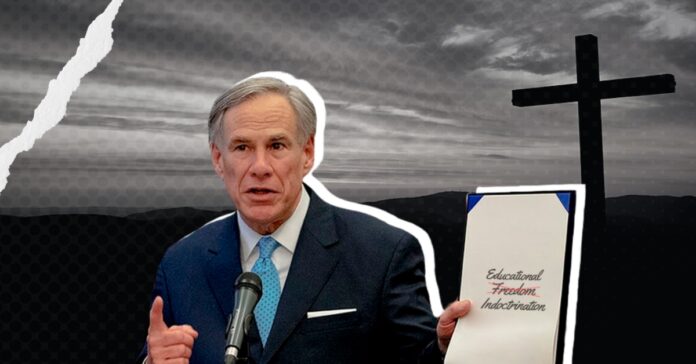 Since the Texas Legislature took off in January, Gov. Greg Abbott has been touting "Educational Freedom." His agenda includes releasing parents from what he considers to be indoctrination of "woke" agendas in public schools. Meanwhile, Abbott seems to have no problem when it comes to indoctrination of religious values – his "parent empowerment night" tour has solely included religious private schools.

This begs the question: could Texas be facing a new brand of indoctrination?

Textbook Definition of Indoctrination

Abbott has been very clear that "schools are for education, NOT indoctrination." He has said that the Texas education system must: "reform curriculum, get kids back to the basics of learning, and empower parents to choose the best school for their child through education freedom."
At the same time, Abbott's "parental empowerment" tour has only hosted rallies at Christian private schools all around Texas, including Temple, Corsicana, Tyler, Bryan and Amarillo.

These rallies in support of vouchers are coordinated by Parent Empowerment Coalition, an activist arm of the Texas Public Policy Foundation, whose funders are long-time critics of the state's public school system due to their arch-conservative political positions.

In addition, Abbott has been giving priority to religious federations, like the Texas Catholic Conference of Bishops. Just yesterday, he held a conference with catholic bishops kids in Austin and tweeted that the bishops were his priority to bring education freedom to every family.
It appears Abbott and other far-right supporters of school choice have been overlooking indoctrination as long as it aligns with their own beliefs.

Last week in a Senate Committee on Education hearing for Senate Bill 8, Charles Luke, Director of the Coalition for Public Schools and Co-Director of Pastors for Texas Children, had to explain the textbook definition of indoctrination to Sen. Mayes Middleton, R-Galveston.

During the hearing, Middleton asked Luke why Pastors for Texas Children opposed tax funding of parochial schools.
"How does that fit with Pastors for Texas Children to call Christian education indoctrination?" asked Middleton.
"If I take my dollars and I take them to a Christian, Jewish, Muslim or Scientologists church.Those churches will teach their doctrine, and teaching your doctrine is indoctrination. That is the textbook definition of indoctrination," said Luke.
Far-right supporters of school choice are trying to give indoctrination a negative connotation aligning it with "woke agendas", but the textbook definition as Luke said, "is teaching your doctrine," (which includes religious values.)
Many critics of school choice actually do not object to parents' rights to choose to send their children to religious schools, but they draw the line when it comes to using taxpayer money with no oversight or accountability.
Earlier this month, Wade Washmon, the President of the Tyler ISD School Board, spoke on behalf of the board in a press conference held in anticipation of Governor Abbott's visit to Grace Community School in Tyler.
"The state government is offering to use public dollars to outright fund Christian schools through vouchers…How does that work? Sounds like a conflict of interest," said Washmon, according to channel KLTV-7.
"We're all for choice, we're all for innovative ways to teach and learn, and to serve our communities in the manner they wish to be served, but if tax dollars to public education are going to be measured, then we need to measure EVERY tax dollar spent on education in the state of Texas so adequate comparisons can be made, and we're on a level playing field," Washmon added.
Sweeping Public Education Bill
On Tuesday, the latest version of Senate Bill 8, that would allow families to use taxpayer money to send their children to private schools and restrict classroom lessons on sexual orientation received initial approval, and will now go before the Senate for a full vote.
The Senate education committee, led by Sen. Brandon Creighton, R-Conroe, voted 10-2 to advance the bill.
The latest version of the bill would give parents who opt out of the public school system access to an Educational Savings Account with up to $8,000 in taxpayer money, per student, which could be used to pay for a child's private schooling and other educational expenses.
It also comes with a little sweetener for rural lawmakers. For every student that leaves a school district with less than 20,000 students, the district gets $10,000. This program is only good for two years.
In addition, the education savings account structure is wrapped into a broader legislative proposal that emphasizes "parental empowerment." Per SB8, if a private school in Texas wants vouchers, the government can't require private schools to change creeds, practices, admissions policies, curriculum, performance standards, employment policies, or assessments.
Basically, private schools receive taxpayer money through education savings accounts but are not obligated to adhere to the same standards as public schools due to a lack of accountability within the program.

The committee also voted for an accompanying piece of legislation, Senate Bill 9, which would give pay raises to teachers and increase funding for classrooms, among other measures. This bill will also advance to the Senate floor for a vote.