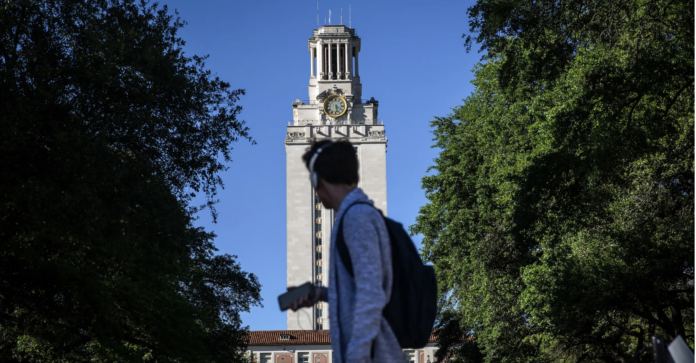 The University of Texas at Austin has blocked access to the video-sharing app TikTok on its Wi-Fi and wired networks in response to Gov. Greg Abbott's recent directive requiring all state agencies to remove the app from government-issued devices, according to an email sent to students Tuesday.
"The university is taking these important steps to eliminate risks to information contained in the university's network and to our critical infrastructure," UT-Austin technology adviser Jeff Neyland wrote in the email. "As outlined in the governor's directive, TikTok harvests vast amounts of data from its users' devices — including when, where and how they conduct internet activity — and offers this trove of potentially sensitive information to the Chinese government."
TikTok is owned by the Chinese company ByteDance Ltd. Last month, FBI Director Chris Wray raised national security concerns about the Chinese government's ability to potentially collect data on users and use the app's algorithms to "manipulate content" and "use it for influence operations."
Abbott's Dec. 7 directive stated that all state agencies must ban employees from downloading or using the app on government-issued devices, including cellphones, laptops and desktops, with exceptions for law enforcement agencies. He also directed the Texas Department of Public Safety and the Texas Department of Information Resources to create a plan to guide state agencies on how to handle the use of TikTok on personal devices, including those that have access to a state employee's email account or connect to a state agency network. That plan was to be distributed to state agencies by Jan. 15.
Each state agency is expected to create its own policy regarding the use of TikTok on personal devices by Feb. 15.
More than half of states in the U.S. have banned the use of the social media app on government devices in some capacity in recent months, according to a CNN analysis. Across the country, a growing number of universities have banned the app on devices connected to campus networks, including Auburn University in Alabama, the University of Oklahoma and the schools within the University System of Georgia.
The ban could have broad impacts particularly at universities serving college-age students, a key demographic that uses the app. University admissions departments have used it to connect with prospective students, and many athletics departments have used TikTok to promote sporting events and teams. It's also unclear how the ban will impact faculty who research the app or professors who teach in areas such as communications or public relations, in which TikTok is a heavily used medium.
Representatives for other large public universities in the state — including Texas A&M University, Texas Tech University and the University of Houston — did not immediately respond to questions about whether university leaders plan to take similar steps at their campuses.
Disclosure: Texas A&M University, Texas Tech University, University of Texas at Austin and University of Houston have been financial supporters of The Texas Tribune, a nonprofit, nonpartisan news organization that is funded in part by donations from members, foundations and corporate sponsors. Financial supporters play no role in the Tribune's journalism. Find a complete list of them here.

This story originally appeared on the Texas Tribune. To read this article in its original format, click here.