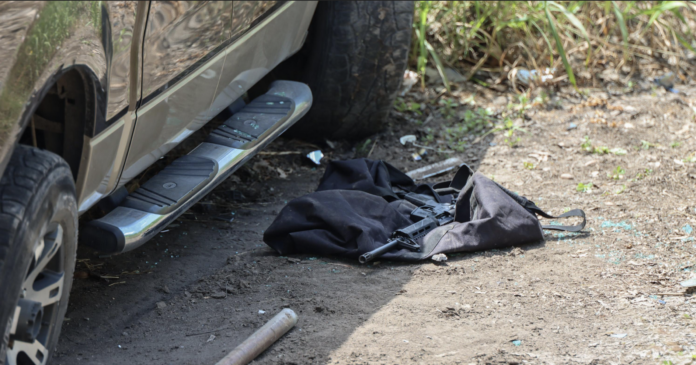 UVALDE — Tracy King was getting ready to head to lunch from his office in this town straddling the Hill Country and South Texas on May 24 when he heard the sirens heading toward Robb Elementary
Within hours, questions about what drew the emergency response yielded to terror and grief — an 18-year-old gunman had slaughtered 19 children and two teachers in the worst school shooting in Texas history.
"You just kind of find it hard to believe that it happened in your hometown," said King, a longtime Democratic state lawmaker, who was first elected in 1994 and is currently in his 14th legislative session.
Hundreds of law enforcement officers and first responders from virtually all levels of authority and most corners of the state raced to the school in response to the shooting. King and a group of volunteers quickly started gathering food — burgers, barbecue sandwiches, tacos and anything else they could find — for all the emergency personnel, many who had not eaten all day.
By that night, King also had met with families who were still waiting to learn whether their child was one of those killed. In the months since, law enforcement's grueling delay in confronting the shooter has been widely criticized. The school district police chief has been fired and two Texas Department of Public Safety officers have faced discipline. An investigation by The Texas Tribune, ProPublica and The Washington Post found a faltered medical response undermined the chances that some Uvalde victims would survive the shooting.
During that same time, King has helped some of his constituents whose loved ones were killed navigate the application process for different aid programs the state may have, sometimes helping them fill out various paperwork.
"As time went on, of course they started talking about legislation," King said. "They want to try to keep this from happening again."
As a new legislative session kicks into gear, King is working on a bill that would increase the age limit to buy semi-automatic rifles from 18 to 21. The Uvalde gunman had tried to get at least two people to buy him firearms before he turned 18. Days after his 18th birthday, he purchased two AR-15-style rifles before invading the school and targeting students and teachers. In August, Uvalde residents and relatives of the shooting victims protested at the Capitol, calling on lawmakers to raise the age limit to buy the kind of firearms the Robb Elementary gunman used.
"In this particular case, that guy had tried to buy a gun," said King, who previously wouldn't support the legislation he plans to champion for his constituents. "It sure might have made a difference."
Still, King's legislation is a bold proposal in the state that leads the nation in gun sales and whose lawmakers have steadily loosened firearm restrictions amid eight mass shootings in 13 years. And it's coming from a Democrat who previously voted to allow people to carry a handgun without training or a license. King hasn't yet filed his bill, though other lawmakers have filed similar pieces of legislation this year.
Gov. Greg Abbott has dismissed the idea of raising the age limit as unconstitutional. In December, Texas dropped a fight to protect an existing state law that required people who carry handguns without licenses to be 21 or older after a federal district judge said it violates people's Second Amendment rights. And Texas House Speaker Dade Phelan has said a proposal such as King's lacks the votes to pass the lower chamber. But Phelan also said that "will not prevent a bill from being discussed and being debated."
King knows he faces an uphill battle. But he's also committed to trying, after spending nearly eight months helping folks — some of whom he knew before the tragedy — grapple with a staggering amount of loss.
"We have to go in it with our eyes open," he said during a recent interview in his Texas Capitol office. "It'll be a challenge. It'll be a difficult conversation for a lot of people."
A broader push
King isn't the only lawmaker who represents Uvalde and is pushing to limit access to semi-automatic rifles. State Sen. Roland Gutierrez, a San Antonio Democrat whose district includes Uvalde, has already filed a bill in the Senate that would address the same issue.
Gutierrez has publicly criticized the law enforcement response, Texas' loose gun laws and officials who have withheld information about the investigations into the shooting. Gutierrez has also filed legislation that would create robust mass shooting response training for all public safety entities and improve radio communication between certain agencies.
"I'm for Tracy's bill, I'm for my bill, I'm for anybody's bill if a Republican wants to come up and have a bill that raises the age limit on long guns right now to 21," Gutierrez said. "We're not taking anybody's guns away. We're regulating guns for what I would argue are minors, just like we do alcohol, just like we do cigarettes in Texas."
Weeks after the massacre, Republican U.S. Sen. John Cornyn successfully led landmark gun legislation through the Senate — despite opposition and vilification from his Republican colleagues — before the package of proposals cleared the House and were signed into law.
Most of the measures were small changes to existing gun legislation, but some still considered them Congress' greatest gun policy achievements in years. Among the ideas that failed was one to federally raise the age to purchase firearms.
"I think it's doable, but I don't want to give people unrealistic expectations or anything like that," King said.
But he and Gutierrez may face a harder time in the Texas Legislature than Cornyn did in Congress.
The Texas Senate is more conservative than the House. Lt. Gov. Dan Patrick rules from the far right as he presides over the upper chamber. Gutierrez plans to soon meet with Patrick about the legislation he's filed and said Patrick then wants to meet with Uvalde victims' families. When asked what he thinks his prospects are for getting Patrick and the Senate to raise the age for semi-automatic rifles, Gutierrez said the lieutenant governor told him to "work my votes."
During the 2021 session, the Legislature passed a law that allowed anyone older than 21 to openly carry a handgun in public without need for a permit or training. A federal judge ruled it was unconstitutional to leave out people who are 18- to 20-years-old. Texas originally signaled plans to fight that ruling but has since backed down.
Also passed in 2021 was a measure aimed at preventing any federal gun regulations from affecting Texas by declaring the state a "Second Amendment sanctuary state," a law that experts said was mostly symbolic.
Phelan, a Beaumont Republican who was just reelected to lead the House for a second term, said that he has told King — and Uvalde families — that he does not believe the chamber has the votes to pass a bill to raise the age on buying semi-automatic rifles.
Some in Uvalde would love, at the very least, to see their elected representatives engage in a good old-fashioned debate and political negotiation.
"What ever happened to, 'Let's sit at this table; let's come to some kind of agreement. I'm not going to get 100% of what I want, you're not going to get 100% of what you want, but together we can find common ground,'" said Uvalde Mayor Don McLaughlin. "We seem to have lost that perspective today."
McLaughlin owns an AR-style firearm that he guessed is sitting in a safe with its tag still on. He's more into over-under shotguns and lever-action rifles. But he's also supportive of raising the age limit to buy semi-automatic rifles.
"We sent you up there to represent us, the citizens, and represent what we want," he said. "And maybe that means sometimes you go against what your party stands for and do whatever, but like I said, we need to go back to doing what's right. Let's sit at a table and negotiate and come up with something that works for everybody — good common sense."
"A great milestone"
Holding up posters filled with the faces and names of those no longer among them, dozens of loved ones of victims of the school shootings in Uvalde and Santa Fe crammed into a warm room at the Capitol this week for a news conference about bills that lawmakers have proposed.
For more than half an hour, families discussed the anguish they live every day — and pleaded for lawmakers to find the political will to prevent another mass shooting in Texas.
Velma Lisa Duran, the sister of Irma Garcia, one of the two teachers killed in Uvalde, asked if she could speak.
"I'm sorry, I know it's really hot in here," Duran said. "I just have to speak about my sister."
Duran recounted briefly meeting the mother of a 2018 Parkland, Florida, mass shooting victim during a rally in Austin last year. The woman apologized to Duran that more laws weren't changed to prevent a mass shooting before the Uvalde massacre. Duran said she felt like her heart skipped a beat.
"How much death can America with[stand] before it passes commonsense gun laws and just ban assault weapons as it's the weapon of choice for these killers?" she asked. "Raising the age would be a great milestone."
Several states have put age limits on who can buy semi-automatic rifles, including Florida. The National Rifle Association, which by one estimate spent more than $2 million lobbying the Texas Legislature in recent years, sued Florida on the grounds its law violated the Constitutional rights of young adults. The legal matter apparently remains unresolved and in appellate courts.
King said his team is currently researching existing law and legal battles as they prepare to move his legislation through the lawmaking process.
Gun enthusiasts and experts alike note that niche laws and programs, such as ones where local municipalities offer money for weapons turned over with no questions asked, make a tiny dent in a country believed to have more than 300 million firearms.
First: Randall Methvin, rancher, gun owner and long-time resident of Uvalde, at the Starbucks in Uvalde on Jan. 23, 2023. Methvin supports raising the age limit to purchase AR-style weapons, but doesn't believe it will be effective at stopping similar mass shootings. Last: Uvalde County Commissioner Ronald Garza at the Stripes gas station in Uvalde on Jan. 23, 2022. Garza supports Rep. King's goal increasing the age requirement for purchasing AR-style weapons. Credit: Evan L'Roy/The Texas Tribune
Randall Methvin, an Uvalde resident who has been shooting guns since he was old enough to pick one up, supports the idea King intends to propose.
"It wouldn't bother me if they raised it to 25," Methvin said. "I don't think it's going to change somebody if they want to do something wrong, something evil. But maybe it's a start."
Once King files his bill, he plans to see if it gets a committee hearing scheduled before he starts visiting relevant lawmakers who could help get it to the full chamber. He wants to ensure he knows the subject and material and to secure good witnesses for any hearings.
"A lot of bills go through the committee," King said. "There's 7,000 pieces of legislation, and usually only about 1,400 of them pass."
Earlier this year, Phelan and King met with families of Uvalde victims. Among those who attended was Uvalde County Commissioner Ronnie Garza, who said raising the age would be a start to "meaningful and commonsense gun reform."
During the meeting, attended by about 30 individuals, Phelan mostly listened, Garza recounted. Near the end, someone asked how the speaker would vote if such a measure reached the House floor.
He said he would vote to keep the age as is, according to Garza.
Soon after, the meeting ended.

This story originally appeared on the Texas Tribune. To read this article in its original format, click here.