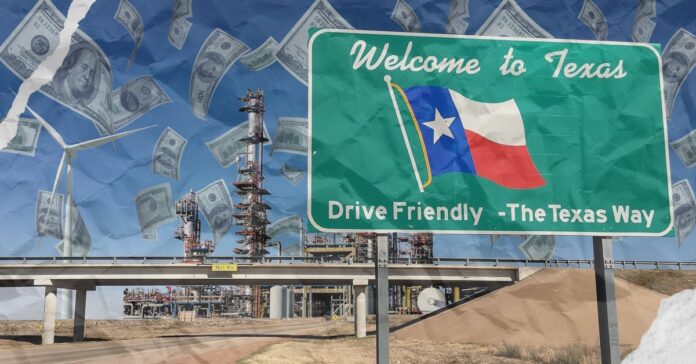 When the Republican-led state government effectively banned some of the largest Wall Street municipal bond underwriters from competing in Texas over their self-professed social consciousness, Texans took a tax hit totaling hundreds of millions of dollars — and a pair of GOP-sponsored bills are to blame.
As a result of the state's stance against ESG investors (short for environmental, social, and governance investing) — Texas, despite its perfect AAA credit rating — is paying 19 basis points more in yield than AA-rated California on routine borrowings, according to Bloomberg.
This is compared to an average 0.38% fee the banks charged which was only 11 basis points, or 0.11 percentage points.
This means the state's municipal borrowers are paying as much as $532 million more in borrowing costs, according to the Wharton report.
That increase in interest due to the two laws is the equivalent of $1.9 million on every $1 billion of bonds sold in interest, which is solely the result of the politics of the policy.
And the people of one Texas city will soon find out about the cost of letting politics dictate financial decisions. According to the Dallas Morning News, the city of Anna paid more to borrow money on two bond sales totaling almost $100 million when it rejected Citigroup Inc. — who offered the most competitive bid — because of the Republican-authored state law that blackballs financial firms who are pro-gun safety.
In 2021, when the state GOP began targeting investors who are pro-ESG the genesis of a new policy was born. Those companies drew the ire of state Republicans because those investors use these three broad categories when evaluating where to put their money, prioritizing progressive values and "social responsibility" when making financial decisions.
Citigroup was initially excluded from bidding on the bond sale by the state because Texas Attorney General Ken Paxton determined the bank "discriminates" against the firearms industry. Goldman Sachs Group Inc. and JPMorgan Chase & Co. were barred from bidding over their support for gun safety regulations and alternative energy.
The law Paxton cited, signed by Gov. Greg Abbott in the wake of the tragedy at Uvalde's Robb Elementary, utilized legal language that is ordinarily reserved to shield people from racism, sexism, ageism, or other forms of prejudice.
This is despite Citigroup, Goldman Sachs, and JPMorgan managing over $540 billion of municipal offerings during the past five years, or 25% of the market for new bond issues, according to Bloomberg.
But in response to the growing trend toward supporting a sustainable environment and safer gun laws to be a better partner with the public, Texas state Republicans remained undaunted.
They proposed two bills that became law, and they now cost Texans more in taxes — but do the people of Texas know they will pay more because of the GOP's anti-socially conscious philosophy?
Two Costly Texas Senate Bills
Senate Bill 13 protects fossil fuel companies by banning state municipalities from doing business with banks that have ESG policies endorsing fossil fuels.
And Senate Bill 19, also passed a law that prohibits business dealings with companies that support gun control and gun safety policies. Both became law, effective Sept. 1, 2021. The state's love affair with guns is embedded in its DNA, but the law takes that bent to a whole new level.
After the passage of the two laws, five of the largest underwriters — JPMorgan Chase, Goldman Sachs, Citigroup, Bank of America, and Fidelity — left the Texas investment market.
The result is that municipalities in the state no longer have those banks as underwriters for municipal bonds, a primary way cities raise funds for infrastructure and other improvements.
According to a new study, the action is driving down competition for borrowing and costing taxpayers millions in higher interest rates. University of Pennsylvania's Wharton School's assistant finance professor Daniel Garrett, and Ivan Ivanov, an economist with the Board of Governors of the Federal Reserve System, documented the financial impact of the two laws.
Texas GOP Energy Interests Anti-Green, Anti-Gun Regulation
The state's bias against clean and affordable energy is clearly illustrated in SB 13, as the law also prohibits Texas state retirement and investment funds, estimated to be worth about $300 billion, from doing business with financial firms that consider the environmental impact of their business partners, per a 2022 report in the Austin Chronicle.
Last week in Austin as the state GOP lawmakers reviewed the new plan, they complained just last week that the federal government subsidies for the green companies are partially to blame for the weakening of the grid.
State Sen. Mayes Middleton, R-Galveston, blamed the federal government subsidies for the influx of renewable companies to Texas and claimed the disruption to the traditional energy market of the state. "The federal government has created this market distortion."
Last year, Texas Comptroller Glenn Hegar actively identified companies that he claims "boycotted" the fossil fuel industry and that they would be barred from consideration, according to a Financial Times report, including BlackRock and nine European financial groups.
"Oil and gas is the lifeblood of the Texas economy," state Rep. Phil King, R-Weatherford, said in defense of the bill. "In the world of capital, there's a movement to deny funds to businesses that will not sign on to extreme anti-fossil fuel policy."
"We know some of these companies hold investments in oil and gas today, but what about the future?" Hegar asked. "Are they selling the hope of a 'green' tomorrow with promises to divest or reduce their fossil fuel exposure?"
Texas is Getting Greener Despite GOP
But Texas is no longer exclusively an oil and gas economy — as clean energy grows despite the state GOP's hostility towards it. The fossil fuel industry continues to hold a smaller share of the job market as the state's economy diversifies into other areas like professional services, health care, and real estate, said Luke Metzger, executive director for the nonprofit group Environment Texas.
Texas, the second largest economy in the U.S. and has continued to benefit from an influx of people and businesses — starting in the 1970s with the exodus from the Rust Belt — and recently from California, the biggest state economy, including cutting-edge tech companies relocating to Austin.
"Clearly, the state is interested in promoting clean energy and attracting companies that are committed to sustainability to Texas," Metzger said. "But then you have a law like this that completely sends the opposite message and works to put the thumb on the scale on behalf of dirty energy."
And the state's Public Utilities Commission's new plan to overhaul the state power grid has been criticized for its redesigned market philosophy — which is deemed punitive to clean energy.
But Doug Lewin, an industry expert with 16 years of experience in environmental and climate issues with Stoic Energy, said that some parts of the proposed solutions could prohibit the development of environmentally friendly renewable power generators, using wind and solar.
"The problem that I think some of these folks [at the PUC] are trying to solve is, 'How do we disadvantage renewables?'" Lewin said. "They're trying to solve the wrong problem."