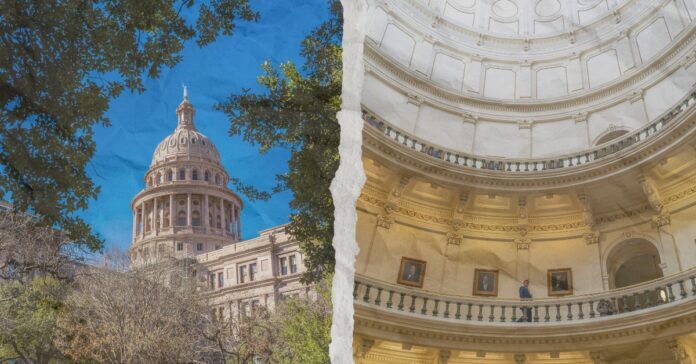 The Texas Senate Business and Commerce Committee met with the Public Utility Commission (PUC) and their power grid redesign consultants in a hearing in Austin on Tuesday to review the recommendations made to reimagine the future of electricity reliability in the state.
Committee members are weighing the recently finalized proposal to overhaul the state electric grid to increase its reliability —- in the wake of the 2021 disaster that led to extensive blackouts and hundreds of deaths — by restructuring how companies buy and sell energy.
Less than a week after the capitol city was without power for days due to a winter storm, the committee grilled PUC Chairman Peter Lake for roughly three hours to review the plan put forth by his regulatory agency to redesign the wholesale electric market design and to discuss how such changes might impact the reliability of the Texas grid, most notably the Performance Credit Mechanism, or PCM.
Lake on the Hot Seat
As she finalized her questioning of Lake regarding the details of the controversial PCM plan that incentivizes new gas-powered generating plants, State Sen. Lois Kolkhorst, R-Brenham, paused after he finished the answer to the last question.
She said, "Mr. Chairman, I wanna believe you, I really do…but it's the first of its kind, and we've seen some of the first of its kind…sometimes it works, sometimes it doesn't — and we cannot — we cannot miss on this."
The PCM, the centerpiece of the proposal, is meant to help produce enough power when in peak demand hours caused by extreme heat or cold when electricity production drops due to a lack of sun or wind to produce renewable energy or equipment breakdowns at the natural gas and coal-fired power plants.
After those peak demand times are identified as "high-risk" hours — utilities and electric retailers that consumed power during those hours — would be required to buy the performance credits from the power generators.
State Sen. Brian Birdwell, R-Granbury, retired Lt. Col. in the United States Army, pointed out the colossal risk of the potential failure of the new plan given the population growth and subsequent increase in power demand makes the committee members wary.
Birdwell asked Lake "If this PCM plan is adopted, will these new plants ever come on line?," to which Lake responded "…we know market forces work."
Birdwell finished his comments by saying, "You're in a tough spot, but we're not going to get any redos with this."
The committee member's concern is that the PUC's proposal may fail to meet the requirements of Senate Bill 3 — and would not guarantee that new generating plants would be built — "in a timely and cost-effective manner."
"How do we know? How can you tell us we're going to have more reliability," Sen. Donna Campbell, R-New Braunfels, asked.
"Our goal was to provide you all the broad definition of the best reliability service that we could identify as a result of our analysis," Lake said during the hearing. "And we recognize that there are a lot of technical questions yet to be answered."
State Sen. Robert Nichols, R-Jacksonville, suggested to the committee that because federal tax incentives have made renewable power like wind and solar generation more attractive to the private sector, Texas has seen an explosion in renewable capacity.
But thermal generation facilities are more expensive to build and maintain what is called 'dispatchable' energy, meaning it is energy that can be turned on and off as needed. But without a plan that guarantees that new natural gas power plants will indeed be built, Nichols expressed concern, saying "We're continuing to lose dispatchable power, no one is building anything new," he said.
State Sen. Mayes Middleton, R-Galveston, blamed the federal government subsidies for the influx of renewable companies to Texas and claimed the disruption to the traditional energy market of the state. "The federal government has created this market distortion."
State Sen. Judith Zaffirini, D-Laredo, asked Lake point blank direct questions; "Are we adequately prepared for the next extreme weather event in either winter or summer conditions?"
Lake responded, "Yes, we are."
Experts Continue to Weigh In
Like the Senate committee members, energy experts also continue to be critical of the PCM plan —- but all acknowledge something must be done — and soon.
Doug Lewin, Doug Lewin, President of Stoic Energy, tweeted "The Texas energy-only market is, to reprise Churchill, the worst form of energy market except for every other. It needs to evolve but should not be abandoned."
The main point of contention is whether the performance credits will convince power companies to build new natural gas plants to replace older plants that will eventually cease to be operational — and are dirty energy sources — compared to wind and solar energy.
Ed Hirs, an energy fellow at the University of Houston, says lawmakers have been aware of the state power grid's problems for years. But political and personal interests have seemingly been valued more highly than the interests of the general public.
"The average age of coal-fired power plants is 50 years, and the average age of natural gas-fired power plants is 30," said Hirs to Houston Public Media this week. "They're nearing the end of their operating lives and the owners of these plants really have not been earning a return on investment."
Vice-Chair Steps Up
One of the most vocal Republicans who have criticized the PCM model has been Sen. Charles Schwertner, R-Georgetown, citing his concerns that it won't guarantee new dispatchable generation per Senate Bill 3.
However, NBC affiliate KXAN reported the notable absence of chairman Schwertner after he was booked in Travis County Jail overnight on DWI charges.
Sen. Phill King, R-Weatherford, Vice-Chair of the committee, fulfilled Schwertner's duties for the day.
In January, Schwertner tweeted that "the @puc chose to ignore the clear direction of the #txlege by voting to replace the state's competitive energy market with a costly and complex proposal that is unlikely to deliver the dispatchable generation resources that Texas needs. It's unacceptable."