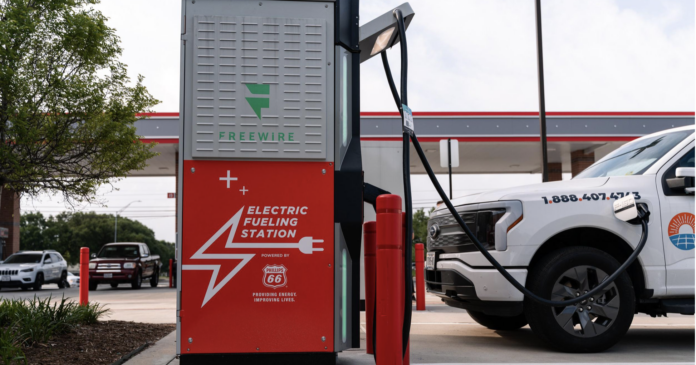 HOUSTON — On a recent weekday morning, an electric F-150 pickup truck charged at a Phillips 66 station on busy Westheimer Road. As customers were coming and going from the 24 gas pumps, the truck's battery recharged in about an hour at a cost of 43 cents per kilowatt-hour — or $33.52 as it neared full.
It's a glimpse of what the future of gas stations might be as more Texans switch to electric vehicles.
"I think it's great," said the OnCue convenience store supervisor, Vince Viot, who says the chargers have been used steadily since they were installed last year. "You want to get all the customers, right?"
But electric vehicles are a long way from grabbing a big share of Texas' market. Only 105,807 electric vehicles were registered in Texas as of Aug. 31, 2022 — a paltry 0.4% of all vehicles, according to the state's department of motor vehicles. That share is expected to rise to 8% in the next 10 years, said Tom "Smitty" Smith, executive director of the Texas Electric Transportation Resources Alliance, at a legislative hearing in March.
Traveling across the vast state in an all-electric vehicle still lacks the convenience of refueling a gas-powered vehicle. There are just 329 fast-charging stations across the state's 270,000 square miles, leaving travelers with limited options as they plan their routes.
It's something of a chicken-or-the-egg problem: Companies need enough customers to justify building charging stations, but drivers want a sufficient number of charging stations before buying an electric car.
Two pieces of proposed state legislation would provide what supporters say is a needed foundation for companies to put in more fast-charging stations to meet the expected demand. Senate Bill 1002 creates guidelines for how electric vehicle charging stations would be paid for and built. And Senate Bill 1001 establishes how they would be registered and inspected.
SB 1001 has passed in the Senate, while SB 1002 has been approved by a Senate committee and could soon go before the full Senate.
Meanwhile, some $400 million in federal funding to spur the build-out of electric vehicle charging infrastructure is coming to the state through the Infrastructure Investment and Jobs Act, which is adding pressure on state lawmakers to move the bills because many more fast-charging stations are expected to be built. The Texas Department of Transportation has an electric vehicle infrastructure plan in place, envisioning charging stations at least every 50 miles on designated major interstates, and 70 miles apart everywhere else. Businesses will be able to submit proposals to the state for funds to build the stations.
"We didn't need it before," Smith said in an interview. "And now that we're starting to accelerate into this transition, we need to have the basic building blocks put in place."
Lawmakers are also considering various legislation that would impose fees on electric vehicles, such as Senate Bill 505, which recently passed the Senate and would impose a $400 registration fee for a new electric vehicle and a $200 annual renewal fee.
Legislators say the fees would make up for gasoline taxes that electric vehicle drivers aren't paying and would be used for transportation projects, though renewable energy advocates have argued that the proposed cost for electric vehicle drivers is too high.
But companies that operate gas stations and could start adding electric vehicle chargers to their locations are cheering on Senate Bill 1002, which prevents utilities in the state's electricity market from making their customers pay extra so they can build and operate electric vehicle charging stations. Instead, the bill would require utilities to operate charging stations through affiliated, but separate, entities.
Charge Ahead Partnership, a coalition that includes businesses pushing to expand access to electric vehicle charging, and companies such as Circle K, RaceTrac and TXB wrote to legislators in support of the bill. Kim Okafor, the general manager of Zero Emission Solutions for Trillium and Love's Travel Stops, explained to lawmakers that, without the legislation, they could not compete with utilities — which can sell electricity cheaper if they can pass on some of the cost to their power customers.
"With these changes, Senate Bill 1002 will establish a regulatory framework that addresses the concerns of an unfair market, encouraging private enterprises to invest in this new and growing industry," the bill's author, state Sen. Charles Schwertner, R-Georgetown, said at the committee hearing in March.
At the gas station on Westheimer Road, the charging stations helped Phillips 66 get experience with attracting customers who have switched to electric vehicles, said Scott Minton, director of business development for OnCue Marketing.
"We don't want to be irrelevant 30 years from now when EVs [electric vehicles] dominate the road," Minton said. "You want to be aware. You want to provide the fuels. You want to have a store that people still come to. … We want to give them a spot where they can still come inside and get a Coca-Cola and a hot dog and get back on the road."
---
We can't wait to welcome you Sept. 21-23 to the 2023 Texas Tribune Festival, our multiday celebration of big, bold ideas about politics, public policy and the day's news — all taking place just steps away from the Texas Capitol. When tickets go on sale in May, Tribune members will save big. Donate to join or renew today.

This story originally appeared on the Texas Tribune. To read this article in its original format, click here.